JOE HART admits he did not believe he would be participating in the Champion League at this stage of his career.
The 35-year-old 75 times-capped England international keeper reckons it would have been a dream too far to mix again among the European elite.
Hart grabbed the lifeline thrown by Ange Postecoglou last year to quit as Spurs back-up netminder to Hugo Lloris to agree a £1million switch from London to Glasgow on a three-year contract.
The popular shotstopper also revealed he hadn't even thought about the draw for the lucrative group stages of Europe's most prestigious prize in Instanbul on Thursday.
ON THE BALL…Joe Hart in his keeper/sweeper role for the champions.
There is the chance Hart could come face Manchester City, his old club where he won a league title and played in the semi-final of the Champions League. However, his career took a distinct downturn when Pep Guardiola axed him in 2016. He had spells at Torino, West Ham, Burnley and Spurs before making the move north of the border.
Enthusiastic Hart, who had his third shut-out from four games this season in the 2-0 win over Hearts yesterday, said: "They're definitely good times for me. I'll be honest, there are not many times when I've actually not been having a good time in football.
"From the outside, there have been moments in my career when I haven't played. But, constantly, I like to be part of a team, whatever way that might be.
"I'm playing football as a job, like 'wow'. What a great feeling.
"A lot of responsibility as I've got older and I love all that. Yes, I am enjoying myself, but I've been enjoying myself for a long time."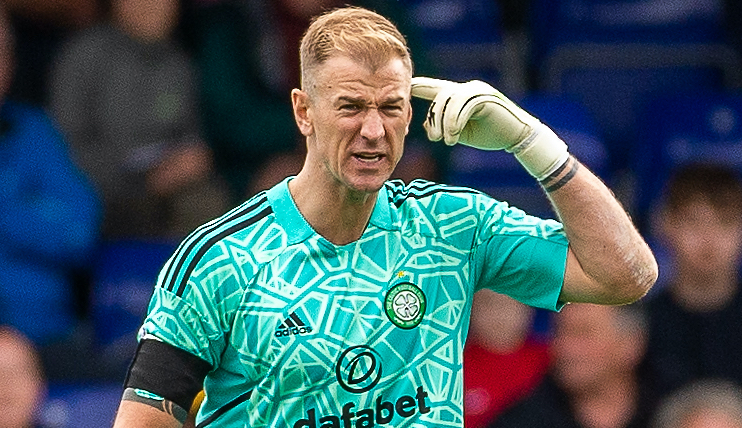 THINK ABOUT IT…Joe Hart's message to team-mates.
Hart is ready to savour the next chapter in his career and, speaking to The Scotsman, said: "I've always really enjoyed it. But maybe when I was younger – I can probably liken it to the first time I was getting in the Champions League when I was 23 – you just expect the world to keep giving.
"That was how I felt at the time, whether that's wrong or right. But I just wanted more, I felt like I could take on the world.
"Definitely, I'm at a different stage of my life, in terms of family and how I feel about things. But it's still a great feeling, it's still an exciting feeling. It's just a different feeling. But we grow up and we evolve."
Hart will never lose his affection for the Etihad club, but will not hesitate if he is tasked with shutting out his former team. Filipe jota has already gone on record as saying he hopes Celtic do not draw his boyhood favourites Benfica, the Lisbon giants he left in a £6.5million permanent move to the Hoops in the summer
UP, UP AND AWAY…Joe Hart goes through a pre-match training routine to keep his reflexes sharp.
The keeper continued: "I don't know whether I'm being silly doing this. But I don't think about it. There's no point in me thinking about it because it's not happened yet.
"There's competition for places in this team constantly. So, I'm literally just one game at a time and I'd love to have that feeling again. But I think we're all going to feel it. The club's excited.
"Liking it to full circle, when we got to the Champions League with Man City that was the first time the club had ever done it. This club's used to it and has had five seasons without it.
"So that feeling's quite similar. What a great feeling, what a great time to be involved in football. And at a club like this.
"City is part of my life I'm very proud of, and I've got endless love for that club. But life goes on, as was proven by how I left the place. It's a superb football club, it's a superb set-up, there's a lot of people I get on with there.
"But there's certainly no-one in there that I don't want a part of playing against.
"My kind of focus is on what we do and how we prepare and what we can do and what we can bring to the table. I'm a soldier. I've been through everything, so I don't really feel it when it comes to that."
THAT'S MY BHOY…Joe Hart and Josip Juranovic display the camaraderie that exists at Celtic.
Hart added: "My undying love will forever be with the club, but when it comes to team football, I represent Celtic.
"I try not to think, especially knowing football as I know it. If you asked me a few years ago if I was going to be playing Champions League football, if I was giving an honest answer I'd say 'no'.
"I've always backed my ability and I performed well at that level and I deserved to be there, but football is about opportunities and taking them, believing in projects, I'm here and I'm ready.
"There is a lot of fun to be had all around Europe. I'm new to the club, but I know everyone feels like that who supports the badge and the players feel the same."
KYOGO, GIAKOUMAKIS ON TARGET AS RED MIST DESCENDS
Click Here for Comments >