FORMER Celtic star Kieran Tierney was involved in a mystifying penalty-kick decision in Scotland's 1-1 draw with Poland in the friendly at Hampden last night.
The Arsenal defender scored his first goal for his country with a glancing header to put them ahead in the 68th minute following a superb right-wing free-kick delivery from John McGinn.
However, his effort was wiped out when Irish referee Robert Hennessy awarded the visitors a controversial spot-kick in the third minute of stoppage time.
THINK ABOUT IT…Polish striker Krzysztof Piatek involved in the late penalty-kick incident with Grant Hanley and keeper Craig Gordon.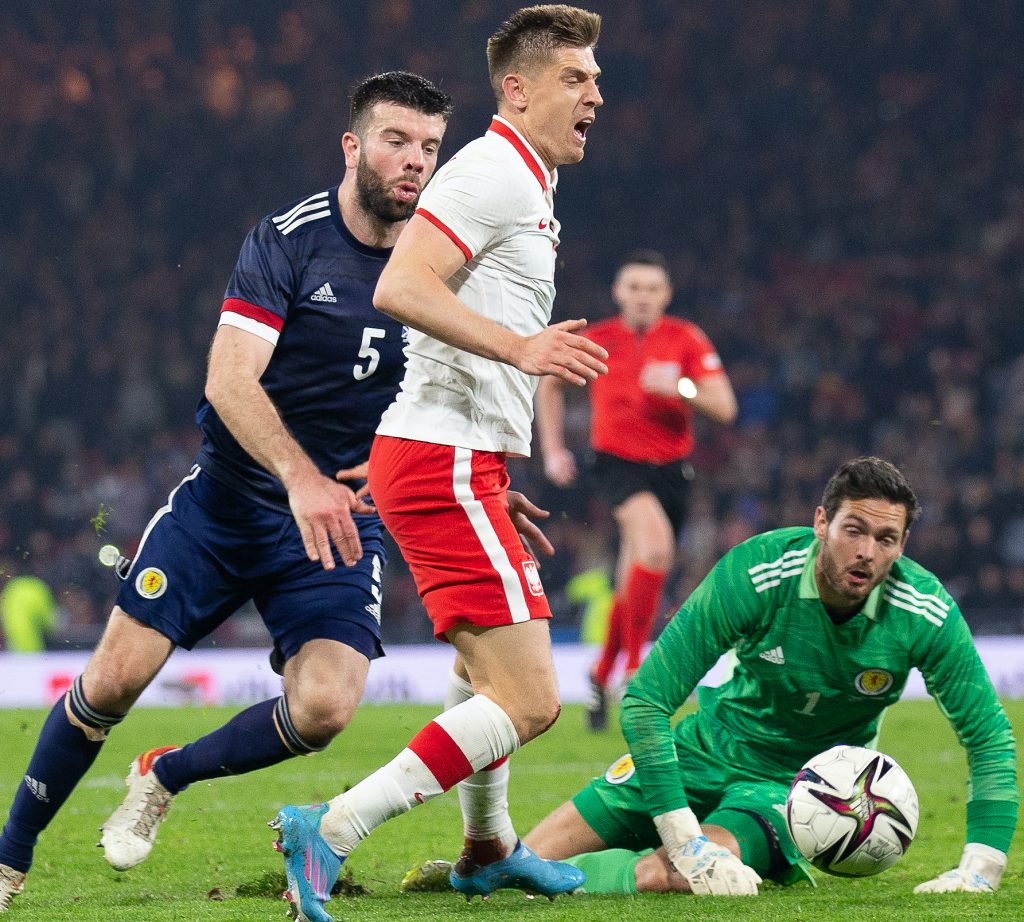 WAIT FOR IT…the Polish forward appears to contemplate his next move before he decides to go to ground to win a controversial spot-kick.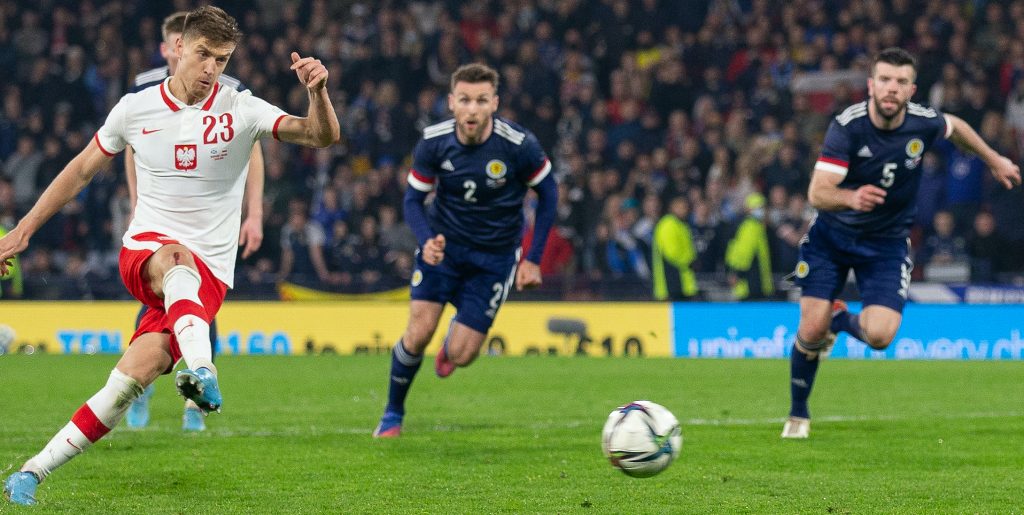 SPOT-KICK SICKENER…Piatek lashes in the late, late leveller with Stephen O'Donnell and Grant Hanley looking on in dismay.
Krzysztof Piatek, who had been prone to theatrics for most of the evening, went down in slow motion in the company of centre-back Grant Hanley and keeper Craig Gordon. He appeared to take a split second before deciding to go to ground.
The whistler and his assistants bought the dive and the same player fired in the leveller with one of the last kicks of the ball.
Tierney and his team-mates were incensed and the former Hoops fans' favourite wanted an explanation from the match officials at the end. He is still waiting for an explanation.
ON THE SPOT…Kieran Tierney is still asking questions of assistant linesman Allan Lynch as he heads for the dressing room.
The left-back said: "The penalty at the end wasn't a great way to finish the game.
"I was asking: 'Who was it? Was it Craigy or Grant?'.
"And I don't think he knew, he never said anything.
"I never saw it, from my eyes it looked like nothing and that was why I was asking.
"But I never got an answer. I know it's a friendly, but this could have been a competitive game easily enough and you want to see games like that out when you're winning by one goal, against a team that's higher seeded.
"So, we're obviously gutted to lose the goal and the clean sheet."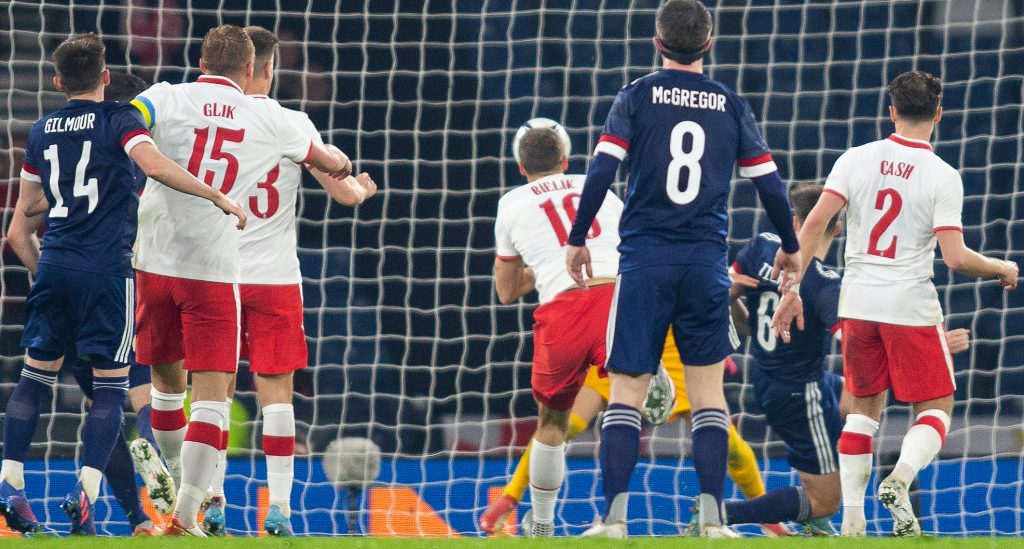 HEADMASTER…Kieran Tierney (No.6) finds space in the penalty header to glide in his first goal for Scotland.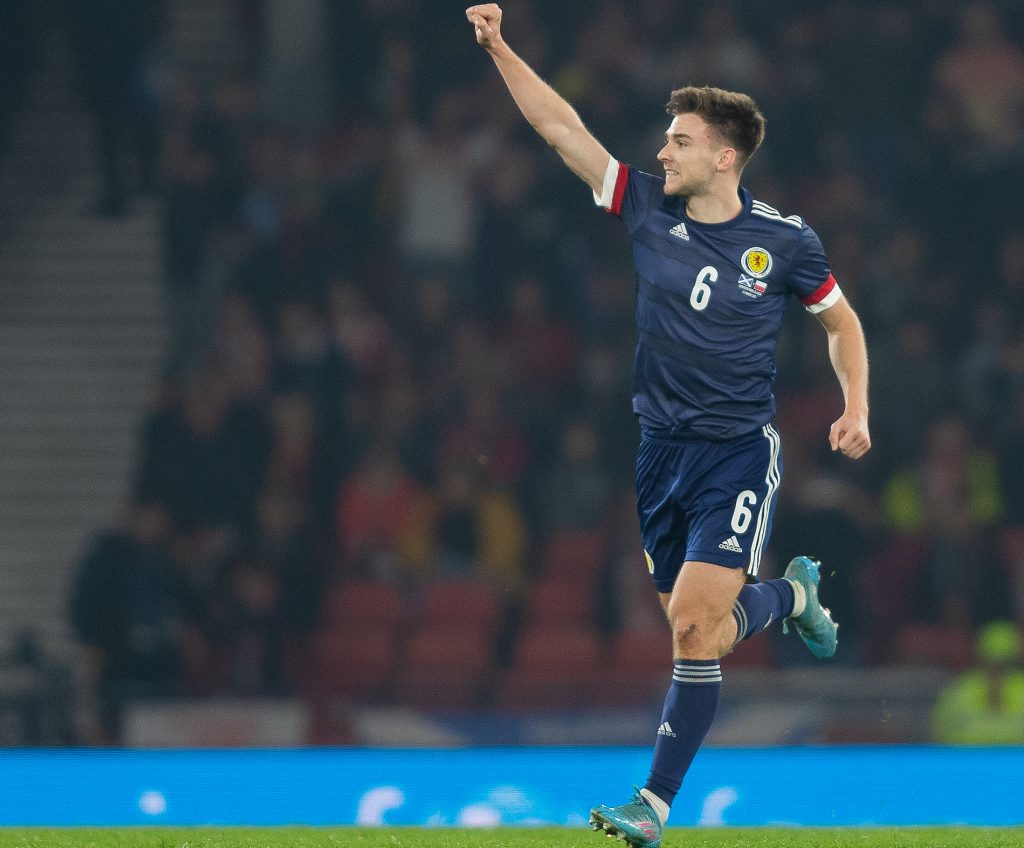 CELEBRATONS…Kieran Tierney accepts the applause from the Tartan Army.
Tierney also seemed to hesitate celebrating his barrier-breaking goal for his nation and, speaking to Sky Sports, explained: "I didn't even know if there was VAR, so, for a minute, I was thinking: 'is this onside or offside?'.
"But obviously it's good to get a first goal. That's me got one goal and one own goal for Scotland so that's me even!
"It was just the shock. When do I score a header?
"I was buzzing, great ball in by John McGinn and the set-piece coach, Austin (MacPhee) works a lot on that."
STALEMATE AT HAMPDEN, WORLD CUP EYES ON WALES
Click Here for Comments >