BERAM KAYAL scored a rare goal to pile the misery on ex-Celtic boss Neil Lennon as Bolton slumped to a 3-2 loss at Brighton.
The Israeli international netted the winner to send crisis-stricken Wanderers back to the foot of the Championship – and leave the Irishman seething.
Lennon, who signed Kayal from Maccabi Haifa in 2010, could hardly believe his eyes as he saw his former player lashed in the promotion-chasing side's points-clincher. He said: "The third goal from our point of view was ridiculous,
"However, there is still a long way to go. We`ve been in decent form and we should have put this one away. We`ve got some catching up to do, but there`s 15 games to go so we've got plenty of time.
"But we must get winning and capitalise on good performances. We need to start grinding out results. I don`t think many would`ve given us a chance against Brighton. We`re under a transfer embargo whereas they made several January signings. There wasn`t much in the game and it gives me encouragement going forward."
That result and Charlton's draw with Cardiff returned Bolton to bottom place, seven points short of safety.
PAUL LAMBERT admitted managing Blackburn Rovers could "drive him mad" after their 2-0 home loss to Hull City.
The former Celtic and Scotland captain has now seen his Ewood Park outfit go nine matches without a victory in the Championship.
And they have managed to win only one in their last nine at home although Lambert thought he had seen a massive improvement in last week's 1-1 draw at Middlesbrough.
With Rovers just five points above the bottom three, he said: "In the first-half, there wasn't much in it. The disappointing thing for me is we had the ball twice and Hull have scored two goals. We secured possession and made wrong decisions and they're a good side.
"The front two are a handful and they've still got a lot of Premier League players in their side. You can see why they're up there. I thought once the second goal went in, we looked far short. You can't play the way we did last week and then turn in that performance.
"It will drive you mad. We have to find consistency quickly. Really quickly."
Lambert's preparations were not helped after Scotland international central defender Grant Hanley failed a fitness test and Hope Akpan pulled out through illness in the warm-up.
The former Aston Villa gaffer said: "Nightmare. Losing those lads who played ever so well for us last week was a blow."
GARY HOOPER netted his eighth goal in seven games as Sheffield Wednesday overwhelmed 10-man Brentford 4-0.
The former Celtic striker, who agreed a £3.5million switch from Norwich last month, was also involved in the game's most controversial moment. Hooper was downed as he raced through by the visitors' Yoann Barbet, who was immediately sent off in the sixth minute.
Wednesday boss Carlos Carvalhal cleared the stocky frontman of claims of taking a dive. He insisted: "I think that the red card was was clear, as Hooper was through on goal, one on one."
However, his opposite number Dean Smith disagreed vehemently. He said: "For me, I don't believe the referee can make the decision. I think he guessed. He's directly behind it, 40 yards away. I thought it was a poor decision. I don't think Gary Hooper had the ball under control. He went down easily."
Carvalhal refused to get involved in a war of words and added: "Even though they were down to 10 men, we prepared very well, explored our spaces, moved the ball and changed the speed.
"More important to me was the transition, the way we worked when we lost the ball. We were organised enough not to give Brentford opportunities."
Fernando Forestieri headed the hosts in front before Hooper struck a powerful half-volley past David Button to double the lead. Kieran Lee and Lucas Joao claimed the others.
Barbet's sending off was the first of his career and allowed Wednesday to dominate the game.
Another ex-Celt who took the opportunity to shine was Aiden McGeady, on loan from Everton until the end of the season.
The Republic of Ireland international had a couple of half-chances to score his first goal for the Hillsborough outfit, but was out of luck.
Wednesday have now earned more points than any other team from their past 10 Championship games, having taken 23 out of a possible 30 over that period.
TONY MOWBRAY was delighted with Coventry City's 6-0 win over Bury as they celebrated the memory of club legend Jimmy Hill.
The former Celtic boss was a guest at the city's Cathedral on Friday night as a tribute was made to the former Sky Blues manager and TV personality who died last year at the age of 87.
Mowbray said: "I hope the people of the city and the fans of the club are pleased the team could find the performance to match what's been happening in the last few days.
"Hopefully, the legends who came back to watch us can see that this isn't such a bad team and we're striving to get out of this league.
"The talking had to stop, though, and I could sense a real urgency about the team – a sense that we had to get back on the horse and start riding fast again.
"Sometimes you can that feeling hen a team is ready, fully focused. It's no coincidence that when you get the team you believe in on the field, you get the result you want and send people home happy.
"Confidence is a massive thing, too – a few defeats and the messages they're getting in training every day suddenly don't stick as much."
Mowbray added sportingly: "If anything, it was a bit harsh on Bury. However, when I saw their line-up I could see that they'd come to block it up – one striker, five midfield players – and they're a physical side from what we'd been watching.
"We thought it might be a difficult day, hence the tension in the dressing room to go and perform."
GARY CALDWELL was raging as he labelled Wigan's display as "unacceptable" after their goalless draw with Oldham.
The former Celtic and Scotland skipper saw his team blow the chance to go second in League One after being held by the struggling visitors. Caldwell fumed: "I've told the players that there's a big week of training ahead.
"If I was a player who wasn't playing in this one, I'd think I had a chance of playing next week. We made silly errors, we didn't back up play, we were lethargic in the way we passed the ball and also when we didn't have the ball.
"It was a bad day, a poor performance, a sloppy performance right from the start. We probably didn't even deserve a point. Oldham played very well and caused us a lot of problems and we have to be thankful we got a point in the end.
"We shouldn't have gone in 0-0 at half-time. We should have been losing the game. We rode our luck, Our keeper made some great saves and we just can't accept performances from the other players like that.
"It was flat, there wasn't enough urgency in the way we played, we didn't pass the ball quick enough in the final third and we didn't look hungry enough to get at people.
"We defended well at times, but we didn't react to situations in terms of their movement, and we didn't want to track runners. When we got the ball, we wanted to stand in position and football's not that easy.
"You've got to work hard, you've got run, if you want to move teams. When they got back into their shape, we were too predictable in the way we played. We have to do something about it quickly and, to be fair, we have done that in the past.
"Whenever we've had setbacks in terms of poor results and performances, it's galvanised us and we've come back stronger. I'm sure that'll be the case again against Walsall next weekend."
——————————————————————
CQN SPECIAL OFFER! 
We have reduced the price of a selection of our Celtic books on 
CQNBookstore.com
The Winds of Change and Caesar & The Assassin are reduced to £13.99 each, Seville The Celtic Movement and The Quality Street Gang are now only £9.99 each. The Jock Stein book, Willie Wallace & Tommy Gemmell's books are all just £6.99 each.
Order ANY one of these and we'll send you a copy of the 2015 CQN Annual absolutely free and we may add a wee something to enjoy when you're reading!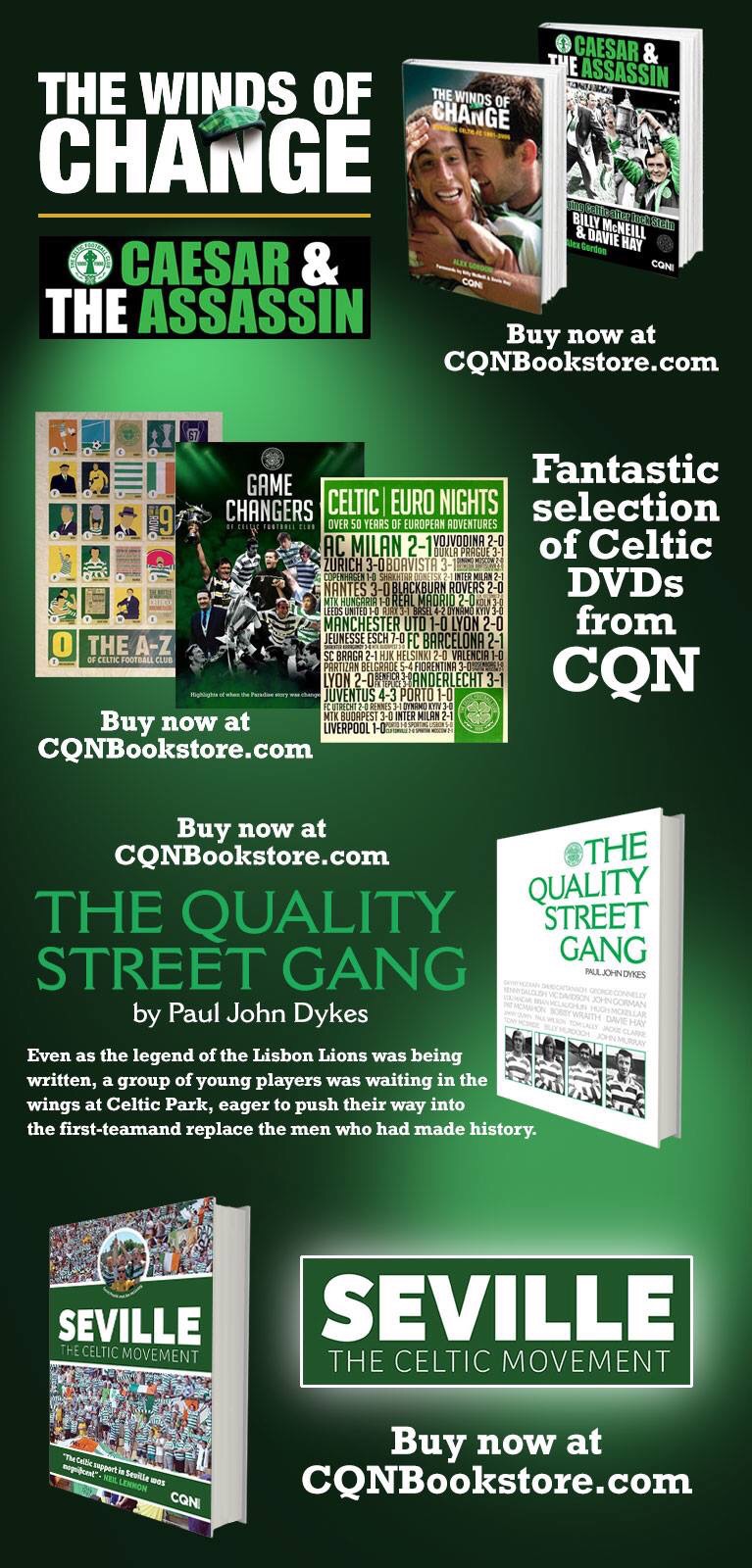 Click Here for Comments >