DAVIE HAY believes Celtic AND Liverpool have suffered more than any other teams during lockdown.
The Hoops legend insists both teams have missed the urgent backing and colossal influence of their supporters who have played such a crucial part in the clubs' silverware successes throughout history.
Club ambassador Hay, 73, has opened up in another CQN EXCLUSIVE to give his views on disappointing campaigns at Parkhead and Anfield.
The former Celtic player, manager and chief scout, speaking to his friend and author Alex Gordon, who co-wrote the icon's autobiography, 'The Quiet Assassin', didn't hesitate when he was asked about the form collapses at both clubs. "It is accepted in world football that the two most passionate sets of supporters in the UK are the followers of Celtic and Liverpool.
"I know what I'm talking about. I've been in Celtic teams that have toiled in games, been on our knees, but the guys on the terracing have given us the energy and oxygen to keep going.
THE QUIET ASSASSIN…Davie Hay races away from St Johnstone forward Henry Hall.
"When Jock Stein first introduced me to the top side, Bertie Auld took me aside. 'Davie, you are about to have the honour of playing in front of the best fans on the planet,' he said. 'They are our twelfth man. They'll inspire you, trust me'.
"As usual, Wee Bertie was spot on. I had been on the terracings with these supporters before I made the breakthrough.
"I recall the night Big Billy McNeill scored with the last-minute header against Vojvodina in the European Cup quarter-final at Parkhead in 1967. It was 1-1 on aggregate and the place was jumping.
"I was there with my wife Catherine and we were both caught up in the excitement and sheer fervour. It was amazing, a never-to-be-forgotten experience.
"And when my old team-mate rose with perfect timing to get his head to Charlie Gallagher's right-wing corner-kick, it was just bedlam. The place went crazy. I recall they announced the crowd that night as 69,374. Aye, and the rest!
"Big Jock admitted the Slavs had been the most dangerous opponents Celtic faced on the way to making wonderful history with our victory over Inter Milan in Lisbon.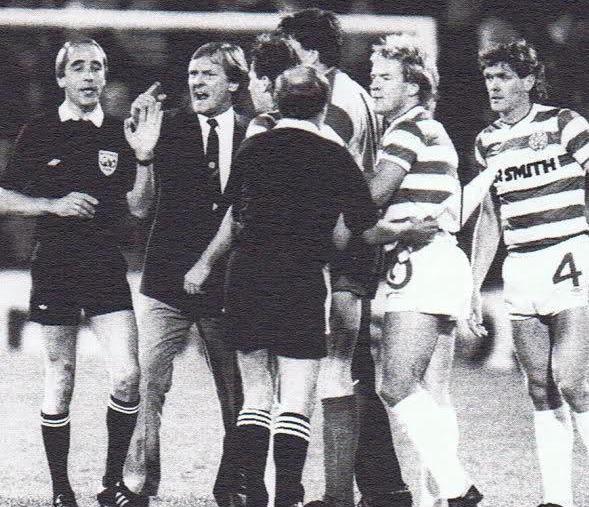 ON THE BAWL…Davie Hay lets rip at referee Bob Valentine during a tense moment in a game against Aberdeen at Pittodrie.
"There is absolutely no doubt the crowd lifted the team that evening in a fog-enshrouded east end of Glasgow. I was behind the goal in what was known as the Rangers End back then and I always look back on that particular game as to the reason Celtic fans are so special.
"They put as much effort into that match as the players! Or so it seemed.
"How would today's players have reacted to that sort of support and non-stop encouragement? We can only guess.
"There have been some mystifying performances from some individuals this season and there can be no argument they would have responded to backing from the sidelines. I am sure of that.
"I have been out there on that pitch and not playing as well as I would have hoped. It happens, you just have off-days. No matter what you do, passes will go astray, you'll miss tackles.
"However, with those followers behind you, there is never a chance you will down tools and just accept you are having a bad day at the office and you will make up for it in the next game.
UP FOR THE CUP…Davie Hay holds aloft the newly-won Scottish Cup in 1985.
"Those fans ensure you react to the here and now. You might not put in a Man-of-the-Match display, but you will get 10 out of 10 for effort and endeavour."
Hay continued: "I realise there will be some critics who will say it is all too easy to blame the pandemic and the non-appearance of fans in grounds for the team's disappointing season. It has been a surreal experience for everyone, that much is certain.
"Some will point to the fact that all teams are similarly affected. No-one has had supporters in their ground this time out.
"But it must be pointed out that most of these sides do not get anything like the vociferous encouragement of their support that Celtic can expect. Let's face it, I've been at games where it looks as though they are being played in a ghost ground and that is with fans allowed in to the stadiums.
"I have attended matches where there has been more atmosphere on the moon. That was never my experience as a Celtic player on the field or a Celtic manager on the touchline.
"I have no doubt it has been an enormous mitigating circumstance in a campaign that has baffled many.
"How can you justify a team dropping 26 points after 31 outings when they only conceded 10 over 30 encounters the previous year? Sixteen points have gone awol, how on earth can you account for that?
GOING NOWHERE…Odsonne Edouard was kept in the summer.
"Celtic didn't sell any of their top players in the summer. They kept Odsonne Edouard, who many believed was the jewel in the crown, and they also held onto the likes of Kristoffer Ajer, Callum McGregor and Ryan Christie.
"The only real difference in the squad was the fact Fraser Forster decided against returning for a second loan period to help push Celtic to that tenth title.
"I really rated the big Englishman, I thought he was a superior keeper and, in truth, he was not adequately replaced. Vasilis Barkas may have cost a lot of money, but he has been far from convincing.
"I am not just blaming the goalie for all the team's ills, but we have conceded goals in this campaign that I am certain would have been averted if Forster had been between the posts."
Hay added: "You can take injuries into the equation, too. This has been a miserable season for Christopher Jullien, James Forrest and Mikey Johnston and they would have all played their part over the course of the programme.
"There have been Covid issues, too, which cannot be ignored. Odsonne Edouard and Ryan Christie, two of the team's most inspirational figures, were in self-isolation following international duty by the time the first meeting with Steven Gerrard's side came along in October.
UP IN THE AIR…Ryan Christie missed the visit of Steven Gerrard's side. 
"Others were missing through injury and Neil Lennon was pressed into giving Stephen Welsh only his second appearance in the first team while Patryk Klimala led the attack in the absence of the French talisman.
"The visitors won 2-0 and the team seemed to lose confidence after that reverse. Very quickly, they lost 3-1 to AC Milan in Glasgow and dropped two more points in a 3-3 draw with Aberdeen at Pittodrie.
"The following month brought two awful 4-1 losses to Sparta Prague, two more points were dropped in a 2-2 draw with Hibs at Easter Road and then came the 2-0 defeat from Ross County in Glasgow in the Betfred League Cup. It was clear the team needed outside assistance – but the fans were not in position to play their role.
"And look at Liverpool. Chelsea beat them 1-0 on Thursday night to give the Merseyside club their fifth successive home defeat for the first time in their history.
"Does anyone think that would have been possible if the Kop had been in full voice? We'll never know, of course, but it does seem more than a mere coincidence.
"Jurgen Klopp has had his injury problems, too. Virgil van Dijk being crocked so early in the season had severe repercussions to their overall system.
"The ex-Celt is a class performer and Klopp paid £75million to take him from Southampton and that made him the most expensive defender in world football at the time.
DUTCH TREAT…Virgil van Dijk is a hard act to follow.
"So, it's natural you will miss such a player, but this is Liverpool we are talking about, the same side that had won the Champions League and English Premier League title in back-to-back seasons.
"They possess a massive squad that befits their status and you would have thought they would have had a replacement, maybe not like-for-like, but someone who could come in and keep them ticking away.
"Yes, I know Joe Gomez, who can play in the same position, has also been sidelined, but I would have anticipated the Anfield team getting over those hurdles.
"Five consecutive home defeats is obviously unheard of. Remember, this was a team who had gone on an incredible unbeaten sequence on their own patch before this campaign.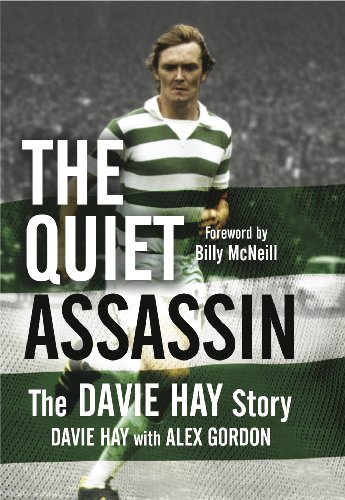 READ ALL ABOUT IT…the Davie Hay Story.
"They've suffered from the lack of their fans, I have no doubt about it.
"And likewise Celtic. I am well aware there will be some who will say I am a Celtic fan searching for excuses. They are welcome to their opinions.
"As far as I am concerned, there is one inescapable fact, this same set of Celtic players would have produced different personal performances if they had been given the backing and encouragement of the best supporters in the world.
"Wee Bertie made that point to me back in the mid-sixties and I have never had any reason to question his belief. Even less so today."
Click Here for Comments >