ON April 1 1970, Celtic travelled to Elland Road with many so-called experts predicting failure in their European Cup semi-final first leg encounter against Leeds United.
The Hoops had been written off and were expected to be bit-part players in Yorkshire.
Celtic refused to play ball as they went out that evening with a point to prove.
Author Alex Gordon co-wrote club legend Davie Hay's best-selling autobiography, 'The Quiet Aassassin', which was published in 2009.
In another CQN EXCLUSIVE, here is the entire chapter covering an unforgettable evening at Elland Road – and an even more memorable confrontation at Hampden a fortnight later.
Please enjoy…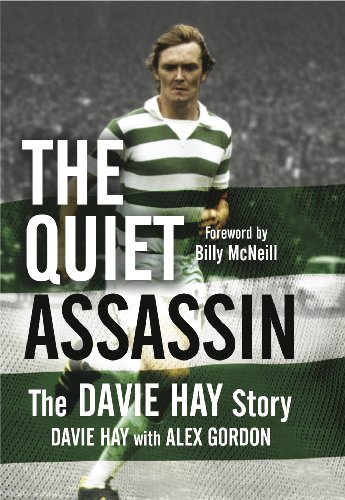 JOCK STEIN winced when he heard the ballot for the 1970 European Cup semi-finals. Celtic were drawn to play Leeds United while Dutch side Feyenoord would take on Polish outfit Legia Warsaw.
Now if anyone believed our manager was displaying any sort of trepidation or foreboding at facing the side the English Press were already acclaiming as the best in the world, they could not have been more inaccurate in their thought process.
Jock, in fact, secretly hoped Celtic and Leeds United, managed by his good friend and intense rival Don Revie, would meet in the showdown for European football's most glittering prize in the San Siro Stadium in Milan on the evening of May 6.
Our astute boss knew we could beat the English champions. He was utterly convinced that the Final in Italy would be the ideal setting, with the world looking on, to show once and for all that Celtic were a force to be reckoned with. It used to irk Jock that Celtic never got the credit, particularly from across the border, he firmly believed we deserved.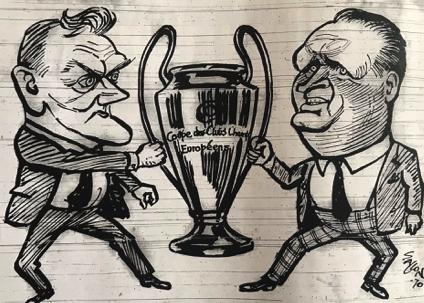 POWER STRUGGLE…how one caricaturist saw the battle for the European Cup between Don Revie and Jock Stein.
Not surprisingly, everyone at the club agreed with him. It annoyed the players, too, because we knew we were superior and we just wanted the opportunity to display our skills against Revie's outfit. Fate, though, dealt us a duff card and I am convinced to this day that cost Celtic their second European Cup in the space of three years.
We simply had to be content in putting Leeds United in their place in the two-legged semi-final. And, of course, that's exactly what we did. We were supposed to be intimidated by the Elland Road side. We had been written off by the English scribes as 'no-hopers' and we didn't really need an extra incentive to go out there and wipe the floor with this much-vaunted collection of highly-rated individuals.
Jack Charlton, their World Cup-winning centre-half, should have known better, but he, too, went on a television sports programme to more or less dismiss us. Oops. Those words would come back and bite him big-style.
So, you can take it from me that is was a fairly determined Celtic squad who embarked on the train at Glasgow's Central Station as we headed for Yorkshire and our first leg meeting at Elland Road on April 1. Or April Fool's Day, if you prefer.
FRIEND AND FOE…Billy McNeill shakes hands with his pal Billy Bremner before the kick-off at Elland Road.
Someone was going to be on the receiving end of soccer's equivalent of a custard pie. To a man, we couldn't wait for the action to start. We were a team on a mission with a massive point to prove. Revie, like Stein, was a fox. He was always looking at ways of getting a psychological advantage over opponents, even down to berating the state of his own side's pitch and saying it wasn't conducive to good football at that late stage of the season.
He knew we liked to play the ball on the carpet, but he was wasting his time if he thought we were going to take in any of this claptrap. We weren't about to change the style that had become synonymous with this team.
Leeds also had this hardman image. Norman 'Bites Yer Legs' Hunter, for a start. What sort of nickname is that? And, sadder still, he seemed to revel in this juvenile, daft monicker. Do you think for a split-second his reputation meant a thing to the likes of Bobby Murdoch or Bertie Auld? Or me, for that matter?
Don't get me wrong; Leeds United were a very good team. Excellent, even. But they weren't at the same level as us and we knew it. They, too, would soon come round to our way of thinking. The off-the-field shenannigans went on right up until the kick-off.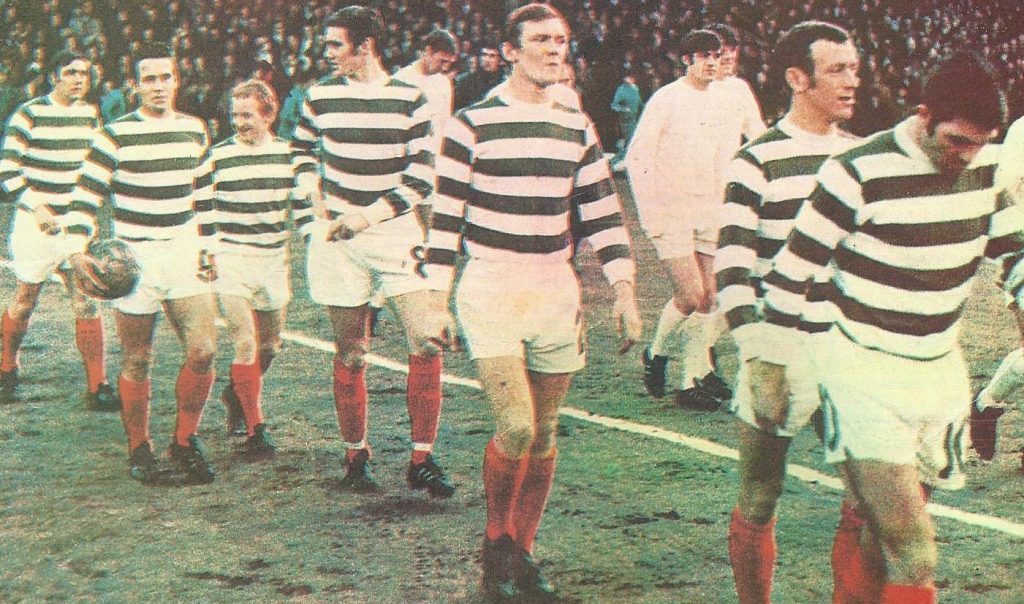 GREEN FOR GO…Bertie Auld leads out Celtic team-mates Bobby Lennox, Davie Hay, George Connelly, Jimmy Johnstone, Willie Wallace and Bobby Murdoch before the epic European confrontation with Leeds United.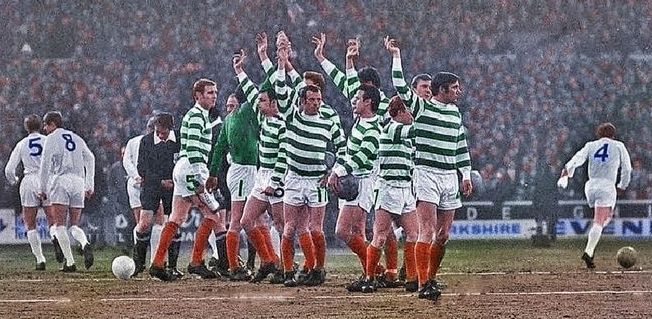 PRE-MATCH SALUTE…Celtic players acknowledge the fans at Elland Road.
We were informed they had complained about our white socks to the referee. They were the same colour as Leeds', of course, but no-one made any mention of it until just before the start. As our kitmen hadn't packed alternatives we had to borrow orange socks from our opponents.
If that, too, was designed to faze us in any way, shape or form, it was another error on their part. We could have played in our civvies that night and still won.
'Right, bring it on,' was our message to the Leeds players as the whistle blew to start the contest. Within a minute we were a goal ahead. My pal Big Geordie, George Connelly, struck a fine effort from just inside the box, it clipped their defender Paul Madeley and swirled away from the stranded Gary Sprake, Leeds' Welsh international goalkeeper.
GOING IN…Leeds United keeper Gary Sprake has that sinking feeling as George Connelly's quickfire effort eludes him while Eddie Gray looks on helplessly.
HOOP HOOP HOORAY…George Connelly raises his arms in triumph as he is about to be congratulated by Jimmy Johnstone, Bertie Auld and Willie Wallace. Leeds United's Johnny Giles doesn't share the joy.
HANDS UP IF YOU ARE HAPPY…Celtic players celebrate as Leeds defenders wonder what's hit them.
I'm convinced Geordie's effort would have hit the target, anyway, without the slight deflection. I saw their players looking at each other. 'What's going on?' they seemed to be saying. They were top dogs in England and I believe their sheer presence and all the ballyhoo surrounding the team frightened the life out of some opponents.
They were probably terrified to cross the halfway line and here we were a goal ahead in the away leg of the European Cup semi-final. They looked just a little gobsmacked.
Geordie netted another, but, although he was clearly onside, the referee ruled it out for someone, I think it was Jimmy Johnstone, straying into an offside position. I've seen them given, as they say nowadays. No matter. The game finished 1-0 and I don't think our goalkeeper Evan Williams had a save of any note to make throughout the ninety minutes that we controlled for lengthy periods.
Wee Jinky was majestic. He scampered up and down the wing, wriggling away merrily with those mesmerising snake hips and the left hand side of the Leeds defence was getting a torrid time.
CLOSE CALL…Leeds keeper Gary Sprake saves on the line while challenged by Willie Wallace. Right-back Paul Reaney is in attendance.
It didn't get any better, either, for our opponents a fortnight later when a crowd of 136,505 crammed into Hampden Park for the second instalment. Honestly, even now, almost four decades later, I can still feel a surge going through my body when I think back to that utterly unbelievable evening in that grey, old fortress.
The hairs on the back of my neck still stand to attention at the recollection. The only game at our national stadium that comes anywhere close to that occasion as far as I am concerned was the night Scotland beat Czechoslovakia 2-1 to cement our place in the 1974 World Cup Finals in West Germany.
Our country had been out in the international wilderness for sixteen long, miserable years until that victory catapulted us back into the big-time.
JOB DONE…Davie Hay (No.2) and his Celtic team-mates commiserate with their beaten opponents at the end.
I'm getting ahead of myself, though. At Hampden on April 15 we had a job to complete. We were only halfway through and, of course, Leeds were a dangerous team who had made all sorts of noises about turning the tie around. There was still cash going on them getting to the San Siro. Some people have more money than sense.
Mind you, we did get a jolt in the fourteenth minute when their inspirational skipper and my Scotland colleague Billy Bremner levelled the aggregate scores with an absolute screamer. Hampden had been awash in green-and-white beforehand and our supporters were in party mode.
The place had been rocking for hours before the kick-off and the celebration parties up and down the country had already been planned. Pubs had been booked for 'lock-ins'. Hotels were standing by for a rush at full-time. And then wee Billy tried to go and spoil things for the very team he grew up supporting as a schoolboy in Stirling.
It was a mighty effort from Billy and Williams had absolutely no chance as it soared high into the top right hand corner of his goal. Now here's a strange thing. Even at that particular moment, I did not believe for one second that we would lose the game.
HEAD MASTER…John Hughes dives in front of Leeds United centre-half Jack Charlton to thump in the leveller at Hampden while Jimmy Johnstone looks on.
Billy had probably done us a favour by scoring so early as it gave us seventy-six minutes to fight back and this Celtic team could inflict an awful lot of damage on our opponents over that period of time. I'm fairly certain our keeper didn't have another save to make that evening.
We rolled forward in numbers and the Leeds players were chasing their tails for a great deal of the match. Jinky once again took centre stage. He frustrated the life out of their defenders as he edged forward in that very individualistic manner of his, hips veering this way and that, and then suddenly the shoulder would go down and he was darting off as a hapless defender was left tackling fresh air. He did it time and time again.
Leeds could be a physical team and, yes, some of their more frustrated and exasperated players tried to kick our wee touchline terror, but it was all to no avail. Simply put, he was unstoppable.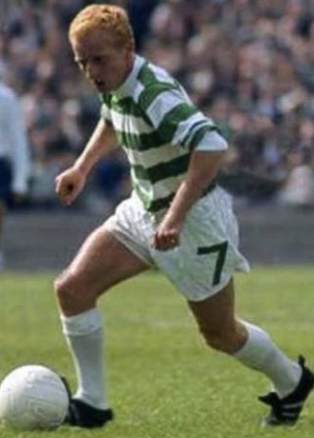 WEE Mr MISCHIEF…Jimmy Johnstone was unstoppable against Leeds united home and away.
I actually began to feel sorry for Terry Cooper, their English international left-back who would play in the World Cup Finals later that year. He would face the likes of Brazil's Jairzinho and not be given such a runaround. It was an electrifying, pulsating performance from Jinky and one I will always remember with the utmost fondness. I really liked that wee man.
Thankfully, I had a role to play in our equaliser two minutes after the turnaround. I was pushing forward down the right as often as I could with Jinky tying up their left-side in knots. That freed space for me and I bombed up and down the wing as often as I could.
It was only recently that my son-in-law Tommaso Angelini, who had a spell with Lazio in Italy, saw that match. 'My God, you were quick', he exclaimed. And, after watching the footage, too, I had to admit even I was impressed by my pace.
I ventured forward for the upteenth time, gained a corner-kick on the right and worked a short one-two with Bertie, who delicately swung in the sort of tantalising cross that every defender absolutely abhorrs. It was between the goalkeeper and his central defence. Does the keeper leave it to the man in front of him? Does the defender depend on his keeper coming for it? All you need is that moment's hesitation and you are in trouble.
HAMPDEN ROCKS…Celtic players celebrate John Hughes' header while stranded Leeds keeper Gary Sprake and grounded central defender Jack Charlton have that feeling of doom and gloom.
Sprake elected to stay on his goal-line while Charlton stood transfixed on the six-yard line. Big Yogi, John Hughes, was alert to the opportunity. He dived forward, got the merest of touches to Bertie's astute cross and suddenly his header was nestling in the net.
Charlton shouted at Sprake. Sprake shouted at Charlton. Presumably, they would sort it out later in the dressing room. Not that we cared one jot. Hampden was engulfed in bedlam as the crowd, still a record for a European tie, went into orbit.
It was awesome. I lglanced up at one of the stands and it looked as though it was bouncing. What a feeling. I've been a coach, an assitant boss, a manager, a chief scout, an agent and a director of football, but, believe me, there is nothing to touch playing. Especially on nights like that.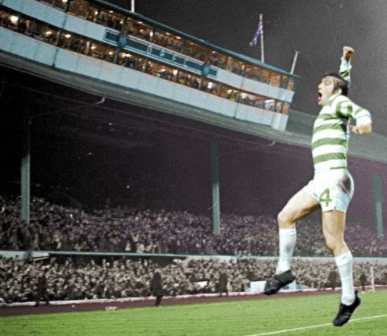 LEAP OF TRIUMPH…Bobby Murdoch jumps for joy after hammering in Celtic's second goal.
Okay, so we are 2-1 ahead on aggregate and the final is looming in front of us. What do we do now? Shut up shop and defend what we have? Or do we go and get another?
Remember, this was Jock Stein's Celtic we are talking about. There was no debate among the players.'Let's get a second,' was the battle cry. 'Let's finish it.' And we did.
Jinky, our tormentor-in-chief all night, set up a chance for Bobby Murdoch on the edge of the penalty area. David Harvey, another who would later become a Scottish team-mate, had taken over in goal after Sprake had twisted an ankle. David's timing could have been better.
Murdy, with that powerful frame of his solidly behind any strike, walloped the ball first time and it was merely a blur as it zipped low past the stranded stand-in. Game, set and match, I think.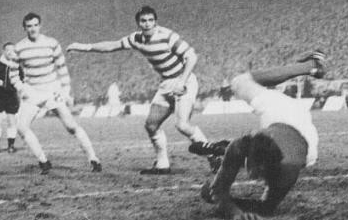 THE WINNER…George Connelly and John Hughes watch as Bobby Murdoch's low drive flashes past Leeds substitute keeper David Harvey to give the Hoops a memorable 3-1 aggregate victory.
Maybe, just maybe, we would now get the credit and acclaim our football deserved. Even the English media had to admit their 'world champions' had been played off the park twice.
We had reached the semi-final after beating Swiss champions Basle 2-0 on aggregate, somewhat fortunately dismissing former European kings Benfica on the toss of a coin after a 3-3 draw over the two legs and overcoming Italians aces Fiorentina 3-1 in the last eight.
Leeds had been banished to oblivion and we would discover Feyenoord had edged past Legia Warsaw.
No-one could have anticipated what that Dutch triumph over the Poles would actually mean to us.
Until it was too late.
Click Here for Comments >