CELTIC great John 'Yogi' Hughes passed away on Monday evening at the age of 79 following a short illness.
In another CQN EXCLUSIVE, Alex Gordon, who co-authored the fans' favourite's autobiography, 'Yogi Bare: The Life and Times of a Celtic Legend', presents Part Two of 'Putting The Record Straight', selected from his friend's 2014 best-seller.
Please enjoy.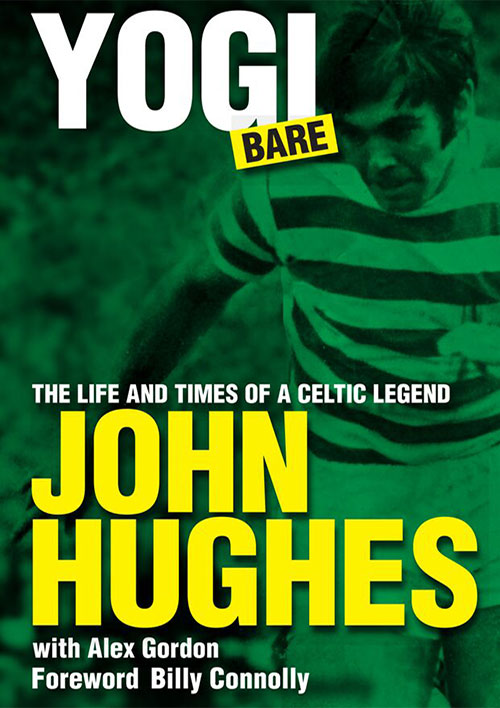 EVEN before Jock Stein arrived, I think I was more than paying my way in a fairly average Celtic team.
I scored 88 goals in my first four years with absolutely no coaching from my team-mates or the backroom staff. I have to say I am fairly satisfied with that record.
I'm no big head, but that's an average of 22 goals per campaign for a rookie brought into the team from Shotts Bon Accord, so I must have been doing something right even in my early days. My total in 11 seasons was 189 to put me in seventh top place in Celtic's all-time top goalscorers' list.
WATCHFUL EYE…Jock Stein looks on as John Hughes fires in a shot in training.
What's inconsistent about that? In fact, I might even have taken second or third highest position if Jock hadn't sold me to Crystal Palace in 1971. I was 28 at the time and people consider a player hits his peak between 28 and 32.
So, working on averages, if I had remained at the club for another four years and scored 17 goals per season, I would have ended with a tally of 257 and that would have beaten third top Henrik Larsson's haul of 242.
It would have been 16 short of Bobby Lennox in second place. It's worth pointing out that I scored my 189 goals from 416 appearances while my old team-mate took 571 games to reach his total. I'll concede I would never have caught Jimmy McGrory's 472 strikes from 445 appearances.
I would have given it a good try, though!
GOAL…John Hughes is on the ground as his header leaves Leeds keeper Gary Sprake standing for the crucial equaliser in the 2-1 European Cup semi-final triumph on an unforgettable April evening at Hampden in 1970. Jimmy Johnstone gets a close-up view.
Yes, I realise all this is merely conjecture, but what I'm trying to get across is the fact I don't accept for a second that I was a hot or cold performer. There's no way you can reach those figures if you are erratic or your form is irregular. Absolutely no chance.
Of course, there were days when I didn't perform at the highest level, but you could say that about every player who has ever kicked a ball. It's not possible to turn it on in every outing. It's only normal that any footballer's form will fluctuate.
There were days when I felt unstoppable. I could get into my stride early on and I just knew somehow it was going to be a good day at the office. Those were the match days where everything I fired at goal hit the target. However, everyone has to accept there will be encounters where the ball just won't run for you. It was hardly unique to me.
But I've been stuck with the label and I don't think it's fair. In fact, it makes me sick to the back teeth when I hear people talk about my apparent rollercoaster form.
Maybe the expectation levels among the fans were just a bit too high. I'm sure they would have loved to have seen me run amok in every game. Believe me, I would have settled for that, too.
GOAL…John Hughes whips a low drive beyond diving Dundee keeper John Arrol in Celtic's 5-3 win in the 1967 League Cup Final.
If I didn't hit the heights in every game it certainly wasn't for the lack of trying. When I pulled on that green and white shirt I had only one thought in mind and that was to do everything within my powers to help Celtic to win. If I scored a few goals along the way, then that was a bonus.
I knocked in five goals in an 8-0 romp against Aberdeen in a league game back in January 1965. I only scored one apiece in the next three games, wins over St.Mirren, Kilmarnock and Airdrie. Did that mean I had hit a slump because I didn't produce the same scoring ratio as against the Dons? I suppose everything is relevant.
Remember, too, that I played a huge chunk of my career on the left wing. There's no doubt I would have scored a helluva lot more than 189 if I had been playing through the middle all of my career. I would like to think I set up more than a few goals for the likes of Bobby Lennox or Stevie Chalmers, who, by the way, is fourth in the scoring stakes at the club with 231 goals from 393 appearances.
So, if I'm stuck with being a volatile, unreliable performer in my years at Celtic, I have to ask: "Who was Mr Consistency?"
GOAL…John Hughes thunders a right-foot effort past the Dinamo Zagreb keeper in Celtic's 3-0 victory in the European Cup-Winners' Cup clash at Parkhead in December 1963.
I'm not going to point the finger at any of my former colleagues, but I can't think of anyone who guaranteed a top-notch display in every game. As I have said, that is just not feasible. We had some world-class performers in my day, but even those individuals put in exhibitions that I'm sure even they would admit were somewhat less than inspiring.
So, please do me a favour and let's get rid of the annoying inconsistency tag once and for all.
I'm not being precious, anyone who knows me will tell you I am not that sort of person, but to be absolutely frank I'm fed up with the label. I feel I made a contribution in a huge percentage of my games for Celtic. The statistics surely back up my belief and I can only return to Jock Stein.
If I hadn't been producing regularly and meeting his exacting standards, I would have been axed early on. Simple as that. I had to be reliable to get into any of Jock's line-ups. Hopefully, this will once and for all bring a halt to the wayward assessments and unfounded observations that my form was up and down like a yo-yo.
Jock would not have accepted it back then and I'm not accepting it now. I don't expect to hear any more on the subject!
* TOMORROW: Don't miss another Big Yogi EXCLUSIVE – only in your champion CQN.
Click Here for Comments >