JOHN HUGHES, the legendary Celtic forward known as 'Big Yogi' in his rollicking playing days, celebrates his 78th birthday today.
The fans' favourite hammered in 189 strikes during his glittering career to make him the Parkhead club's seventh all-time highest goalscorer.
CQN has teamed up with the Hoops personality to present a weekend of EXCLUSIVE extracts from his compelling autobiography, 'Yogi Bare: The Life and Times of a Celtic Legend,' which was co-written by author and friend Alex Gordon.
Today, in the first of three special features, Big Yogi looks back to the start of his memorable time at the team that has always been closest to his heart.
I SCORED eighty-goals in my first four years in the Celtic first team and I can't remember manager Jimmy McGrory ever talking to me about football. Astonishing, isn't it?
Jimmy was more of a gentleman than a football man. You would have been forgiven if you believed it should have been the other way around when you look at his phenomenal goalscoring record with the club. He rattled in 410 goals in 408 league games. You don't have to be a mathematical genus to work out that averages more than a goal a game.
In all, he claimed 550 goals in his fifteen years at Celtic. That's a British record and never likely to be broken. This guy, with the awesome, stocky build, used to terrorise defences, but when he quit the playing side of the game he reverted to his alter ego. Jimmy swapped his football gear for a three-piece suit, shirt and tie, a soft trilby hat and his trademark pipe. It was a remarkable transformation in the individual. I can only liken it to Superman turning into meek, mild Clark Kent!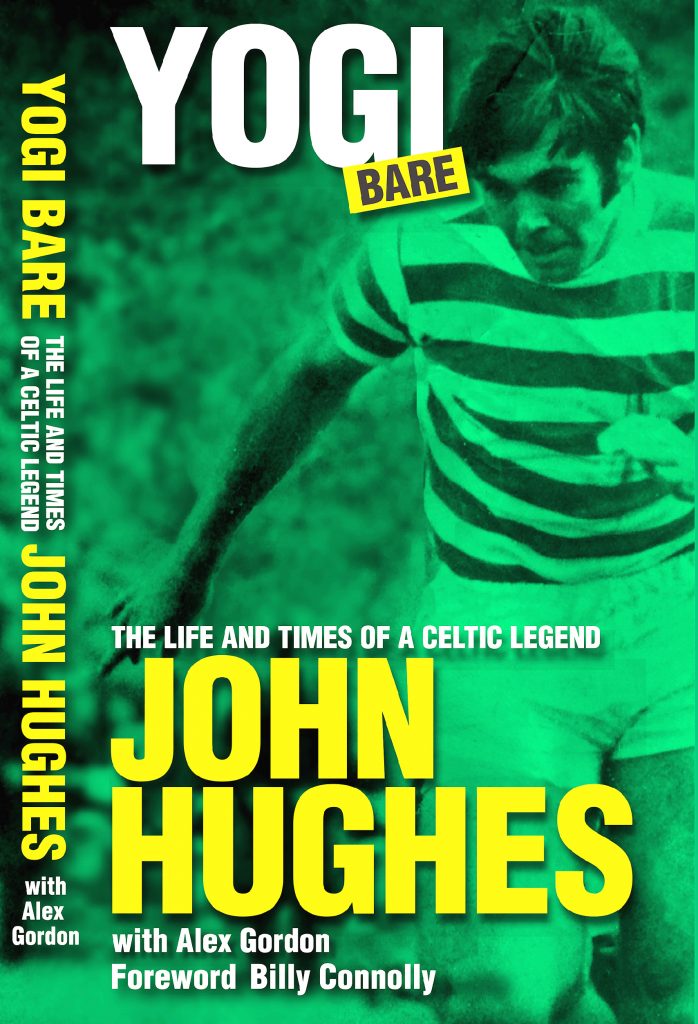 This burly bloke, who looked as though he could knock over buses with a shoulder charge, had such a soft burr when he was speaking it really was difficult to fathom how he had gone about his business in packed penalty areas, grabbing so many goals, many with his head, in his utterly ruthless and courageous outlook. Remember, too, the old brown ball back then was like a cannonball. He was absolutely fearless and no-one messed with mighty Jimmy McGrory. Then he replaced his well-worn football boots for a pair of black brogues and was never seen in a football kit again.
How I would have loved to have had some advice from this prolific marksman, the most outstanding goalscorer in Celtic's history. I know you will find it hard to believe, but Mr McGrory – I could never call him Jimmy – never offered any help whatsoever. He never once took me aside to talk about my game. But please don't get the notion he was shunning or ignoring me. That would never have been in Mr McGrory's manner. Simply put, he never got involved in training sessions and there was a very good reason for that. He was never there.
Incredible in this day and age of the tracksuited team boss, but that wasn't part of Mr McGrory's remit when he quit the playing side of the game. The role required so many clerical duties that he was often stuck behind a desk in his office. So, no offence was taken when he didn't suddenly appear at my side to coach me through the art of scoring goals.
I was seventeen years old when I came into the side. One minute I was playing schools football and the next I was rubbing shoulders with greats such as Neilly Mochan and Bertie Peacock. I have to say I wasn't intimidated playing in that environment. I had all the confidence of youth and I was used to scoring goals, no matter the level. But I was raw, no doubt about it.
YOGI BEAR…a youthful John Hughes who became a legendary figure at Celtic.
My game was basically very simple. The defence would fire the ball down the pitch, I would hare after it and attempt to belt it on target. Such methods would be frowned on today, but I still see teams taking route one to goal. It may not be pretty or easy on the eye, but goals win games. Liverpool legend Bill Shankly once said, 'There is no such thing as a long pass or a short pass – it's all about a good pass.' When you consider what he achieved in the game, you have to respect his philosophy.
Although I was getting on the scoresheet regularly, I knew I could do better. Maybe a lot of players would have been happy to claim my goal ratio, but I always wanted to push myself to the limit. If I scored one, I wanted two. If I got two, I wanted three. And so on. Jimmy McGrory would surely have identified with that because he once scored eight in one game against Dunfermline. I'm also reliably informed not one was from a trademark header and he was lethal when the ball was in the air. The record books also show he hammered in three in three minutes against Motherwell back in 1936. In today's game, it takes some so-called strikers about three months to score three goals.
So, when I signed for Celtic I thought I would be picking up all sorts of hints from this amazing penalty box performer. But, of course, I didn't know about the main duties Mr McGrory had to accept in his role as Celtic manager. So, the sought-after advice never came and that was not the fault of Celtic's most prolific goalscorer, but I still wonder about what I could have achieved in my early days at Celtic. Back then, though, so much of what was happening at the club was just a joke.
READ ALL ABOUT IT…John Hughes and author Alex Gordon enjoy a beer at the launch of his autobiography, 'Yogi Bare: The Life and Times of a Celtic Legend'.
Take the training, for instance. What training? Willie Johnstone was the club physiotherapist and he was in charge of all the routines. When I say 'all the routines' I mean running round the touchlines until you felt you had just lapped the globe. Sometimes it would be pitch black and Johnstone couldn't see that some of the players – notably goalkeeper Dick Beattie and centre-half John Jack – had nipped off to the back of the Jungle for a fly cigarette. They would stand up there and watch the rest of us go round and round in circles. Then Johnstone would signal there would be just one lap to go and they would put out their fags and join the rest of us. The physio never twigged.
Beattie, who played in Celtic's never-to-be-forgotten 7-1 League Cup Final win over Rangers in 1957, was a real character. In fact, neither Beattie nor Jack even bothered to get changed out of their daytime clothes when they turned up for training. When Johnstone wasn't looking, they just pulled on their tracksuits over their everyday wear safe in the knowledge they wouldn't be working up a sweat.
Sometimes, if we were really lucky, we would get a ball to play with. Believe me, this was a rare occurrence and normally happened on a Friday, the day before the game. Obviously, it was thought useful to reacquaint the players with the instrument of their trade. Johnstone seemed more intent in turning Celtic Football Club into a squad of marathon runners than actual footballers.
READ ALL ABOUT IT…Big Yogi featured in six Celtic title triumphs.
When I look back, it's easy to see why the club didn't figure too often in winning silverware. We might have been fit enough, with the exception of Messrs Beattie, Jack and the rest of the skiving smokers, to run from here to Borneo, but just don't ask us to do too much with that precious spherical object called a ball.
I might have expected some assistance, too, from one or two of the older hands when I was first introduced. I'm still waiting. They were too busy just getting by and concentrating on their own game to be concerned about a teenager. Trust me, I'm not saying this out of bitterness. Far from it. The guys who went before me would have all gone through the same routine. They didn't know any better. There was no-one there to guide them and so it went on down the line.
I repeat, this is not intended to be any sort of criticism of Mr McGrory, who obviously was too busy with all sorts of other menial tasks. However, if we didn't see him at the park or Barrowfield, we made sure we caught up with him on a Tuesday. That was pay day and Mr McGrory used to pass out the wages in little brown envelopes. Another of his jobs was to look after matchday tickets. Can't imagine modern-day gaffers taking on that task, can you? Mr McGrory would be busy enough doing what was expected of him and didn't get round to matters pertaining to the football pitch. It was really amateurish.
Jimmy McGrory may have been the manager, but I soon got to know he wasn't in charge of picking the team. Mainly, that was down to chairman Bob Kelly with some input from assistant manager Sean Fallon. Yet they went through the farcical rigmarole every Thursday night of Mr McGrory submitting his line-up at the weekly board meeting. Bob Kelly would take the sheet of paper, thank Mr McGrory for his efforts and, with that, the manager was allowed to leave the building. Whether the team list on matchday bore any resemblance to the one selected by Mr McGrory is not up for debate.
THE POWER OF THE BEAR…John Hughes blasts a close-range drive into the roof of the Airdrie net with keeper Lawrie Leslie helpless.
The chairman would make the changes he saw fit and that was the end of it. As far as I am aware, Mr McGrory never complained, not even once. I swiftly realised I should never take anything for granted in that sort of environment. I knew I could score a hat-trick in one game and be dropped the next. There was never any explanation and God forbid if you asked for one.
I played one of my first games against Rangers in an Old Firm League Cup-tie at Ibrox. I scored as we upset the odds with a 3-2 victory and I received a fabulous accolade in the Glasgow Herald. One of their top sportswriters wrote, 'Celtic have produced, almost from the playground, one big fellow of great potential. Hughes, who is only seventeen years old, caused havoc in the Rangers defence even when, for the greater part of the second-half, he was the only Celtic forward in a position to threaten Rangers' goal, so committed to defence were his colleagues. The even bigger, heavier Doug Baillie, the home centre-half, was time and again confused as his much more nimble opponent beat him for speed and control of the ball.'
I have to say that guy certainly knew his onions! I've got another cutting from a newspaper at the time also describing my first Glasgow derby display. For reasons known only to the author of the piece, he decided to call me 'Johnny' Hughes.
HAMPDEN HITMAN…John Hughes fires one past Dundee keeper John Arroll in Celtic's 5-3 League Cup Final romp in October 1967.
He wrote, 'It was asking a lot of a seventeen year old to throw him into the inferno of an Old Firm battle in his third Senior match, but young Johnny Hughes repaid the Celtic management in full for their faith in him. He won the battle of the 'Young Goliaths' with Rangers pivot Doug Baillie – and that pretty much decided the match.'
This obvious football-observing expert added, 'In a game packed with excitement and incident, Hughes gave Celts as much as any man with a wealth of experience – and the Rangers defence much more than they wished! Johnny assisted John Divers in scoring Celtic's second goal. He collected his own following a good Bobby Carroll run seconds before the interval. With any luck he might have added three more. In the first-half, Hughes gave us a slick display of footwork that baffled the four Rangers players surrounding him. Even the Ibrox followers were forced to show their appreciation.'
Aah, memories are made of that. I have to admit, though, I don't recall the Rangers fans cheering me that day. I'm sure that would have stuck in the memory bank.
TOMORROW: Don't miss another Big Yogi EXCLUSIVE – only in your champion CQN.
Click Here for Comments >