CELTIC will play Rapid Vienna in a friendly in Austria this evening.
One Hoops legend who thought he would never read those words is Davie Hay, especially after his experience of explosive European meetings with the Austrians 38 years ago.
It is a dark chapter in the club's proud history that will never be forgotten by the man who is unique in Celtic's annals of fame as a player, team boss, chief scout, assistant general manager and now an ambassador of the club.
In another CQN EXCLUSIVE, Hay, now 74, recalls an extraordinary evening in the east end of Glasgow from his best-selling autobiography, 'The Quiet Assassin', co-authored by long-time friend Alex Gordon.
It's a riveting, compelling – and sad – journey back in time.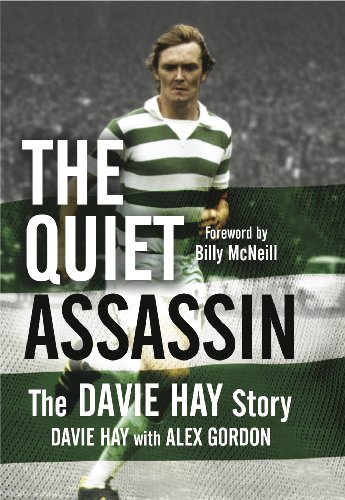 WHAT is it about European competition that can transform apparently normal, sane individuals into a bunch of lying, cheating cretins?
I will never in my life be able to recover from the recollection of the outrageous antics of Rapid Vienna when they played at Parkhead in the second leg of our European Cup-Winners' Cup second round tie on October 24 1984.
Who could forget that night? The warning signs were flashing in the first game in Vienna two weeks beforehand. They had a particularly vicious midfielder called Reinhard Kienast and he was doing his best to get sent off with his wild lunges.
Frank McGarvey and Alan McInally took a couple of dull ones, but the referee, a Bulgarian named Yordan Zhezkov, didn't want to know. McGarvey, in fact, went off injured after another reckless lunge from Kienast.
CHEAT…play-acting Rudi Wienhofer is carried off the Celtic Park pitch after being struck by a phantom object. 
Shortly after the restart they went ahead, but Brian McClair equalised. Then they got another before their most famous player, Hans Krankl, completed the scoring three minutes from time. In between those goals, McInally was ordered off for a challenge that was nowhere near any of the continual assaults perpetrated by the Viennese throughout the game.
Would they resort to these underhand tactics in front of a packed house in Glasgow? It got even WORSE.
We were 2-0 up by the interval with goals from McClair and Murdo MacLeod and were coasting. Krankl was never far from the Swedish match official, Kjell Johansson, during most of the game, moaning about this, that and the next thing. He did not enhance his reputation as a world-class striker in the eyes of anyone who witnessed this primadonna performance.
We got a third goal when their keeper fumbled a shot from McGarvey and Tommy Burns slid in to toe-poke the ball over the line.
NUMBER THREE…Tommy Burns prepares to slot in a crucial goal after a mistake by the Rapid Vienna keeper.
The shotstopper rolled around in 'agony' while his team-mates went through their routine of having a go at the ref. The goal was perfectly good and, of course, it stood. At last justice caught of up with Kienast when he was spotted punching Tommy on the back of the head and off he went. Not before time.
It was real powderkeg stuff now and the mood of the Austrians didn't get better when we were awarded a penalty-kick after the unfortunate Tommy Burns was booted by their keeper. Rapid Vienna's version of the Elephant Walk, led by Krankl, descended once more on the beleagured official. They surrounded him and pleaded with him to consult his linesman.
Johansson, probably fed up with the constant bickering from their players, booked Krankl before agreeing to go over to the touchline beside the old Jungle, the area that housed the more boisterous among the Celtic support. There was the usual pushing, shoving and jostling and, in the midst of all this, one of their players, a substitute called Rudi Weinhofer, suddenly collapsed to the ground holding his head.
WALLOP..Tommy Burns is punched on the back of the head by thug Reinhard Kienast which brought a red card for the Austrian. 
He lay prone on the turf for almost ten minutes. He was holding his head and eventually he came off, swathed in bandages, claiming to have been struck by a bottle. It was all nonsense, of course.
The game restarted with the penalty-kick being given and Peter Grant smashed it past the post! Television pictures later showed that Weinhofer hadn't been hit by a bottle or anything else for that matter. It was all a phoney act in an effort to get the game abandoned.
At one stage it looked as though Krankl was going to lead his players off the pitch which would have brought automatic expulsion by UEFA from the competition. He thought better of it and played on.
Unfortunately, someone in the crowd had thrown a bottle, but it was at least 20 yards away from Weinhofer or any other Austrian player. UEFA's official observer was a West German named Dr Hubert Claessen and he said in his report that he had seen a bottle come on to the pitch, but it had not hit any of the Vienna Rapid players.
MELEE…Swedish referee Kjell Johansson tries to restore order among the unruly Rapid players.
I didn't believe for a second that would be the end of the matter. I was proved right. Celtic were fined £4,000 and the Austrians £5,000. Kienast was suspended for four games and their vociferous coach, Otto Baric, was banned from the touchline for three matches. Our opponents immediately appealed, changing their story to say that Weinhofer had been struck by a coin and not a bottle.
By the way, the Austrian was examined by an ambulanceman in Glasgow and, needless to say, there were no signs of a cut.
The committee that sat on the appeal didn't check any television evidence for reasons known only to themselves. They doubled Rapid Vienna's fine, but, in a remarkable u-turn that suspended belief, they ordered a replay which had to be 100 kilometres away from Celtic Park.
How they reached such a diabolical decision is anyone's guess. Rapid were delighted, as you might expect. They had been fined a total of £10,000 and they would receive half the gate receipts when the match took place at Manchester United's Old Trafford. They would actually be 'punished' by making a profit.
FLARE-UP…Roy Aitken is in the thick of it as the Rapid Vienna player goes through his dying swan routine. 
We were angry at being ordered to play that third game. We had won fair and square only to have it binned because some moron threw a missile on to the pitch. I was interviewed on TV later that night and I tried to play down the entire situation. I said, 'That might turn out to be the most expensive half-bottle of vodka in history.'
I didn't realise how apt those words would turn out to be. We made our way to Manchester on December 12 and I think we had 40,000 fans inside the ground long before the kick-off. The mood was grim. The supporters, like everyone at the club, were convinced they had been robbed.
I was angry, too, for we had played very well against Rapid Vienna, almost as good as the 5-0 romp against Sporting Lisbon the previous year. We never did get the praise we deserved for overturning the Austrians.
The Celtic party stayed at a hotel at Haydock near the racecourse as we didn't want to get caught up with the emotions of our huge following in Manchester city centre. Old Trafford was heaving with seething Celtic fans by the time the kick-off arrived . There was a lot of venom and poison about. It was an extremely tense occasion, a highly-charged evening, to say the least. We were not fated to book our place in the quarter-final that season.
OUT OF LUCK…Brian McClair fails to connect with the rebound after Roy Aitken had hit the post.
We came out the traps at a fair old toot and we were so unlucky when Roy Aitken struck the post in the seventeenth minute. We had been attacking en masse and they hit us with a classic sucker-punch. They raced straight upfield with my team disorganised and their centre-forward, Peter Pacult, swept an effort wide of Pat Bonner.
We were now 4-1 down on aggregate and we would have to claim three goals to push the game into extra-time. We tried. Oh, how, we tried, but it wasn't to be. It ended 1-0 for them and cheats had been allowed to prosper.
There were another couple of incidents as two fans wearing Celtic colours got on the pitch and one of them got involved in a tangle with their goalkeeper. The other had a go at their goalscorer Pacult as he overdid the celebrations at the final whistle.
The police lifted them both and I knew we would be in line for some more punitive action from Europe's governing body. The offenders were both from England, but they had turned up to support us. We had no jurisdiction over them, but once more we were in the firing line.
We travelled home in silence and I bought the first edition of the Daily Record. The back page headline screamed, 'NO JUSTICE!'. That just about summed up the entire sad episode.
IN THE NET…the Rapid Vienna keeper falls over the line after an assault by a pitch invader with police moving in quickly at Old Trafford.
UEFA acted once again to put the boot into us. We were ordered to play our home European Cup-Winners' Cup first round tie in 1985 against Atletico Madrid behind closed doors. We got an excellent 1-1 draw in Madrid with Mo Johnston scoring with a typical header, but the second game on October 2 was simply surreal.
I believe Celtic Park is built for big European occasions. An empty Celtic Park is fairly freakish.
We also had to kick off in the afternoon and it all had the element of a training session kickabout. Officials of both clubs and UEFA, journalists, stewards, ambulancemen and some ballboys – with our own Derek Whyte among them! – were the only people allowed in the ground at the kick-off.
It was an impossible task to lift the spirits of the players in such eerie surroundings.
We just couldn't adapt to an empty Celtic Park. Whoever said silence is golden, certainly got that wrong! We could not galvanise ourselves and it was bizarre to hear the players talking to each other.
The Spaniards relished the thought of not having to face our marvellous and eardrum-rattling support and they reacted in such a manner. Murdo MacLeod hit their bar and they ran up the park to open the scoring. You'll have to take my word for it!
They scored a second before Roy Aitken pulled one back, but Europe was a dead end for another year.
* TOMORROW: Don't miss Day Seven of Davie Hay: The Return.
Click Here for Comments >