LISBON Lion Bertie Auld, who celebrated his 83rd birthday yesterday, insists Celtic MUST keep their eye on the prize before a disappointing season comes to a conclusion.
The Hoops legend has been dismayed with the performances of his old club in a campaign that promised so much in the summer, but fell apart in inexplicable fashion in a landslide of unacceptable displays and results.
However, Auld believes we should not write off the season just yet – and a fifth successive Scottish Cup triumph would be a reasonable springboard to a new term.
The ex-midfield master, speaking to author Alex Gordon in another CQN EXCLUSIVE, said: "I have always been adamant about the fact I believe Celtic's 1965 win over Dunfermline in the Scottish Cup Final was the most important victory of that era.
"Yes, even more important than the European Cup. One came before the other and the triumph over the Fifers that day at Hampden showed we were a team that could once again win trophies.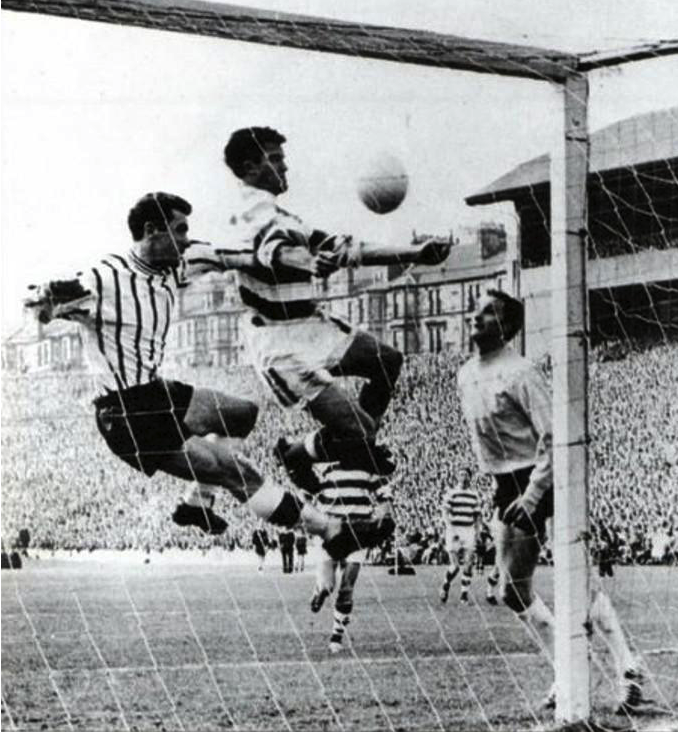 ONE…Bertie Auld heads in the first equaliser in the Scottish Cup Final in 1965.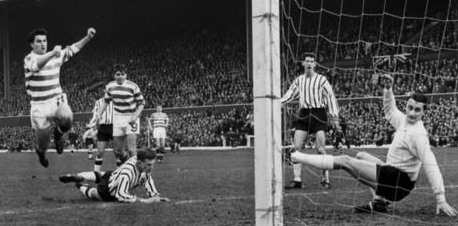 TWO…Bertie Auld makes it 2-2 with a right-foot drive past the helpless Jim Herriot.
THREE…Billy McNeill outjumps team-mate Bobby Lennox to thump in a header for the Scottish Cup winner.
"Remember, Celtic hadn't won anything for eight years. It was a long time in the doldrums. I just missed out playing in the famous 7-1 League Cup walloping of Rangers which had been our last success.
"In between that win and the Scottish Cup victory, I had spent four years in England with Birmingham City.
"I came back in January 1965 and, thankfully, managed to play my part three months later in the Dunfermline game with two goals before Billy McNeill headed in that wondeful winner.
"That win was a massive breakthrough. Celtic had played in Cup Finals over that eight-year period, but had finished up as losers.
"They were beaten by Dunfermline, then managed by Jock Stein, would you believe, in the 1961 replay when the East End Park side were rank outsiders.
"Rangers beat us in a Scottish Cup Final replay two years later and the also turned us over in a League Cup Final around that time.
"Celtic had forgotten how to become winners. The Dunfermline victory was massive. It gave the players confidence, it emphasised they could be winners. It was a real breakthrough for everyone around the place.
IN CONTROL…Bertie Auld on the ball, as usual.
"We won the league the following year for the first time since 1954 and look what happened the year after that. We did the clean sweep in Scotland and also became the first UK team to win the European Cup that extraordinary day in Lisbon on May 25.
"For me, though, that all stemmed from the Scottish Cup victory over Dunfermline. That was the launch pad.
"And it is the same this time around. We play Falkirk next month and, of course, they will be treated with the utmost respect.
"Celtic have already lost their impressive unbeaten Cup sequence with the 2-0 defeat from Ross County in the Betfred League Cup in November. That was a dreadful loss.
"So, we know the perils of not being properly prepared for these sort of games.
"Falkirk will be dangerous opponents, that's for sure. They gave Arbroath a goal of a start last night and came back to win 2-1. I've played at Gayfield, that is not an easy ground to play football. I doubt if it has a complete makeover even from my days as a player.
"Credit, then, to our third round opponents, but we must treat them as an extremely dangerous unit.
"So, my advice is : 'Keep your eye on the prize, Celtic.'
"A Scottish Cup victory really can kick-start a new era. Remember, I've been in that movie!"
Click Here for Comments >