TOMMY BURNS had won the Scottish Cup in his first season as Celtic manager after his appointment on July 12 1994.
The league title, though, was his priority target and the legendary Celt came so tantalisingly and frustratingly close to achieving his aim during his second campaign.
In another CQN EXCLUSIVE series, we chart Tommy Burns' career as the Hoops gaffer during turbulent times on and off the field. Here is the eleventh instalment from Alex Gordon's tribute book, The Winds of Change, which was published by CQN in 2015.
Please enjoy.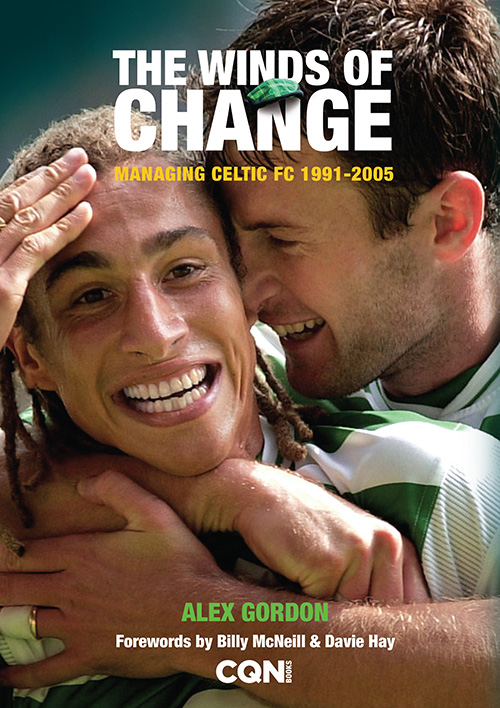 CELTIC took time off from chasing Rangers and collecting league points to continue the defence of last season's prized silverware against perennial Cup opponents Raith Rovers at Parkhead on February 17 1996.
The Hoops, 3-0 winners over non-league Whitehill Welfare at Hibs' Easter Road in the opening round, had already exacted revenge on the Fifers for the previous season's League Cup Final penalty-kick shoot-out failure by relieving their grasp on the trophy after dumping them back on the last day of August at Parkhead.
The Kirkcaldy side, once again proving to be stubborn opponents, came with a blanket defensive formation which was breached twice by Simon Donnelly and Andreas Thom without reply. Never again would the words "Raith Rovers" and "Cup jinx" be used in connection with the Kirkcaldy side and Celtic.
ENTER THE HERO – WITHOUT KICKING A BALL…Jorge Cadete made his arrival in February 1996.
There were remarkable scenes at Parkhead the following Saturday when Jorge Cadete was introduced to the Celtic fans in the 37,017 crowd before the league match against Partick Thistle. The frizzy-haired Portuguese international was still wrapped in red tape while wrangling went on with club side Sporting Lisbon to come to an agreement about his transfer.
Celtic would eventually discover that very little was straightforward as far as this individual was concerned. The rain was spiralling from the ominous, angry clouds above the east end of Glasgow as Cadete took to the pitch, waving and smiling radiantly at his new set of soon-to-be beguiled followers. Celtic won 4-0, but the loudest cheer of the afternoon rang around the ground when the player kneeled to pick up some blades of grass and kiss them. Without kicking a ball, Cadete became an instant hero with the fans.
As far as the actual football went that day, Morten Wieghorst, recently purchased from Dundee, made his debut as a second-half substitute for John Collins and signed in with a flourish by netting his first goal for the club five minutes from time. Pierre van Hooijdonk, with two, and Peter Grant had Celtic coasting at the time.
CAPTAIN'S ROLE…Paul McStay celebrates a goal against Hearts.
The rousing form continued into the next confrontation, coincidentally another 4-0 triumph, this time against Hearts in Glasgow. The fans were still desperate to get a glimpse of Cadete in action, but the protracted deal was turning into a fiasco. Tommy Burns, though, reassured everyone the situation would be resolved and he would be playing for Celtic "some time soon".
In his absence, Celtic were continuing to run amok and the Tynecastle outfit were down and out before the half-time whistle with Burns' team coasting three goals ahead. The much-maligned Paul McStay, criticised for his lack of goals, silenced his critics with a whizzbang 25-yarder that exploded behind the helpless Craig Nelson for the opener.
Pierre van Hooijdonk sent a header whistling past the Hearts keeper for the second and Brian McLaughlin, so highly thought of by his manager, scored the goal of the day with a mesmerising left-wing solo run before tucking his shot away with the ease expected of a veteran. Simon Donnelly sent the supporters home happy with a fourth near the end.
MAY THE FOURTH BE WITH YOU…Simon Donnelly hammers in No.4 with Hearts defender Paul Ritchie too late to intervene during a rot at Parkhead.
Eight days later, two devastating goals in the space of 90 seconds completely turned around the Scottish Cup quarter-final against Dundee United. It was one of the most thrilling climaxes witnessed at Parkhead in years. The Tannadice side were leading 1-0 until the 88th minute and it looked as though Celtic's grip on the club's only trophy in six years was being prised open.
The Tannadice side were 1-0 ahead at the interval and there could be no complaints from the holders. In fact, they might have been down to 10 men if referee Andrew Waddell had sent off keeper Gordon Marshall after he hauled Craig Brewster to the ground to give away a penalty-kick. Waddell thought long and hard while he was given "helpful advice" from some United players about how to deal with the incident.
He decided a penalty-kick award was sufficient punishment and didn't even show a yellow card to Marshall. Owen Coyle took the award and practically hit the keeper with his venomous drive right down the middle of the goal. The ball bounced to Gary McSwegan and his miscontrol allowed it to run back to Coyle and this time there was no mistake.
RISE AND SHINE…Pierre van Hooijdonk leaps high the thunder in the equaliser against Dundee United in a rollicking Scottish Cup-tie at Parkhead.
And that's the way it remained with the clock ticking down and Celtic failing to find a route past Ally Maxwell, the former Rangers shotstopper who was having a superb afternoon. With 90 seconds to go, Jackie McNamara swung a right-wing free-kick into a congested penalty area and Pierre van Hooijdonk's timing couldn't have been bettered. He utilised the full 6ft 5in of his frame to rise above everyone and his 12-yard header ripped high into the net. Maxwell's effort to stop that one was futile.
United, at least, could console themselves with the thought of a replay at Tannadice. Their disappointment turned to despair when McNamara, snapping into a challenge on Coyle in the middle of the park, managed to prod the ball forward into the path of Andreas Thom. The German took off at blistering pace, pushed the ball ahead of him as he raced towards the penalty area and then blasted an unstoppable drive away from Maxwell's left hand. There was barely time for United to recentre the ball.
Van Hooijdonk, with masterly understatement, said: "We knew it was late and we were running out of time, but, with this team, we always believe we can score." Matchwinner Thom grinned: "When I received the pass I just thought about making a goal. That was the only thing in my mind."
HAIL THE WINNER…Andreas Thom is about to be congratulated by Simon Donnelly as he sends the Celtic fans into a frenzy with his last-gasp goal against Dundee United.
Celtic were now about to be paired with Rangers in the semi-final while Hearts would meet Aberdeen. But the league came back into Tommy Burns' focus and the opportunity to overthrow the Ibrox side at the fifth time of asking. Their earlier league meeting in Govan in November had rained goals with the clubs settling for 3-3 in one of the most spectacular Glasgow derbies in recent history.
Thom took centre stage in the opening minutes when he instantly controlled a flick from Simon Donnelly and hit a right-foot screamer past Andy Goram from all of 30 yards. Brian Laudrup swept in the equaliser just before the interval, but John Collins restored Celtic's advantage with an unerring penalty-kick after Richard Gough had flattened John Hughes.
Ally McCoist headed the equaliser after a right-wing Paul Gascoigne free-kick and worse was to follow. A rare Tommy Boyd slip in the 70th minute let in Oleg Salenko on the left and the Russian's low cross was missed by Gordon Marshall and Tosh McKinlay, trying to clear in front of McCoist, bundled the ball into his own net.
IT TAKES TWO TO TUSSLE…Andreas Thom and Rangers midfielder Stuart McCall in a duel for the ball in an Old Firm clash.
Two minutes later, it was all-square again when McKinlay swiftly atoned with a superb cross on the run down the left and Van Hooijdonk got in front of Gough to glance a header in off the far post.
There was no way the players could replicate such a feast of football and this time it ended 1-1. There were moments of high drama, though. Jackie McNamara was sent off in the 78th minute after picking up two bookings by which time Rangers were leading after taking the initiative four minutes from the break.
Gascoigne floated in another accurate deadball effort from the left and Alan McLaren, with his back to goal, gave it the merest of touches off his head to send the ball cascading away from Marshall. An incredible reflex save from the Celtic keeper prevented Gordon Durie doubling his side's advantage when he managed to paw a header onto the post and to safety.
Shortly afterwards, Durie turned defender to hack a Brian McLaughlin effort off the line. Four minutes from the end, Celtic got the goal and the point their efforts merited. Peter Grant sent in a free-kick and Hughes was first to react with a snapping header from 12 yards. When the dust settled, Rangers were still leading the race for the crown by three points.
CRYING OUT LOUD…John Hughes celebrates his late leveller against Rangers while Pierre van Hooijdonk joins in the celebrations.
Tommy Burns said: "The most important thing for us today was not to lose. Obviously, we were delighted to score a goal late on, but I thought we fully deserved it. We did well in the second-half and we would have been deeply disappointed to get nothing from the game. We had a great deal of possession after the interval and that is when Rangers can be dangerous.
"Our players could not have given more and no-one was more outstanding than Tommy Boyd. When we looked at the fans in the Broomloan Road stand it was impossible not to keep trying for them. They stayed there right to the end and we couldn't throw in the towel, even with 10 men. We had to chase goals for their sake as well as our own."
Last-gasp hero Hughes saw it this way: "Scoring the goal was tremendous for me, especially as I was picking up McLaren when he scored their goal. That was my responsibility, but you're only human, after all. We seem to leave things late these days. After our two goals against Dundee United last week, it just shows we never count ourselves out. That is the Celtic style.
"My goal keeps us in it and it would have been a real shame if we had got nothing out of it. We would have really been up against it if we had lost. These Old Firm games are emotionally up and down affairs, but we keep digging out results this season and we get the feeling there must be something in it for us at the end. If Rangers win all their games from now on, all credit to them. All we can do is keep our ship in order."
THREE AGAINST ONE…Tommy Boyd, Paul McStay and Brian McLaughlin keep an eye on Rangers dangerman Paul Gascoigne.
The thinking of the Guardian reporter at the game wasn't quite in tandem with Burns or Hughes. He wrote: "If the result proved anything, it is that Celtic do not yet possess the surge of nerve and will to carry them to victory over their greatest rivals in matches of utter importance.
"Their three draws and one defeat from their series in this dramatic championship campaign are likely to be the most decisive factor when the trophy is won seven games from now. The three-point difference in the derby matches is precisely the lead that Rangers retain at the top of the league."
The scribe concluded: "If a draw satisfied both parties, it was the Celtic supporters who left with the gnawing worry that their team have yet to prove themselves capable of passing the most stringent test of all."
The following Saturday, March 23, Celtic dropped two points in a goalless draw against Motherwell at Parkhead and title hopes were sagging, even among the most optimistic among the Hoops' support. There was to be no late-goal bail-out on this occasion. On the same afternoon across Glasgow, Rangers just edged rock-bottom Falkirk 3-2 at Ibrox where Erik Bo Anderson got their winning goal 11 minutes from time.
LIFT-OFF…Jorge Cadete takes to the air as he flicks the ball over despairing keeper Michael Watt for his debut goal in a 5-0 romp against Aberdeen at Parkhead.
BHOY, OH BHOY…Pierre van Hooijdonk celebrates with Jorge Cadete after his stunning opening strike against Aberdeen on his April 1 1996 debut.
Walter Smith's side struggled the following week, too, at Stark's Park where they trailed 2-1 to Raith Rovers with only seven minutes to go. Celtic, with a day off as they prepared to meet Aberdeen on the Monday night, thought their luck might be in. Ally McCoist, who had scored earlier with a penalty-kick, levelled in 83 minutes and snatched the winner 60 seconds from time. The fates were conspiring against Celtic, it seemed.
On April 1, though, the Parkhead fans were in raptures after Jorge Cadete, following a delay of five weeks waiting for his clearance, finally made his debut. Tommy Burns was hoping the late introduction of the prolific marksman might just give Celtic the impetus to get over the finishing line.
The Portuguese striker came on for Andreas Thom in the 73rd minute and two minutes later scored with practically his first touch of the ball.
The Dons had already taken a battering and were trailing by four goals, two apiece from Pierre van Hooijdonk and Simon Donnelly. Peter Grant created the opportunity with a raking pass through the already-exhausted defence and Cadete swept onto it, carried it on and whacked the ball past the advancing Michael Watt.
You only get one chance to make a first impression and the Portuguese striker didn't pass up the opportunity.
TOMORROW: Don't miss the EXCLUSIVE twelfth dramatic instalment of The Tommy Burns Story – only in your champion CQN.
Click Here for Comments >