TOMMY BURNS travelled to Ibrox on the Sunday afternoon of November 27 1994 with the opportunity of winning the League Cup – just four months after his return to Celtic as manager.
Raith Rovers, from the First Division, stood in the way of the club's iconic midfielder and fans' favourite lifting his first piece of silverware as boss following his summer appointment as Lou Macari's successor.
In another CQN EXCLUSIVE series, we chart Tommy Burns' career as the Hoops gaffer during turbulent times on and off the field. Here is the first instalment from Alex Gordon's tribute book, 'The Winds of Change', which was published by CQN in 2015.
Please enjoy.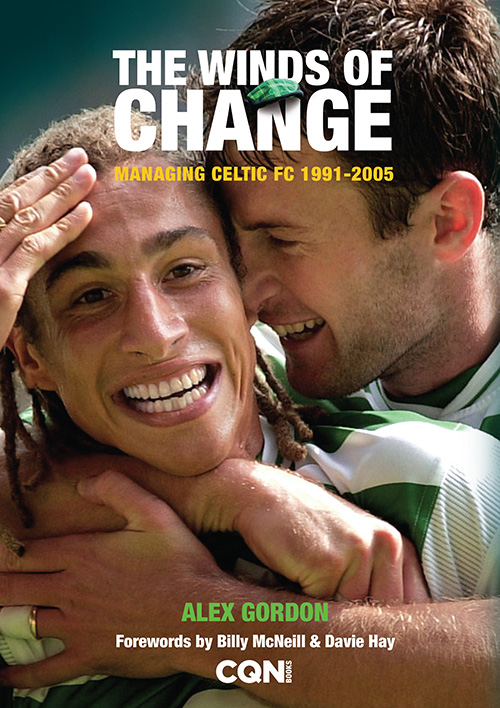 I WAS among a few of the Press gang who were invited for a chat with Celtic manager Tommy Burns a few days before the game.
It was a fairly informal meeting in a Glasgow hotel and Burns took it in turn to sit in with the scribes at a couple of the tables to discuss the forthcoming League Cup Final against First Division Raith Rovers.
I realise it is all too easy to be wise after the event and, yes, hindsight does offer you twenty/twenty vision. But I got the distinct impression Burns was dwelling a little too much on the prospect of failure. As you would expect from a worthy sportsman, he refused to write off his opponents, but I detected more than just a hint of good manners.
Burns was never the bombastic sort, in any case, but, over lunch that afternoon, I saw him fret more than I would have anticipated. It looked as though he was distinctly uncomfortable at the sheer weight of responsibility that had been heaped upon his slender shoulders.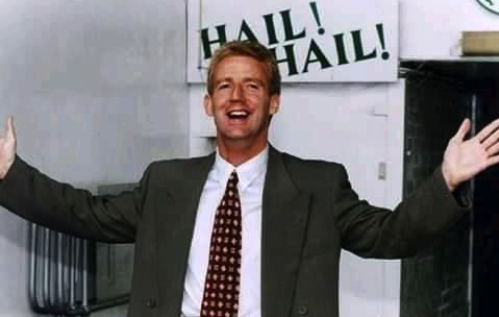 PARADISE…Tommy Burns is back where he belongs after his appointment as Celtic manager on July 12 1994.
Remember, this was going to be only his 19th competitive game in charge of the club. Maybe, just maybe, he was TOO close to the man on the terracing. He didn't have to imagine the despair and the disgrace a defeat against Raith Rovers would bring to Celtic. He would feel the hurt more than most.
Being a deep-thinker, he couldn't have helped but stray towards the worst-case scenario. In normal circumstances, the Celtic manager would throw in a joke or two, an off-the-wall observation. Not on this occasion, though. He was deadly serious throughout our conversation. Unusually, it was a mirthless interlude. Burns realised, also, he could not betray even an iota of his innermost feelings to his players. He had to appear upbeat as he led the team towards Ibrox that grey, bleak Sunday afternoon.
It was Celtic's first appearance in a showpiece occasion since they lost 9-8 on penalty-kicks in the Scottish Cup Final against Aberdeen in 1990. Lightning couldn't strike twice, could it?
A sell-out crowd of 45,384 welcomed both teams onto the field and Burns went with this line-up: Gordon Marshall; Mike Galloway, Mark McNally, Tony Mowbray, Tommy Boyd; Simon Donnelly, Paul McStay, Brian O'Neil, John Collins; Charlie Nicholas and Andy Walker. On the substitutes' bench were Pat Bonner, Paul Byrne and Willie Falconer.
HEAD BHOY…Andy Walker dives full length to nod in the second goal beyond the helpless Scott Thomson.
Raith manager Jimmy Nicholl had no such riches of talent at his disposal and was attempting to get the best out of the 38-year-old legs of defender David Narey after his 21 years of sterling service at Dundee United. The ever-busy Colin Cameron was in midfield and a youthful Stephen Crawford was making a name for himself as a regular goalscorer in the second tier.
And it was the future Scotland international who gave Celtic a rude awakening in the 19th minute after a strangely tentative start from Burns' men. The defence, after failing to clear a routine left-wing corner-kick, allowed the Raith striker far too much time and space to get the ball under control on the edge of the penalty area. He took aim and fired. His low drive might have lacked pace, but there was nothing wrong with the precision as it escaped Gordon Marshall's dive at his right-hand post.
It took Celtic only 13 minutes to shake themselves from their disturbing lethargy and make it all-square again. Boyd hit an accurate cross from the right, Galloway knocked it back into the mix and Walker dived to head solidly behind Scott Thomson.
Strangely, Celtic didn't go for the jugular. Half-time came and went without any additional scoring and the game rolled through the second-half. Thomson was hardly being overworked in the Raith goal and the same could be said for Marshall at the other end. Celtic pushed forward, but there was precious little inspiration. McStay and Collins struggled for a pocket of space in which to work as enthusiastic opponents went about their jobs with a hungry zeal.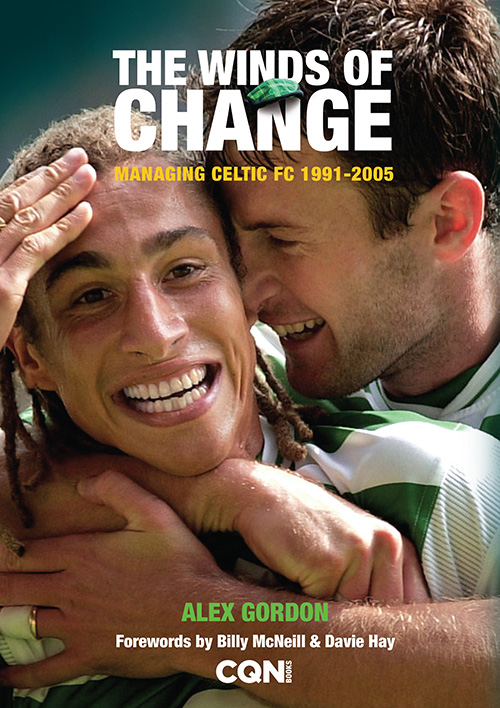 With six minutes to go, Tommy Burns clenched both fists, raised his gaze to the heavens and yelled, 'Yes!' He had just watched Celtic take the lead.
After neat lead-up play from Collins, Walker swivelled and slammed a ferocious effort against the left-hand post and Nicholas, still retaining that opportunistic penalty-box awareness, was first to react to lash the ball over the line.
Ibrox was awash with green and white as the fans partied, so close to bringing a delightful and noisy halt to the so-called 'barren years'. Two minutes later, they were silenced when the Kirkcaldy outfit equalised. Jason Dair swept in a low left foot shot from 20 yards and it looked a simple catch for Marshall. Distressingly, the keeper allowed the ball to escape his frantic grasp and it hit Gordon Dalziel before bouncing into the net.
I have yet to see evidence the Raith forward was onside when Dair hit his shot. To me, he looked at least a yard ahead of Galloway and McNally. Referee Jim McCluskey, Paul Mcstay's acquaintance from the earlier round at Dens Park, didn't hesitate, neither did his linesman and I believe the Celtic players were simply too shell-shocked to even protest. The goal was given.
A few days later, I was with a couple of friends in the office pub on the Broomielaw and Davie Cooper, of Rangers and Scotland fame, was in the vicinity. Don Morrison, my old Sunday Mail colleague, had since moved to the Sunday Mirror and 'ghosted' Cooper's column.
CALAMITY…Paul McStay watches his penalty-kick being saved by Raith keeper Scott Thomson.
They would meet once a week and Don would jot down the thoughts of the player, who was at Motherwell at the time. Cooper overheard my remarks about Dalziel's goal being illegal. 'You're the first guy I've heard say that,' chipped in Cooper, who was, as everyone realised, Rangers through and through. There was a pause before he added, 'You're spot on, he was miles offside.'
Celtic made no headway in the extra half-an-hour while Narey, almost unbelievably, and Shaun Dennis provided an unassailable double barrier. The ball was hoofed skywards time and again and it was impossible for Celtic to find any kind of rhythm in those 30 minutes.
I was in the Press Box that afternoon and Stuart Gray, son of former Scotland and Leeds United star Eddie, caught my eye. He was seen as a promising youngster at Parkhead and had already made a few first-team appearances. We looked at each and grimaced. Somehow, we just knew what was coming next.
The first five penalty-kicks were taken and scored. Marshall went the wrong way as Raith's sixth successive attempt was thumped behind him. All eyes were now on skipper Paul McStay as the shoot-out went to sudden death.
DISASTER…Paul McStay holds his head in his hands in despair as Scott Thomson prepares to celebrate.
'It's unthinkable, surely, for the skipper to miss,' said the TV commentator. The captain struck the ball firmly enough, but it lacked accuracy. Thomson threw himself across his goal to his right, got his hands to the effort and beat it away. McStay looked devastated as the Fifers wildly celebrated the upset.
Narey deservedly won the sponsors' Man of the Match award and another defensive stalwart that afternoon was Stephen McAnespie. Afterwards, he revealed, 'When we got to our dressing room, two guys came in behind us. It was John Greig and Ally McCoist and they presented us with a case of Rangers champagne.'
Strange, that. In all my years of reporting, I have to admit I hadn't realised either Greig or McCoist had any sort of affinity with the club from Stark's Park, Kirkcaldy.
At the Press Conference afterwards, manager Jimmy Nicholl, a former Rangers player, had the good grace to look absolutely stunned at the outcome. Scott Thomson was also invited to meet the media. Someone asked him, 'Is that the best penalty save you've ever made, Scott?' The keeper didn't have to ponder too long with his reply. 'It's the ONLY penalty save I've ever made,' he answered. No-one could have faulted his timing.
Gordon Dalziel was asked about his goal. He, too, was candid. 'I think it came off my nose,' he said.
THE END…Charlie Nicholas and Paul McStay look thunderstruck after the penalty-kick loss to Raith Rovers.
Tommy Burns' worst nightmare had materialised at the home of the club's bitterest rivals. Football can be a cruel game and there were the expected recriminations afterwards. Some of the criticism was merited, of course, but some of it was way over the top.
No-one escaped the blanket scorn as the disappointment hit home that an ideal opportunity to put some silverware in the Parkhead trophy cabinet after an absence of five years had been carelessly dismissed.
The league had already been blown. It took Celtic four attempts to win another game after the Raith Rovers debacle. There were draws against Hibs (1-1), Motherwell (2-2) and Aberdeen (0-0) before a 2-0 triumph over Falkirk in Glasgow.
Somewhere in that run, Burns had taken his team to Liverpool for Ian Rush's Testimonial Match. The final scoreline of 6-0 did not flatter the Anfield men. Old Hoops favourite Kenny Dalglish came on as a substitute at the interval and played the entire second-half without breaking sweat. In fact, he set up the last two goals.
Dalglish was 43 years old at the time. Burns lamented, 'We're in a different world entirely. We have a long way back to get into that league.'
Only the Scottish Cup remained as a viable target. Did Tommy Burns – and Celtic – dare to dream?
* TOMORROW: Don't miss the third EXCLUSIVE instalment of Tommy Burns: Celtic Manager.
Click Here for Comments >