CELTIC'S legendary keeper Pat Bonner made his first-team debut on St Patrick's Day – FORTY-FOUR YEARS ago!
The Republic of Ireland icon – capped 80 times by his country – was given the nod by Billy McNeill to take his Hoops bow against Motherwell at Parkhead.
Bonner's ambition of a clean sheet was dashed, but he still completed his special day as a winner, as two goals from veteran Bobby Lennox gave Celtic a 2-1 triumph.
However, it wasn't all plain sailing for the fans' favourite, Jock Stein's last signing for the club.
In another CQN EXCLUSIVE, Bonner, now a sprightly 62, revealed all to author Alex Gordon in an interview for his Billy McNeill tribute book, 'In Praise of Caesar', which was published in 2018.
Here is an edited extract from the chapter.
Please enjoy.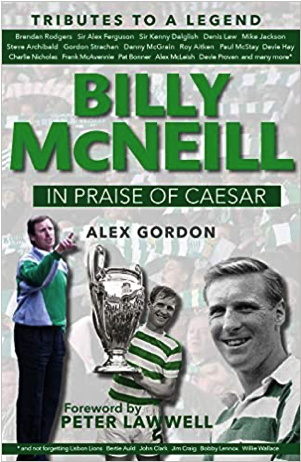 "Billy McNeill was deadly serious. 'Get your act together or you're on the next boat home,' he told me. I was nineteen years old, a boy among men, really. I could have folded. Let's face it, those were extremely hurtful words from the Celtic manager.
"So, what was I to do? I didn't really have an option. I determined there and then to show my gaffer I had a future at the club. I had always been a good trainer, but I upped my efforts, working hard and flat-out every single day.
"I'll admit my form had dipped when Billy McNeill fired his verbal volley. I had been feeling a little homesick, too. My family were a close-knit unit – as the Irish tend to be – and my grandmother had passed away. Unfortunately, I couldn't get time off to attend her funeral and, naturally enough, that had an affect on me.
"I'm not using this as any sort of excuse for not performing consistently at the required level for a club such as Celtic. Look, even seasoned campaigners can hit a sticky patch, it happens to everyone in football at some stage in their career.
IRISH AYES…Pat Bonner was given his Celtic first-team debut by Billy McNeill on the appropiate date of St Patrick's Day in 1979.
"If Billy was trying to provoke a reaction from a rookie keeper, then he had more of an impact than any psychologist. I was determined to prove the manager wrong. Quite literally, my future was in my own hands. I always arrived early for training, but I can tell you, I never got in before Billy. I think he switched on the lights in the morning when he arrived and switched them off at night when he went home. Of course, I had had something of a meteoric rise after becoming Jock Stein's last signing for the club on May 14, 1978, just ten days before my eighteenth birthday.
"I often wondered about that. Big Jock must have known he would be leaving the position yet he still took time to travel over to Ireland to sit down with a teenager and explain all that entailed in becoming a Celtic player. He went through everything in fine detail.
"And then, of course, I turned up for pre-season training in July and there was no sign of Jock. Billy McNeill and his assistant John Clark had just taken over after leaving Aberdeen, so we were all starting at the same time. Naturally, they didn't know me, a raw teenager from Donegal Junior football who had been spotted by Sean Fallon playing for Keadue Rovers. That actually worked for me.
"Billy and John really put me through my paces during the pulverising training routines before they made up their minds. They had to find out fast if they believed I had what it took to be a goalie at the club.
"At that time, Celtic had Peter Latchford and Roy Baines as the two main goalkeepers. I was put in the reserve side, but I trained with the first team. Peter had been brought up to Glasgow by Big Jock in what was initially a loan deal from West Brom in February 1975 which became permanent five months later while Roy, who had started his career at Derby County before a switch to Hibs, arrived in an exchange move that saw Andy Ritchie move to Morton in October 1976.
LAST LINE OF DEFENCE…Pat Bonner guards the Celtic goal.
"So, I was an Irishman battling with two Englishmen for a place with Scotland's best-loved football team. Having said that, a place in the starting eleven looked a long way off when I first joined the club.
"It didn't work out for Roy, a very capable No.1, for whatever reason and he returned to the Greenock outfit after playing fewer than twenty first team games. When he was transferred in March 1979, that meant an automatic step-up for me as Latchford's deputy. Billy realised he would have to toughen me up just in case an injury ruled out Peter and I had to be called in.
"You could say things got a bit rigorous during training. The manager was determined to work on my ability with crossballs.
"As a special treat, he arranged for the likes of Big Shuggy Edvaldsson, Roy Aitken, Tom McAdam and Roddie MacDonald, all six-foot plus and no shrinking violets among them, to make sure I knew they were around when I came for a high ball. I should add Billy joined in, too. He was still fit enough to get into that tracksuit as he did every single day.
"There are some managers who spend about fifteen minutes with the players when they go through daily routines and then go off to take care of business elsewhere. Not Billy McNeill. He was eager to get involved in everything we did and, at the same time, he made certain there were no slackers. We would go through the usual loosening-up sessions and then Billy decided it was time for me to face the barrage of balls into the box.
PREPARING FOR HAMPDEN GLORY…Pat Bonner, Roy Aitken and Billy McNeill line up before the 1-0 win over Rangers in the 1989 Scottish Cup Final.
"I used to play Gaelic football back home in Ireland, so I was used to going up early to catch the ball. However, with a football, that could prove to be dodgy. One slip and the ball would be behind you and, as luck would have it, there would normally be an opponent lurking around to stab it into the net. So, there was a slight change in timing and rising to meet a ball dropped into a packed penalty area when friend and foe went for it at the same time.
"All sorts of crosses were flighted into the penalty area in an aerial bombardment and I had to attempt to clear a path to take the ball at the most advantageous point. Billy, Big Shuggy and the others made it as difficult as possible for me to make a clean catch. I was buffeted around, blocked off, challenged with elbows flying around and you had to maintain complete and utter concentration.
"If I mishandled a cross, Billy would simply say, 'Right, let's spend another half-hour on this. Take your positions, boys'. And we would go through it all again.
"It could be brutal. These guys were my colleagues and they were giving me more of a bashing than our opponents on matchday. After weeks of being clattered by my so-called mates, I decided to do something about it. During another exhausting training session, a ball arrived in the box and, as luck would have it, it was about to land between Billy and me.
"I saw my chance. I went for it with everything I had. We were two big lads and, remember, Billy had been playing for Celtic just three or four years beforehand. We were on a collision course and I decided to punch the ball clear. There was a dreadful thud and maybe I got more of Billy's head than the spherical object.
"The manager was just a wee bit dazed as I said, 'Sorry, boss, I think I might have caught you there.' Those merciless and gruelling training routines came to a halt that day. Of course, it could have been a coincidence.
BILLY McNEILL GOALKEEPER…a rare image of the Celtic icon playing in goal in a five-a-sides tournament against East Stirling at Falkirk in the early sixties.
"As a matter of fact, Big Billy actually went into goal one day to show me what he expected of me. 'Step aside,' he said, 'I'll show you what I want.' That was an incredibly brave thing to do because goalkeeping is a specialised position and a lot of outfield players haven't a clue about working on angles, when to come for the ball and when to stick.
"As Billy had often insisted, goalkeeper and centre-half were the two most vulnerable positions in the team. No argument from me on that assertion. One slip is normally fatal and that will be all the supporters will remember about your performance. However, I was quite suprised by his display between the sticks.
"As a central defender, he would have known about the timing, but he also had a good pair of hands. He would come and clutch the ball, turn and smile and say, 'I want to see you doing that.' I couldn't argue with that, either.
"I admit I could come home fairly annoyed after a brush with Billy. We had a sort of love/hate relationship, but I hasten to point out we never once fell out. Some things may have ben said in the heat of the moment and you had to accept that was part and parcel of the game.
"Let me also say I never disliked Billy, no matter what had been uttered in an unguarded moment. There may have been things that had been said between us, but they ended there. There were no grudges. In any case, as far as I am concerned, it is impossible not to have affection for someone for whom you have complete and utter respect.
ON THE ATTACK…Pat Bonner prepares to start a Hoops raid with an expert throw.
"I really can't stress that enough. Billy McNeill may have been my manager, but he was also a person I admired as a human being.
"I can reflect on our time together at Celtic and I can see how much I owe him. He must have had confidence in my ability to give me my chance so early. It was a big thing for him to hand me my debut against Motherwell on March 17, 1979 – incredibly St Patrick's Day! What a date for an Irishman to make his first Celtic appearance.
"I hasten to add it was not a sentimental choice from the manager. Aberdeen had knocked us out of the Scottish Cup in a replay by winning 2-1 at Parkhead in the previous midweek. Unfortunately, Peter Latchford shouldered most of the blame for two early Dons goals – one in the first minute – and Billy decided to bring me in.
"Football can be a harsh game and you had to grasp your opportunity when it came along. While I prepared to take my bow in front of those wonderful fans at Parkhead, Peter was with the reserves at Fir Park.
"It would have been a perfect day for me if I had managed to keep a clean sheet, but, alas, it was not to be. I would just have to settle for a 2-1 victory, but I was happy to accept that. The newspapers were quite kind to me the following day and one made the point that Bobby Lennox, who scored both our goals that afternoon, was thirty-five years of age – almost double that of the eighteen-year-old debutant.
MY BALL…Pat Bonner holds on tightly.
"Bobby, still lightning fast at even that advanced stage of his career, had us two goals ahead five minutes after the interval. My aim after that was to keep out our opponents, but a bloke by the name of John Donnelly pulled one back and we were walking on eggshells for the remainder of the confrontation. Happily, we got through without further mishap.
"I had to wait a couple of weeks for my next first-team appearance and, coincidentally, that came against Motherwell again, this time at Fir Park. On this occasion, it was a midweek encounter and once again I was in after Peter Latchford had been blamed by some critics for Hibs' winner in the Edinburgh team's 2-1 victory at Easter Road the previous Saturday.
"And what a game it turned out to be, too. We were a goal down in nineteen minutes, but stormed back to lead 3-1 at half-time before it went to 3-2 and then 4-2. Five minutes from the end, they made it 4-3 and, thank goodness, that was the end of the scoring. Making it even more remarkable, Danny McGrain scored a rare goal. It had been that sort of night in Lanarkshire.
"That was my second and last top-team outing of the campaign and I had no complaints. Billy McNeill went with the experience of Peter Latchford for the remainder of the season and was totally vindicated when Celtic won the title on that famous evening when they triumphed 4-2 over Rangers with ten men following Johnny Doyle's dismissal.
"I was as overjoyed as any Celtic player who was stripped that night. However, I would be lying if I said I didn't want some of that. The scenes at Parkhead that night were simply phenomenal, it was such an outburst of happiness from every corner."
CQN wishes all our readers a Happy St Patrick's Day.
Click Here for Comments >