CELTIC legend John 'Yogi' Hughes insists Leigh Griffiths MUST be handed another year at the Hoops.
The club's seventh highest scorer with 189 goals believes the 30-year-old striker still has it within his qualities to deliver for the team during a massive transitional period.
Hughes told the frontman he owed a debt to the fallen champions in CQN two months ago – but Griffiths failed to respond to the challenge.
The 78-year-old Parkhead icon looks at the wreckage of a campaign that went badly wrong almost right from the off when hopes of European and domestic success were obliterated in a series of  dreadful displays that eventually cost Neil Lennon his manager's job in February after one defeat too far, the 1-0 flop against Ross County in Dingwall.
PICK IT OUT…Leigh Grifiths is about to congratulated by Karamoko Dembele after heading in the equaliser against Aberdeen at Pittodrie a fortnight ago.
Misery has heaped upon embarrassment as the term has limped to a sad conclusion and Griffiths wasn't even entrusted with a cameo role in the 4-1 nosedive at Ibrox on Sunday when interim manager John Kennedy sent on Mikey Johnston for Odsonne Edouard with 15 minutes to go.
This is the same Mikey Johnston who has seen his season devastated by injury, was not included in the squad for the previous seven games and his last appearance was 17 minutes in the 4-0 win over Kilmarnock at Rugby Park on February 2.
Author Alex Gordon, who co-wrote Hughes' autobiography, 'Yogi Bare: The Life and Times of a Celtic Legend', interviewed the former Hoops star to get his view in an another CQN EXCLUSIVE.
"It was a bit puzzling to watch Mikey Johnston go on at Ibrox and Leigh Griffiths remain on the subs' bench," said Yogi. 'We were 3-1 down and in desperate need of a goal from somewhere.
"I think it would be fair to say you are more likely to get a goal from Griffiths than you are from Johnston.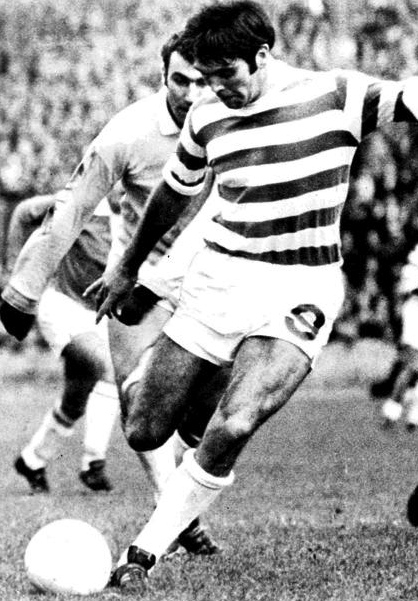 YOGI ON THE RAMPAGE…John Hughes in action in his Celtic hey day.
"Okay, it's been a dire season for the striker. Let's face it, it has been an appalling campaign for just about everyone connected with the club, on or off the field. Not too many passmarks being handed out at the end of this term.
"In March, I called for the attacker to get out there and show what he could do. To me, he is the most natural finisher at the club, even more so than Odsonne Edouard.
"He is a predator in and around the box and he strikes a lovely shot. However, for whatever reason, he hasn't sparked this season.
"Unfortunately, you can go all the way back to March 7 last year when the Celtic fans last witnessed a glimpse of the real Leigh Griffiths. On that occasion, he scored a hat-trick against St Mirren in a 5-0 win to move the champions 13 points ahead in the pursuit of their ninth successive title.
"That was the final game before the Covid-19 lockdown and then everything went wrong for the striker. He came back from his four-month isolation period and was ditched by the manager from the squad for the four-game pre-season trip to France. Apparently, he was overweight and, at this competitive level, that is clearly unacceptable.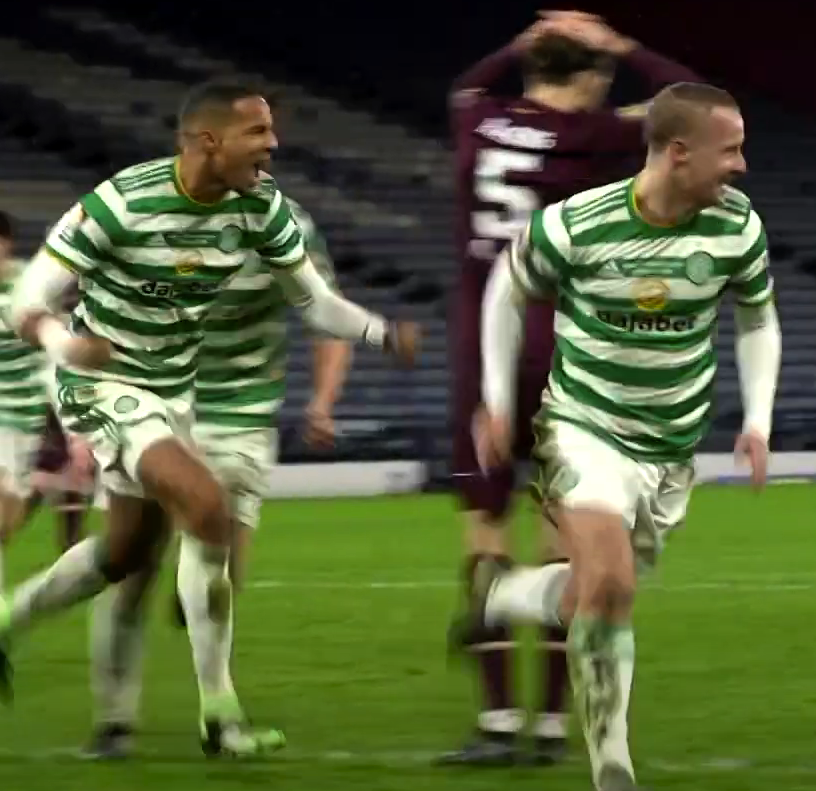 HAMPDEN HOORAYS…Leigh Griffiths races away after netting Celtic's third goal in the Scottish Cup Final against Hearts in December. Christopher Jullien is in hot pursuit.
"And he has been struggling to make any sort of impact since then. His goal against Aberdeen in the 1-1 draw at Pittodrie a fortnight ago was a typical effort, coming in at the far post with brilliant timing, anticipating the left-wing cross from Mohamed Elyounoussi and almost nonchalantly nodded the ball across the keeper into the far corner.
"We know he can score these sort of goals – he has been doing it throughout his career.
"But the last three years make for grim reading when you look at his goal return. Simply put, it's just not good enough, nowhere near the standard that is required to play for Celtic.
"I accept the player has had personal issues and I have made my feelings known on that subject. He came back to attempt to pick up the thread of his career, but a striker is judged by his goals. I've been there, trust me. It doesn't matter how good you play or make loads of openings for other players, it's your account that matters.
"Griffiths' record over the past three years is not that of a prolific marksman. By my reckoning, he has netted 26 goals over that period.
"If I am Eddie Howe, or whoever gets the manager's job, I would look at those statistics in cold black and white and tell the player to get on his bike. That return is nowhere near acceptable from a guy whose primary purpose in the team is to tuck the ball in his opponents' net.
PARADISE FOUND…Leigh Griffiths celebrates his hat-trick against St Mirren in March last year.
"But there is something about Griffiths that tells me he can still cut it at this level. I stil believe he has a Celtic future. I wouldn't be too bothered by the fact he will be 31 in August. Jermain Defoe is 38 and that didn't stop him rolling one past Scott Bain at the weekend.
"Possibly, the individuals are poles apart in how they prepare away from the pitch. I have no idea. But one thing is certain, both have been blessed with the instinct to score goals and players like that are gold dust in the game.
"You can talk about all the systems you want, how to strangle a contest, how to take control, how to base your game on counter-attack – just look at Steven Gerrard's side against Celtic this season – but if you do not have the players to get that ball over the line, you are wasting your time.
"I still believe Griffiths has a future at the club. Odsonne Edouard will be off in the summer and good luck to him. Patryk Klimala has moved to New York Red Bulls and he was a bit of an unknown quantity when he arrived and he was a bit of an unknown quantity when he departed 15 months later.
"Albian Ajeti? You have got to hope there is a lot more to come from a player who cost £5million from West Ham in the summer. Six goals? That's not good enough.
£5MILLION MISFIT…Albian Ajeti has failed to impressive since his big-money arrival.
"He doesn't look like a natural goalscorer to me. I know he scored loads of goals in Switzerland with Basel and that prompted his move to London. The reported fee was £8million and he lost £3million in value in a year when he joined Celtic.
"Goodness knows what he is worth now. Celtic would be hard pushed to get their money back for him based on what we have witnessed this time around.
"On those performances, I don't see him as being a long-term fixture at my old club and that takes us back to Griffiths.
"As it stands, I would have a fully-fit and functioning Griffiths in the team ahead of Ajeti. I would activate the 12-month option on his contract which expires at the end of the month when he will be allowed to walk away for free.
"I just feel Leigh Griffiths still has another chapter to write in his Celtic story."
* TOMORROW: Don't miss another hard-hitting EXCLUSIVE from Big Yogi – only in your champion CQN.  
Click Here for Comments >