EXACTLY 50 years ago today, John 'Yogi' Hughes played his final league game for Celtic.
One of the club's highest-ever goalscorers with 189 strikes was told his Hoops career was over by Jock Stein after he had made an appearance as a substitute in 5-0 win over Airdrie at Broomfield on September 25 1971.
Four days later, he had his last hurrah at Parkhead when he played in the 3-0 European Cup victory over BK 1903 Copenhagen to help the team through to the next round on a 4-2 aggregate scoreline.
Yogi was devastated to realise he was no longer wanted at his boyhood favourites.
In another CQN EXCLUSIVE, the fans' favourite reveals all to author Alex Gordon in his best-selling life story, 'YOGI BARE: The Life and Times of a Celtic Legend'.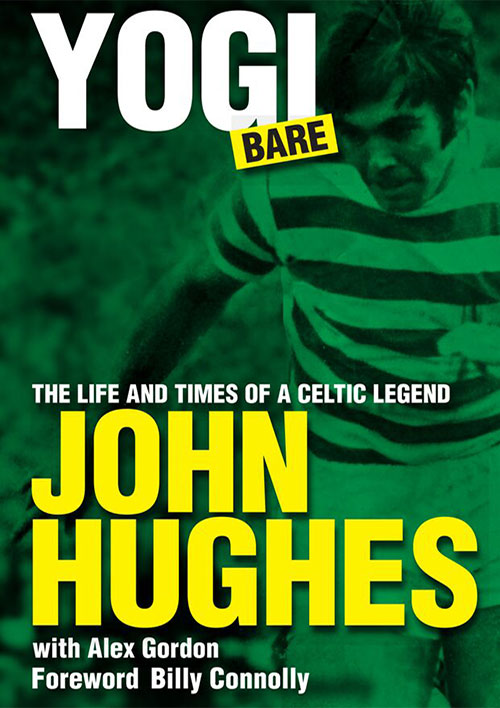 I HAVE never attempted to hide the fact I didn't want to leave Celtic. However, once Big Jock had made up his mind, I realised it was time to clear my locker and get out.
I was left with the overwhelming feeling I had served my purpose, as far as he was concerned. Celtic had seen the best of John Hughes, so it was time to vacate the premises.
It didn't matter I had given everything for the club since coming into the first team as an eager seventeen year old. It didn't matter that I was only twenty-eight years old and supposedly reaching my peak. It didn't matter that I was the sixth-highest scorer in the club's history with 189 goals. It didn't matter that I had played my part in bringing six League titles, four League Cups and one Scottish Cup to Celtic.
Nothing mattered. Suddenly, I was expendable; surplus to requirements and it was time to go.
SEE YOU LATER, BOSS…John Hughes leaves Jock Stein in his slipstream during a training session at Barrowfield.
I felt sick. Wouldn't you? My stomach was churning. I never even got the opportunity to wave farewell to those thousands of wonderful fans who used to chant, 'Feed The Bear' on matchday; a raucous chorus that used to propel me in the general direction of Cloud Nine. This may surprise you, but I never spoke again to Jock.
I didn't receive a phone call or a letter. Nothing. Zilch. And, believe me, that hurt. One year I was good enough to play in a European Cup Final and the next I was heading for the Celtic Park exit. Goodbye and good riddance.
I accept that was Jock's manner. Players before me and after me always insisted he didn't get involved in popularity contests; he just didn't care what others thought of him. It was Celtic all the way and so long as they were winning then that was all that mattered. I'm a Celtic supporter and I can understand that. But there are ways of doing things and I thought Jock was just too savage and uncaring on certain occasions.
I will always believe he was unnecessarily brutal when he dealt with me in my last days as a Celtic player. I hadn't a clue the end was in sight when I trotted onto the field as a substitute in the 3-0 European Cup triumph over BK Copenhagen on Wednesday September 29 1971. I didn't realise I would never set foot on the Celtic Park playing surface again.
ON THE BALL…John Hughes in a typical pose.
Things were obviously going on behind my back and no-one thought to keep me informed. At the very least, I would have thought that would have been good manners. Twenty days after my appearance against the Danes I was a Crystal Palace player. I was caught up in a whirlwind that left my head in a spin. My eleven-year Celtic career seemed to evaporate in such an alarmingly short space of time. I may have been confused as the events unfolded, but one thing that wasn't in doubt was the fact I was no longer in Stein's plans.
I was no longer wanted at Celtic.
Look, I understand football teams have to evolve. Celtic had quality youngsters such as Kenny Dalglish, Lou Macari, Victor Davidson and Paul Wilson challenging for places in the forward line. You would encourage such exciting protégés to push for places in the first team. That's a completely acceptable and expected development of a football team.
I would have been part of that process eleven years earlier when stalwarts such as Neilly Mochan and Willie Fernie were being phased out. The legendary Charlie Tully had left just before I arrived. It's worth remembering these guys were in their thirties. Tully, in fact, was only five years short of his fortieth birthday before he quit to wind down his remarkable career at Cork Hibs. I was twenty-eight and, arguably, my best days were ahead of me. Or so I thought.
SAN SIRO SETBACK…John Hughes and Feyenoord's Wim Jansen, who would later manage Celtic.
Jock had made up his mind and there was no point in arguing the case. I was left with the distinct feeling that I would be sitting in the stand every matchday if I didn't sign for Crystal Palace. Without win bonuses and appearance money, that would hit me hard financially. I was made well aware I wouldn't kick a ball in the first team again.
What can you do in a situation like that? It was time to go and I'll never forget the day I walked through those front doors at Parkhead realising I wouldn't be back.
I scored against Falkirk in a league game at our place in a 4-0 win on March 27 1971. There wasn't anything special about it, but obviously I had no idea it was the last goal I would claim in front of my own fans at the place I truly believed was Paradise. My final goal for the club came in a League Cup-tie against Ayr United at Somerset Park on August 21 when we won 3-0. And, of course, my final farewell was the 3-0 triumph over BK Copenhagen. At least, I went out as a winner although I admit that is scant consolation.
Please don't run away with the idea it was all grunting and growling when Jock and I were sharing the same postcode. We could actually be in the same dressing room without an angry exchange. In fact, there is a lot I have to thank him for and I realise those words may surprise or even shock you.
READ ALL ABOUT IT…John Hughes with his revealing autobiography, 'YOGI BARE: The Life and Times of a Celtic Legend'.
Back at the start of 1965, I genuinely thought my career might be elsewhere. I admit the possibility of asking for a transfer often occupied my thoughts. I couldn't help but wonder if a move might prove to be beneficial. There are always transfer rumours in football and I figured in more than a few.
By the time the chimes for 1965 were still fresh and another year had been welcomed, I had been playing first team football since the start of season 1960/61. I netted seventeen goals in my first campaign and followed that up with thirty-one. Then I hit a slump and claimed only twenty-two! I got eighteen the year after that bringing it to a total of eighty-eight goals in four campaigns. Not bad shooting for a rookie, even if I do say so myself.
And yet I wasn't guaranteed a first team place in a side that often struggled. Why? Sean Fallon simply didn't fancy me. Jimmy McGrory may have had the title of manager, but he didn't pick the team and we all knew it. Chairman Bob Kelly would take on that chore and he had the ear of Sean. We all realised, too, that Sean was Kelly's man. He fed him all the information and gossip from the dressing room. And, clearly, I didn't appear to be his idea of a footballer.
It didn't matter that I was scoring goals every other game, my face didn't fit. He never bothered to tell me where he thought I was going wrong. I was left out of the team and I was too naive to ask for a reason. I doubt if I would have been given an explanation, anyway. I would probably have been shooed away into a corner like some errant schoolboy.
HEADS UP…John Hughes challenges Rangers keeper Billy Ritchie to a high ball.
Frustrated? That would have been a massive understatement. Without warning, I would be chucked into the cauldron of an Old Firm confrontation and the next I was dropped and back in the reserves. I'm not exaggerating and facts will back me up. Look at season 1961/62, for instance. I scored seventeen goals in a sequence of twenty-five games. I was reasonably happy with that sort of form and, please remember, I was still a teenager.
Then I hit two successive blanks and, you've guessed, was axed with Bobby Carroll taking my place for the next game against Raith Rovers which Celtic lost 1-0 at Parkhead. That was the way of things at the club pre-Stein. Sean Fallon had a lot of power in team matters and would even lock Jimmy McGrory out of the dressing on some occasions. Yes, I know that sounds absolutely ludicrous, but, believe me, it happened on a regular basis.
Before Big Jock walked back through that door in March 1965, I genuinely believed my future lay elsewhere. I wasn't alone. There were grumblings in the dressing room and we all knew Spurs wanted Billy McNeill. There were stories about Bobby Murdoch thinking about emigrating with his family to Australia. Falkirk were said to have taken a liking to Bobby Lennox and there was even speculation that Jimmy Johnstone was so fed up with his treatment that he was thinking of going back to the Juniors. Anyone who ever met Jinky will know that rumour may have not been too outrageous.
BY THE RIGHT…John Hughes puts pressure on Kilmarnock defender Jim Whyte.
Jock was aware of my situation even while he was manager of Hibs. I bumped into him purely by coincidence at a midweek international at Hampden. Quietly, he took me aside. He whispered, 'I hear you're thinking about asking for a transfer. Is that right?' I nodded and said, 'I'm thinking about it.' He replied, 'Don't do anything.' I was a little puzzled. 'What do you mean?' I asked. 'Just what I say. Hold your decision for awhile. I want you to stay at Celtic. I know you can do a good job for the club. Give me time to get things sorted.'
It was the first time I realised the rumour factory had got it absolutely right; Jock Stein was about to return to Celtic. I may have been astonished at the time, but it didn't take me long to discover that Jock had spies everywhere. He would have known as much of what was going on in the Celtic Park dressing room as the one at Easter Road. To this day, I still have no idea who would have alerted to him to the fact I had grown a little disenchanted with my situation regarding being in and out of the first team at Celtic, but, of course, his information was spot on.
I'll always recall Big Billy coming into the dressing room one morning and beaming with delight. 'Big Jock's coming back!' He stopped short at shouting 'Hallelujah!', but we could see our captain was more than overjoyed. 'Let's see what happens now.' I smiled because I had already been aware of the impending return of Jock, but had been sworn to secrecy. I believe Jock agreed to come back in January, but the move wasn't put in motion until March.
That was in 1965. I was just as excited as Billy because, after years of uncertainty and a total lack of coaching or guidance from Sean Fallon or his other backroom staff, I knew there was a someone coming into the manager's job who appreciated me. Six years later, though, he had a change of mind and it was a case of 'Adios – and close the door behind you.'
Yes, of course, I felt a great injustice. What had I done to deserve the brush off?
* TOMORROW: EXCLUSIVE! Big Yogi reveals the beginning of the end.
Click Here for Comments >