CELTIC goalscoring great John 'Yogi' Hughes reckons Leigh Griffiths has a massive debt to repay the Hoops.
The original Big Yogi fired in 189 strikes to take him to seventh place in the list of all-time Parkhead top marksmen.
Hughes applauded Griffiths' feat of joining the Century Bhoys when the player swept in a trademark free-kick in the European win over FK Sudova in Glasgow on August 30 2018 – and the club icon urged the player to go on and break his record.
However, the Scotland international striker has misfired big-style over the past three seasons and he has toiled to make any impact during a catastrophic campaign that saw the quest for the historic tenth successive title come off the rails with the defeat at Ibrox on January 2 and the subsequent 1-1 draw with Hibs and the two back-to-back stalemates with Livingston.
TON-UP BHOY…Leigh Griffiths nets his 100th goal for Celtic against FK Sudova in August 2018.
Hughes opened up to Celtic author Alex Gordon, who co-wrote the former fans' favourite's autobiography, 'YOGI BARE: The Life and Times of a Celtic Legend', and he laid it on the line that the forward was running out of time to show his gratitude to the club for throwing him a lifeline when he needed it most.
Big Yogi, in another CQN EXCLUSIVE, said: "I don't think it should be forgotten that Celtic offered Leigh Griffiths a four-year contract when they were aware of his mental health issues.
"At one stage of 2018 when he netted his 100th goal for the club it looked as though he was on fire. I told him to carry on scoring and get past my total. I really hoped that he would achieve that.
"The way I see it records are there to be broken. I am not that precious that I wanted to remain in seventh position. I'm a Celtic fan, I want what is best for the club.
"He scored his landmark goal in August, but four months later Brendan Rodgers admitted the player would be given time off for personal issues.
"It was around about that time the club gave the player the security of a deal that will take him up to June 2022. That was a bold move by Celtic. Let's face it, even Leigh wouldn't have known what the future held in store for him at that stage.
SCARF ACE…Leigh Griffiths celebrates the 2018 Scottish Cup Final win over Motherwell.
"I am not privvy to what the player went through, that was the business of Griffiths and the club. Of course, we all wished him a speedy recovery, but Rodgers insisted he would be given as much times as it took and there would be no additional pressure on him.
"It was great to see Griffiths come back and he was man enough to own up to the issues and attempt to put them behind him.
"However, his form over the past three seasons has been disappointing, there is no other word for it. The statistics tell you all you need to know.
"He has scored 25 goals in three years and that is nowhere near good enough for a striker of his quality and past record. He netted six in 20 games in season 2018/19.
"Griffiths followed that up with 12 in 32 appearances and has collected a mere seven from 25 outings in all competitions in this dismal campaign.
"That is not impressive shooting from a player who will surely be the first to admit he can do so much better. We know he has goals in him, he is a natural goalscorer.
"Look at his record in 2015/16 when Ronny Deila was in his second and final year as manager – he walloped in an astonishing FORTY goals. Think about that for a moment.
"That is 15 more than he has scored in total over the past three years. I think that tells you all you need to know."
OOPS IN THE HOOPS…Leigh Griffiths shows his despair at a missed chance.
Seventy-seven-year-old Hughes, who played in five ties in Celtic's European Cup-winning run that ended in glory in Lisbon on May 25 1967, added: "This has been a disastrous season for Celtic. We have all felt it.
"Expectation levels were high, but there was every reason for optimism. Griffiths and Odsonne Edouard had completed the previous season on a high.
"Neil Lennon changed his formation after losing 2-1 to Steven Gerrard's side at Parkhead in the last game of the year and went with two up front. It clicked as the goals flowed and the team pulled away from the Ibrox club to secure a record-equalling ninth successive championship.
"In the last match, against St Mirren on March 7 before the coronavirus pandemic forced the lockdown and a premature end to the season, Griffiths hit a hat-trick in a 5-0 victory. Edouard scored one and Callum McGregor netted the fifth and final goal with a late penalty-kick.
"Celtic were 13 points ahead and cruising towards the crown. Then the game went into cold storage – and that was the worst thing that could have happened to Leigh Griffiths.
"There was the fall-out with the manager over weight issues following the Celtic players' three months of lockdown during which they had their own personal fitness regimes mapped out by the health team at the club.
"I do not know the ins and outs of that particular incident, but it was enough for Lennon to leave the player behind as he took his squad to France for four games as they prepared for a cruial season.
"So, not the best of starts for Griffiths. And it didn't get much better as the term progressed and points were dropped at an alarming rate.
HAIL, HAIL…Leigh Griffiths applauds the Celtic fans.
"He spent a lot of the time on the substitutes' bench while the team were crying out for his goals.
"With the programme limping to a sad finale – it's still hard to accept the championship has been given up in such an inexplicable manner – he has scored a meagre seven goals, and that includes strikes in the Scottish Cup and Europa League.
"Celtic's lack of firepower and goal threat has been highlighted in the last three games – the 1-0 loss against Ross County in Dingwall, the 1-0 win over Aberdeen at Parkhead and the goalless draw at Dundee United.
"We all knew the league was blown, in truth, we had known it for some time, but we needed to keep on going, even if it was just for the sake of pride.
"They made a host of chances against the Highlanders – with Edouard and Ryan Christie missing absolute sitters – and it took a deflected shot from the Frenchman to get on the mark against the Dons.
"There was a procession of opportunities against the Tayside outfit in a game where Celtic knew anything less than a win would gift-wrap the title for the Ibrox side.
"They passed up all sorts of chances as they edged towards another awful result. And where was Leigh Griffiths when all this was going on at Tannadice? Sitting on the substitutes' bench until the 84th minute.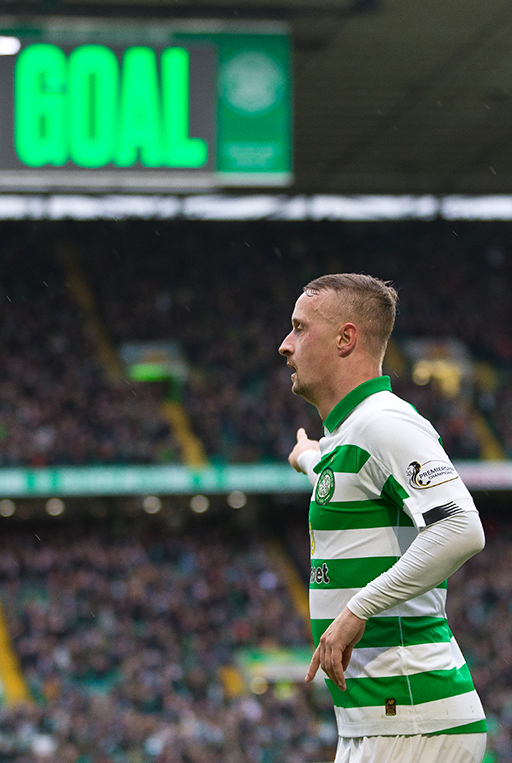 GOAL-DEN BHOY…Leigh Griffiths celebrates his hat-trick in the 5-0 win over St Mirren in March 2020.
"Celtic urgently required a goal from somewhere to prevent the end of an era that particular afternoon and a player who has scored over 100 goals for the club wasn't trusted to show what he could do until it was too late. That says it all.
"Next season will be a massive challenge for my old club. There may be a new manager with his own ideas, he may want to bring in his own players. It's all up in the air at the moment.
"There will be comings and goings among the playing staff.
"Has Leigh Griffiths a future at Celtic? He still has a full year to run by the time the club prepare for another challenge.
"He will be 31 in August and time is running out to say thank you to the club for the faith they showed in him when he had to overcome his own issues. Thankfully, it looks as though he has managed that and we can all be grateful for that.
"However, it's time for him to stand up and be counted. Plainly, I would tell him: 'You owe Celtic'.
"And next season looks the perfect setting for the player to deliver."
* TOMORROW: Don't miss another hard-hitting EXCLUSIVE from Big Yogi – only in your champion CQN.
Click Here for Comments >