SCOTT BROWN was a loser on one of the first occasions Celtic great Davie Hay ever saw him in action.
However, the aspiring youngster at Hibs went on to become one of the biggest winners in Hoops history with TWENTY-TWO honours to date during a spectacular 14-year career at Parkhead.
And there is still the opportunity for the onfield leader, who will be 36 in June, to bow out on a high with the Scottish Cup Final due on May 22 where the holders will be looking for a record-breaking five successive triumphs in the national competition.
Former manager and player Hay, speaking to author and friend Alex Gordon in another fabulous CQN EXCLUSIVE, said: "It would be ironic if Scott Brown's Celtic playing days ended at Hampden and he could leave for his new career at Aberdeen with another trophy.
"It was at the national stadium where I first got a really good look at the player. I was manager of Livingston at the time and we were scheduled to face Hibs in the 2004 League Cup Final.
TEENAGE TEARAWAY…Scott Brown races at the Livi defence in the 2004 League Cup Final.
"I recall it was a nice crisp afternoon on March 14 2004 and the place was heaving, mainly with supporters of the Edinburgh club, of course.
"We had already beaten them twice in the league that season, 2-0 at Easter Road and 1-0 at Almondvale, but they were still favourites to lift the Cup. That irked somewhat. Wee Livi were being written off and I used that as a motivational factor for my players.
"But when you looked through that Hibs team it was easy to see why a lot of the so-called experts insisted the silverware was heading for the capital.
"They had some of the brightest prospects in Scottish football and, as well as Scott Brown, they had the likes of Gary Caldwell, Derek Riordan, who both ended up at Celtic, of course, Kevin Thomson, who switched to Ibrox, and Garry O'Connor, who was a Scotland international while he was still a teenager.
"We were no mugs, though. Probably our most recognisable player at the time was Davide Fernandez who had returned to the club after a £1million switch to Parkhead – bought by Martin O'Neill – didn't work out.
"I had done my homework on our opponents and I have to say they were an impressive bunch of individuals, but that didn't make them a team.
HAPPY HAMPDEN FOR HERO HAY…Davie Hay is all smiles after Livi's 2-0 League Cup Final triumph over Hibs.
"One thing I noted about Scott was the amount of hard work he put into a game. He was pushed slightly wide right as he was breaking through into Bobby Williamson's first team.
"He was also a team man. That was more than obvious with the covering he did all over the place. He was 18 and just a kid, but you could see he wanted to take responsibility.
"There is no way I could have even guessed the player I was looking at would go on to have the career he enjoyed at my old club. But there was a spark about Scott even back then."
Hay added: "I set up my team as I had done for the two previous fixtures. Why change a winning formula? I tweaked it in a couple of places, but, otherwise, my Livi lads knew what was expected of them that day as soon as referee Willie Young blew his whistle set the Final in motion.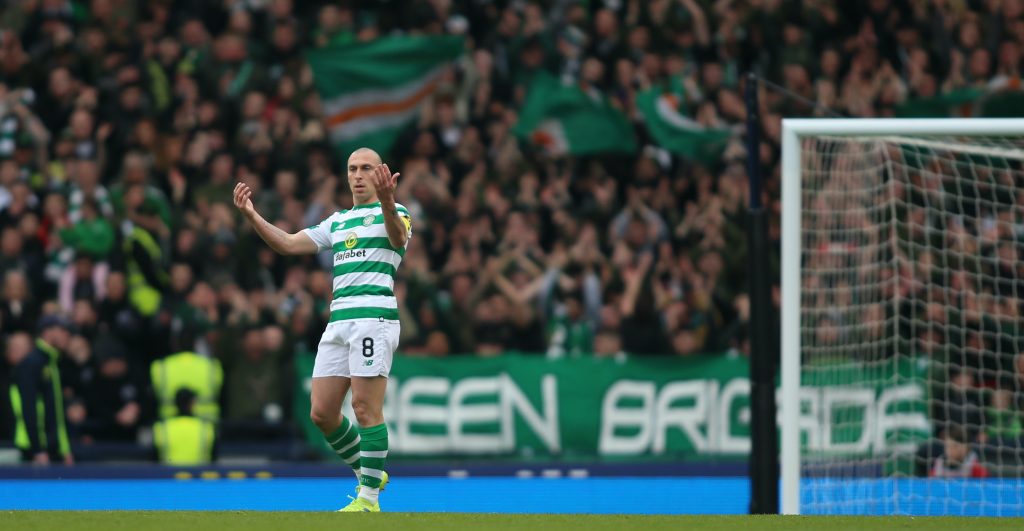 THE LEGEND…Scott Brown with his adoring legions of Celtic fans at Hampden in 2019.
"I remember Scott giving us a wee bit of trouble in the opening 20 minutes or so, mainly with his powerful running. He did get clear at one stage, but the ball broke away from him as he raced into the box and Roddy McKenzie, our keeper, was able to come off his line and smother it and the chance was lost.
"We played well that afternoon, I have to say. The game plan worked well. You could see Hibs getting a bit frustrated going into the second-half and we scored a really good goal through Derek Lilley. Then Jamie McAllster was sent clean through and he tucked it away with ease.
"We could have scored two more in the 10 minutes or so after that as Hibs collapsed. But you better believe Scott Brown gave it everything for the cause while he was on that field.
"That's why he transformed from loser to legend in his marvellous Celtic career. I wish him all the success in the world in whatever he does and wherever he goes. He deserves that.
"Could he return to Celtic some day? Stranger things have happened!"
* TOMORROW: Don't miss another great Davie Hay EXCLUSIVE – only in your champion CQN.
Click Here for Comments >