CELTIC legend John Hughes reckons Daizen Maeda could learn a thing or two from Lisbon Lion Jimmy Johnstone.
The goalgrabbing great, nicknamed Yogi by the Hoops fans, is the club's seventh-highest scorer with 189 strikes and knows a thing or two about putting the ball in the opponents' net.
But Hughes could hardly believe his eyes when he saw Maeda appear to duck out of a challenge from Allan McGregor in the 1-1 derby stalemate at Parkhead at the weekend.
In another CQN EXCLUSIVE, Yogi reveals all to his friend and author Alex Gordon, who co-wrote the icon's best-selling autobiography 'Yogi Bare: The Life and Times of a Celtic Legend,' which was published in 2014.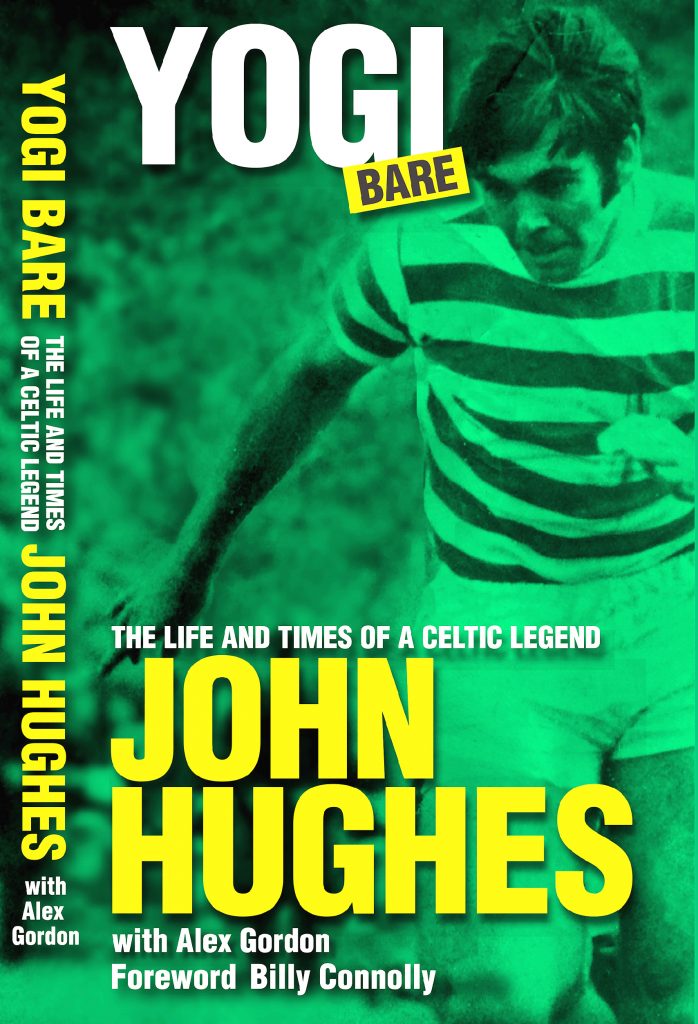 The one-time juggernaut forward said: "It was just a couple of minutes before the interval, we were leading 1-0 through Filipe Jota's excellent opportunist's effort and another goal at that stage could have well and truly floored Rangers.
"Celtic were in control at the time and might have scored a second around the half-hour mark when Jota attempted a spectacular header, but only succeeded in sending the ball yards over the crossbar.
"But it was the little Portuguese winger who carved open the Ibrox back lot with a lovely little chip to the back post. Maeda timed his run to absolute perfection.
"He did everything right – apart from the final execution. He HAD to put the ball in the net. A second goal looked certain.
"McGregor did what you would expect any keeper to do. He raced off his line to do his best to block a header, but it was more in hope than expectation.
UP IN THE AIR…Daizen Maeda prepares to go for the high ball with stranded keeper Allan McGregor doing his best to cover his goal.
OOPS…Daizen Maeda fails to make proper contact as McGregor flaps helplessly.
HIGH HOPES…Daizen Maeda and Allan McGregor come together as the ball bounces clear.
PAST THE POST…Daizen Maeda can only look on as the ball bounces wide of the target with the keeper helpless.
"Let's face it, who is going to blame the keeper for an opponent getting a clear header smack in front of goal? That's down to the likes of Connor Goldson and Calvin Bassey in the middle of the rearguard and they had been eliminated by the expertise of Jota's chip.
"If Maeda had kept his eye on the ball and ignored the advancing McGregor, he would have made a clean connection and there was only one destination for the ball – the back of their net.
"But he appeared to freeze just when it mattered most. He was most certainly distracted by the Rangers man who was making himself as big as possible."
DOWN AND OUT…Daizen Maeda hits the ground after his miss.
Hughes, now 79, continued: "You have to be brave in that penalty box when bodies and boots are flying around. You need a one-track mind and make certain nothing is going to divert you from your aim.
"In the Celtic team I was fortunate enough to play in during the sixties and early seventies, we had players such as Stevie Chalmers, Bobby Lennox, Willie Wallace and Joe McBride making their presence felt in packed penalty areas.
"They weren't particularly tall, but I never saw them shirk from a challenge. If the ball was there to be won, in the air or on the ground, these guys didn't hesitate.
"Look at my pal, Wee Jinky Johnstone. He was five feet nothing and he threw himself at everything. I saw him score some incredible headers in his day.
"Okay, Wee Jinky was not in the team for his aerial prowess, but if he found himself in a situation where he had to go for something, then nothing was going to get in his way.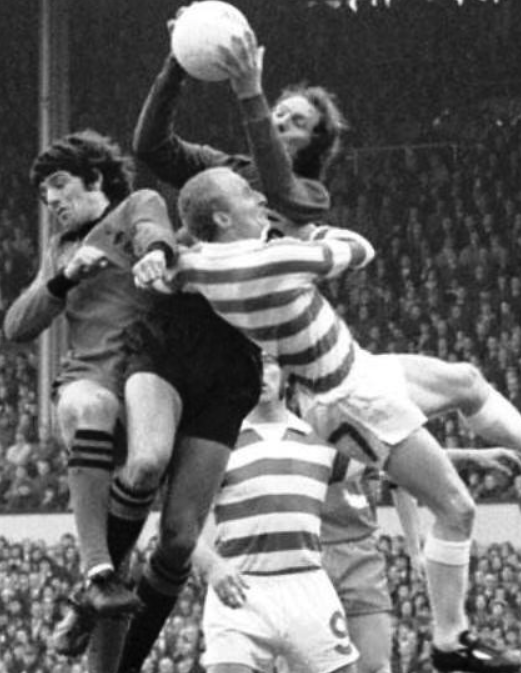 HIGH JINKS…Wee Jimmy Johnstone challenges Dundee United keeper Sandy Davie and defender Walter Smith for a high ball in Celtic's 3-0 Scottish Cup Final triumph in May 1974.
"That wee man was as brave as they come and never thought twice about getting in about it when the boots and elbows were in evidence.
"In fact, I would say Maeda must watch some Wee Jinky videos to understand totally the point I am making."
Hughes added: "The Japanese forward had the opportunity to score about 10 minutes into the second-half, too. He was presented with a fabulous opportunity 12 yards out, but snatched at the chance and thumped the ball over the bar.
"I am sure he will get better as we go along and I think we'll see the best of him next season. That's got to be bad news for opponents.
"He scored 23 goals as joint-top marksman in the J-League before coming to Celtic, so he certainly knows how to tuck the chances away.
"Sunday was a day to forget, but he can more than make up for it when we play Hearts on Saturday and then Dundee United and Motherwell.
"Big Ange has asked his players to win the title in style and I am convinced that's exactly what they will do."
Click Here for Comments >