CELTIC legend John Hughes admits he feels no sympathy for Giovanni van Bronckhorst's Europa League losers.
The Hoops great, the club's seventh-highest scorer with 189 goals, believes former Ibrox players were "disrespectful" to Jock Stein's all-conquering side that became the first British team to conquer Europe in 1967.
Hughes reacted to claims by Kenny Miller who insisted his old club "would be right up there with Celtic's Lisbon Lions" if they won the Euro silverware when they faced Eintracht Frankfurt in Seville in midweek.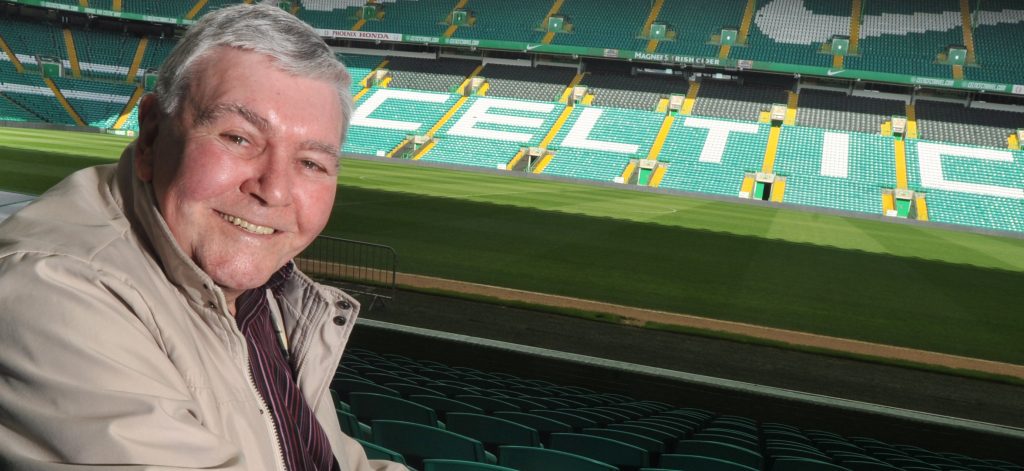 BEAR IN PARADISE…Celtic great John 'Yogi' Hughes still attends every game at Parkhead.
The Parkhead icon claimed the comments were "ridiculous and nonsensical" and made his feelings known, as CQN reported.
Miller's ex-colleague Kevin Thomson also joined the ranks of those who insisted a victory in the Spanish city would eclipse Celtic's effort in the Portuguese capital on May 25 1967 when goals from Tommy Gemmell and Stevie Chalmers shot down favourites Inter Milan in the most momentous occasion in the club's history.
In another CQN EXCLUSIVE, Hughes gave his updated views to author Alex Gordon, who co-wrote the former fans' favourite's autobiography, 'Yogi Bare: The Life and Times of a Celtic Legend,' which was published in 2013.
He said: "I thought a few of the remarks coming from some quarters were disrespectful to Celtic, Jock Stein and his players. Frankly, as I stated, there was no comparison.
FINAL LETDOWN…John Hughes in action during Celtic's loss to Feyenoord in Milan in 1970.
"For a start, the Ibrox side were not even competing in the premier competition. I have already acknowledged their achievement and it took a mighty effort to reach Seville.
"So, credit where it is due, but may I point out Celtic actually completed their Europa League group with nine points and went out? Rangers completed their section with eight and went through. We won three out of six games, they won two. Fine margins, my friends.
"However, in the countdown to the big match, it may have been wiser for some of the former players to keep their powder dry and speak out once they had actually won the trophy.
"At that level, it's all about winning. No-one wants to remember the losers.
"Unfortunately, I am speaking from experience. Celtic had the chance to win the European Cup for the second time in four seasons when we beat Leeds United home and away in the semi-final to set up a meeting with Feyenoord in Milan.
HAIL CAESAR…Billy McNeill proudly holds aloft the newly-won European Cup in Lisbon on May 25 1967.
"The Dutch took us by surprise that evening and were a helluva lot better than we had been led to believe. In those unenlightened times, football did not get the worldwide TV coverage it gets today.
"If that had been the case, we would have known what to expect from a team that comprised of eleven excellent professionals, among them future Celtic boss Wim Jansen.
"We lost with about three minutes left of extra-time and, back then, the Final would have gone to a replay. I have no doubt we would have beaten the Dutch side once we had a clue what we were up against.
"That memory is so painful I have never watched a rerun on TV."
Hughes, now 79, continued: "The point I am trying to make is that no-one at the time even dared to say we were about to equal the feat of 1967. Celtic broke down barriers with their win over Inter Milan, that team proved the trophy was not the exclusive property of Europe's glamorous sides such as Real Madrid, Inter and AC Milan and Benfica.
"We proved it could be done and you only have to look at the teams who followed our lead – Manchester United the following year at Wembley and then Liverpool.
THE CAPTAIN AND THE SILVERWARE…Billy McNeill carefully carries the European Cup.
"So, that team deserved their place in history and that's what annoyed me when I read so many comments from people who should have known better about matching or even bettering our feat.
"Look, I understand their euphoria. Ten years ago the team was dead and buried and, on Wednesday night, they had the chance to win a European trophy.
"I understand that, I really do. But you must keep things in perspective. There was the little matter of actually winning the Europa League and, of course, that never materialised. I have to admit I felt no sympathy."
Hughes, known to his adoring legions as Big Yogi in his heyday, added: "They paid the penalty, no pun intended, of taking victory for granted.
"I'm fairly certain Giovanni van Bronckhorst and his players didn't think along the same lines as their former stars and cheerleaders.
"It was irritating, too, to hear TV commentators saying things along the lines of Rangers losing after the lottery of penalty-kicks.
"That is NOT a lottery, believe me. I took more than a few spot-kicks in my time – two in a League Cup Final win over the Ibrox club in 1965 immediately spring to mind – and there is obviously a lot of skill in scoring from 12 yards.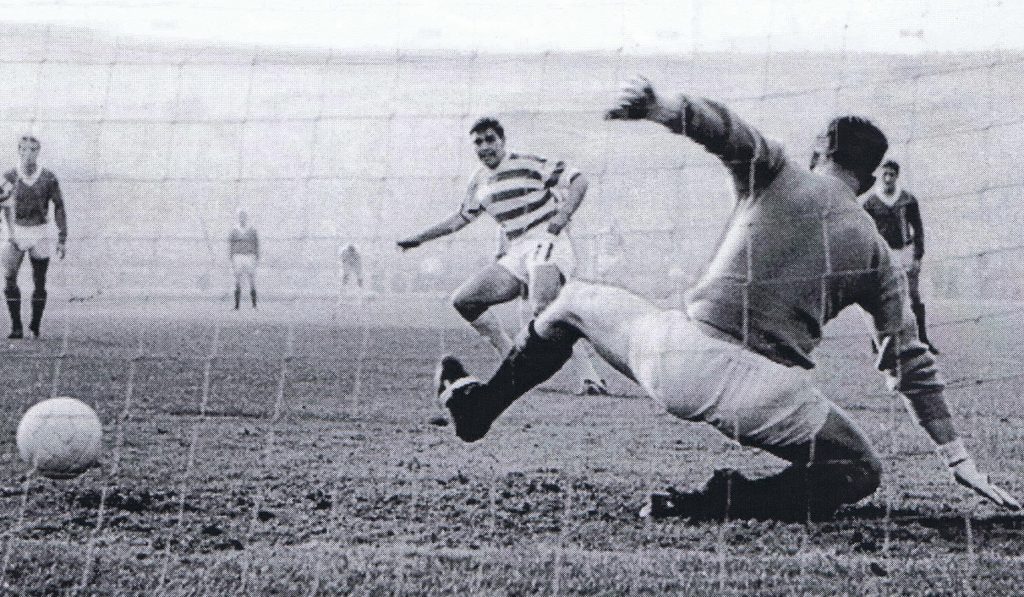 ON THE SPOT NUMBER ONE…John Hughes fires a penalty-kick past Rangers keeper Billy Ritchie in the 1965 League Cup Final.
ON THE SPOT NUMBER TWO…John Hughes thumps in another penalty-kick in the 2-1 League Cup success.
"The taker has to cope with the weight of expectation and all sorts of other things as he prepares to take the kick. Goalkeepers, too, rely on their expertise to keep the ball out of the net.
"So, please don't dismiss penalty-kick shoot-outs as a lottery. That's just plain stupid.
"Look at the quality of the spot-kicks from Eintracht Frankfurt. Allan McGregor, who has a fair record of saving penalties, didn't have a chance.
"No goalkeeper on the planet would have kept out Rafael Borre's effort that took the trophy to the Bundesliga club.
"To place the ball high into the net takes a lot of confidence and quality. If you lean back a precise second too early, there is every possibility of the ball missing the target and ending up in the crowd.
"Lottery? Don't make me laugh.
"In the meantime, I can't wait for the Champions League to get started and see what Big Ange can conjure up during his second season at Celtic.
"There are two classes – first and none. Guess which one our manager is travelling."
* DON'T miss the big-name EXCLUSIVES – only in your champion CQN.
Click Here for Comments >