CELTIC legend Davie Hay continues his inside stories in this CQN EXCLUSIVE series as he details the changes in Wim Jansen's team as they prepared to derail Rangers' bid for 10 successive titles.
It was a year of change at Parkhead and the Hoops great, now a club ambassador, revealed all in his autobiography, 'The Quiet Assassin', which was co-authored by Alex Gordon and published in 2009.
In Hay's own words, here is the inside story of the momentous 1997/98 season, one of the most dramatic in the history of Celtic.
***
I WAS told of a Norwegian striker who was making a bit of a name for himself, Harald Brattbakk. He played for Rosenborg and I decided to have a look at him.
I had seen footage of him playing against Real Madrid in a Champions League match and I was impressed. However, it is always good to check out the players in the flesh. Agents were unlikely to provide you with a video of their clients skying the ball over the bar from two yards, were they?
All the good bits were on tape and the rest were left on the cutting room floor. So, off I went to see Harald in action for myself. I detected he liked to come in from the left and hit right foot shots at goal. He got a lot of goals in this manner and I reckoned he could provide an x-factor at Celtic.
He was something different, not a big hitman who would put himself about. He was actually quite slight and, off the pitch, wearing his spectacles, he looked like an accountant. I decided he was worth a chance and the club prepared to shell out £2million for him to become the eighth player signed by the club that season. Ironically, I lost my job a week or so before the signing was complete.
The fans continued to follow in their thousands and Brattbakk admitted he 'was blown away' by the atmosphere when he made his first appearance as a substitute in front of 49,806 fans in the 1-0 win over Hearts on 13 December. Craig Burley, beginning to strike a nice partnership with Paul Lambert in the middle of the park, was the goalscorer.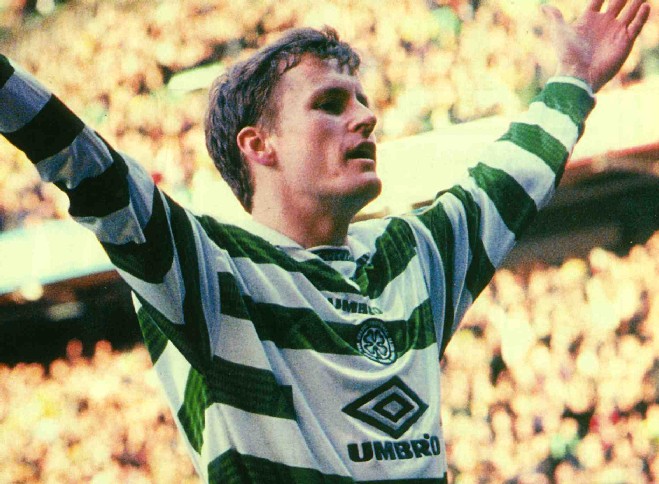 START OF SOMETHING GOOD…Harald Brattbakk celebrates a goal at Parkhaead.
The fact that Burley and Lambert were beginning to be a perfect foil for each other was emphasised three games later when they both scored the important goals that saw Rangers defeated 2-0 at Parkhead, the first time we had won the New Year fixture in ten years. Craig got the opener with a neat angled shot low past the stranded Andy Goram and Lambert's second effort was Goal of the Century material.
Goram pulled off a magnificent save from a rasping Darren Jackson drive, but the ball was worked back to the inrushing Lambert who connected perfectly from about twenty-five yards and his unstoppable first-timer raged high into the net.
There was now a genuine belief about the place that Celtic could win their first league title in a decade. What a difference to the glum, dismal outlook at the start of the campaign when the first two games were lost to Hibs and Dunfermline.
It was just a pity I would not be around at the end to participate in the championship celebrations.
* TOMORROW: Don't miss more EXCLUSIVE inside stories from the Celtic legend as Davie Hay continues to tell all – only in your champion CQN.
Click Here for Comments >