TOMMY BURNS' third year as Celtic manager was developing into a rollicking rollercoaster.
The fans' favourite had returned to the club on July 12 1994 and had won the Scottish Cup in his debut campaign. That was followed by a barren term and all eyes were on the boss as a new challenging and testing season arrived.
In another CQN EXCLUSIVE series, we chart Tommy Burns' career as the team's gaffer during turbulent times on and off the field. Here is the fifteenth instalment from Alex Gordon's tribute book, The Winds of Change, which was published by CQN in 2015.
Please enjoy.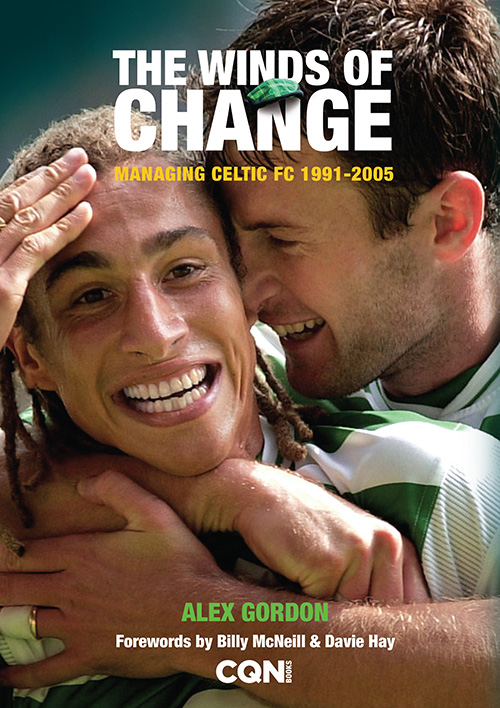 CELTIC returned to action on October 12 1996 after an international break and still the Van Hooijdonk/Burns/McCann row rumbled on.
The Dutchman had been ordered to train on his own, but, because of the chronic number of call-offs, he was given a reprieve and led the attack against Motherwell at Parkhead.
Tommy Burns was without Paul McStay, Phil O'Donnell, Tosh McKinlay, Andreas Thom and Jorge Cadete for a variety of reasons as Alex McLeish brought his Fir Park outfit to the east end of Glasgow. Once again, a Celtic player didn't last the 90 minutes and this time it was Gordon Marshall who was invited to leave proceedings with only seven minutes to go and the game balanced finely at 0-0.
The keeper never quite mastered footwork and he emphasised that weakness once more with a ridiculous fresh-air swipe at a simple passback from Tommy Boyd. He then hauled down Lee McCulloch outside the box and awaited the inevitable conclusion from referee Bobby Orr. Off he trudged and on came young Stewart Kerr, with Brian McLaughlin being sacrificed, for his Celtic debut.
HEADS I WIN…Pierre van Hooijdonk rises abover the Motherwell defence to thump in the points-clincher at Parkhead in October.
Pierre van Hooijdonk had the final say when he snatched the winner in the fading moments. Celtic Park erupted in joy and a couple of minutes later there was another surge of uncontrollable bonhomie throughout the ground when it was announced Rangers had lost 2-1 to Hibs at Easter Road. Van Hooijdonk clenched a defiant fist and positively snarled in the direction of the directors' box as he came off the field.
Fergus McCann, no doubt, wouldn't have received any mixed signals from the team's unhappy marksman.
A week later against Hearts at Tynecastle, the towering striker scored two excellent goals, but the team dropped two points in a 2-2 draw, conceding the equaliser deep in injury time. Tommy Burns sighed: "We did not have the composure when we needed it most."
Celtic were leading courtesy of Van Hooijdonk's double when Colin Cameron pulled one back in the 52nd minute. "We were sleeping," said Burns. Davie McPherson forced in the leveller in the fading seconds. "We were defending far too deep," observed the manager. At least, the goals from Van Hooijdonk provoked a response from the managing director who made a revised offer of an enhanced four-year contract. The player promised to get back to him.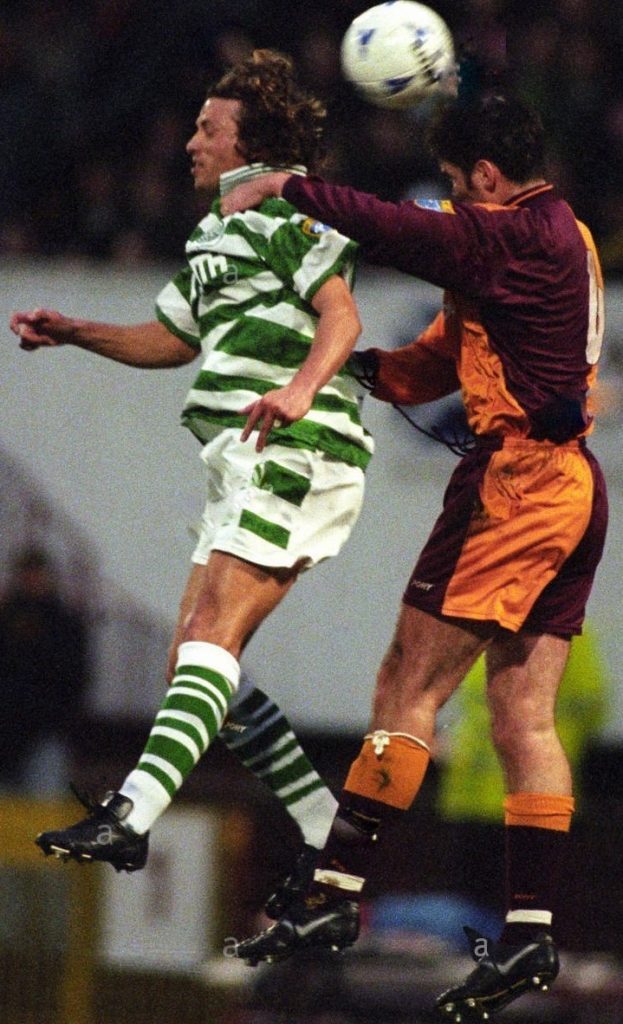 AIR WE GO…Jorge Cadete in an aerial duel with Motherwell centre-back Chris McCart.
Celtic returned to Edinburgh six days later to swamp Hibs 4-0 at Easter Road with Van Hooijdonk again getting on the scoresheet. Burns had ordered Thom to be more greedy around the penalty box and the German gave his reply in the shape of two fine goals. Simon Donnelly chipped in with the fourth.
There was a surprise before the kick-off, though, when it was revealed Peter Grant would no longer be team skipper. Alan Stubbs led the team out against Hibs and Burns explained: "The responsibility was dragging Peter down. It's a big thing for him to be captain of this club, but his play was being affected and that is why the switch of captaincy to Alan Stubbs is permanent until Paul McStay returns."
At the beginning of November, Fergus McCann put yet another offer on the table to Van Hooijdonk. The Dutchman would be the third highest-earning player at the club behind Andreas Thom and Paolo di Canio.
MERCHANT ON MENACE…Pierre van Hooijdonk puts the pressure on Hibs keeper Jim Leighton.
Van Hooijdonk, clearly, had no intention of being third in the salary stakes to anyone. Fresh talks didn't even get off the ground. And the frontman was missing, too, when Celtic prepared to take on Aberdeen at Parkhead.
Apparently, he was injured. Italian Di Canio earned his crust by hitting the only goal of the game to send Burns' team to the top of the Premier League for the first time in the season, albeit on goal difference. Against all expectations, Rangers had struggled in Kirkcaldy on the same afternoon and shed two points after sharing four goals with Raith Rovers.
Tommy Burns said: "We have had opportunities in the past to go above Rangers and blown every one of them. It showed character and perseverance to do what we have now accomplished. I asked Di Canio to be the side's father figure because, with so many young players, they needed someone who could slow the game down. He is a passionate man who has quickly developed a strong feeling for this club."
On Thursday, November 14, Celtic were presented with the ideal opportunity to go three points clear at the top when Walter Smith's side arrived at Parkhead for another thunderous tussle.
FOX HUNT…Tommy Burns pays no attention to a fox racing past his dug-out as he concentrates on the game against Rangers. Shortly afterwards, the Celtic boss was "invited" to watch the action from the stand.
Yet again, it was a powderkeg confrontation that carved out 90 pulsating minutes and Burns, fuming at some strange decisions from referee Hugh Dallas, was ordered from the dug-out after a particularly vehement disagreement with the fourth official, Eric Martindale.
It was that sort of fiery encounter.
Rangers won 1-0 with a simple goal from Brian Laudrup in the seventh minute which was crafted out of nowhere and was due to an unfortunate slip by Brian O'Neil. The defender lost his footing with no-one near him and the Dane seized on the loose ball and carried on before sweeping his effort wide of the exposed Stewart Kerr.
The keeper, who only celebrated his 22nd birthday the previous day, kept Celtic in the game when he made a magnificent penalty save from Paul Gascoigne in the 68th minute. Parkhead was in uproar when Dallas pointed to the spot after the rookie keeper had gone down at the feet of Laudrup. It looked like a fifty/fifty challenge with neither combatant showing any inclination of pulling out. The match official waved away all protests and justice was done when Kerr dived to his left to hold the spot-kick effort.
With five minutes to go, and the ground still throbbing, Celtic threw away the chance to draw level and remain at the Premier League pinnacle. Richard Gough's challenge on Simon Donnelly was more of an assault than a tackle and the only reasonable conclusion was another penalty-kick.
SPOT OF BOTHER…Pierre van Hooijdonk takes aim with his penalty-kick, but Andy Goram is already moving to his right to pull off a dramatic save to prevent an equaliser.
Hush descended on the packed stadium as Van Hooijdonk sized up the situation. He stepped forward, aimed for the right-hand corner and was left open-mouthed in astonishment as Andy Goram dived full-length to push the ball round the post for a corner-kick. Laudrup's early strike was enough to take the points to Ibrox and restore Smith's side back to pole position.
Burns had calmed down considerably by the time he attended the aftermatch press conference. He said: "I will pay my fine, bite my tongue and learn from the experience. We all get carried away sometimes. It's disappointing to lose in the fashion we did, but that is not an excuse. There is only so much you can ask of a team and I thought we did well, in spite of the result.
"Great things are built from perseverance and we will not change our style of play. It will one day get us to where we want to be."
CRUNCH…Hibs keeper Jim Leighton thwarts determined Celtic striker Simon Donnelly as Andreas Thom looks on at Easter Road.
The manager refused to point the finger of blame at penalty-kick culprit Van Hooijdonk. "When there are five minutes left of an Old Firm match, there are not many players who will volunteer to take an award such as that one. Pierre has scored many great goals for us and he will do so again. At least, he had the courage to put himself in the firing line."
When asked about the poor run of recent results against his team's oldest foes, Burns replied: "I was lucky enough to play for Celtic when we went 10 years without losing to Rangers at Parkhead. So, we won't get our knickers in a twist because of the last eight games. We haven't had much luck, but we won't change our philosophy, which is to entertain, pass the ball and play at pace."
It was all very admirable and, Burns, undoubtedly, meant every syllable of every word at the time. But Celtic fans were growing more concerned and more vocal as another campaign of impending doom was beginning to materialise, pre-season promises toppling into the void of darkness.
Burns, too, was having second thoughts about his footballing philosophy. Before the turn of the year, after a 1-0 victory over Dundee United in Glasgow, he admitted: "It wasn't nice to watch, but winning is the name of the game, particularly for us."
* TOMORROW: Don't miss the EXCLUSIVE sixteenth dramatic instalment in The Tommy Burns Story – only in your champion CQN.
Click Here for Comments >