CELTIC legend John 'Yogi' Hughes admits he is concerned as his old club face an overhaul of playing staff during a summer of upheaval.
The Hoops are poised to hit the re-set button following a season of massive disappointment with inexplicable results at home and Europe burying hopes of a historic tenth successive title and the quest of making an impact in the Champions League.
There seems little doubt Odsonne Edouard will have kicked his last ball for the club at the end of a catastrophic campaign and there is the likelihood Kristoffer Ajer and Ryan Christie could follow him through the Parkhead exit.
A long-term successor to Neil Lennon will also be sought while John Kennedy takes charge of the team in an interim capacity as the term limps to a wretched conclusion with the only hope of silverware now resting with the Scottish Cup, the trophy that has been the club's property for the past four years.
So, Hughes, the seventh-highest goalscorer in Celtic's history with 189 strikes, is apprehensive about the squad being broken up and then coming together again in such a short space of time.
However, the former juggernaut forward, now 77, insists there is another void which could be just as crucial as any of the comings and goings on the pitch.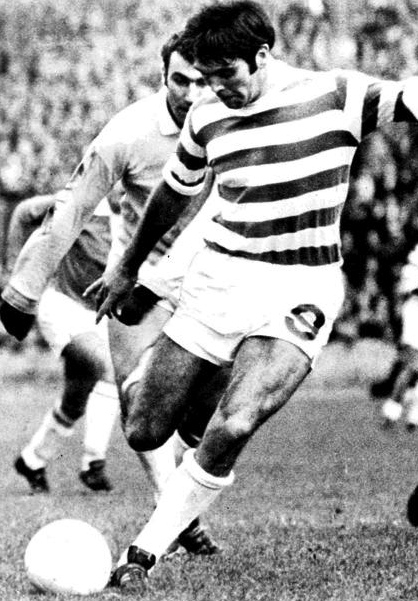 ON THE BALL…John Hughes in action in the 1-0 League Cup Final victory over St Johnstone in 1969.
Hughes, speaking to author and long-time friend Alex Gordon in another superb CQN EXCLUSIVE, said: "Peter Lawwell will retire from his post in June as club chief executive after 18 years in the role. He will have his reasons for making that decision, but no-one should be in any doubt what this individual brought to Celtic.
"I realise football is all about the here and now, fans continually demand success and yesterday is a long time ago.
"I've already said I was sad to see Neil Lennon leave. There is no way he deserved to be on the receiving end of some of the unacceptable treatment that came his way.
"Suddenly, 20 years or more of what he contributed to the club on the field and in the dug-out is erased by some folk who don't engage their brain before they begin to make a noise. At some point in the future, Celtic supporters will look back and see what Neil Lennon did for this club.
"Five titles as a player and five titles as a manager. For goodness sake, doesn't that merit a dignified exit?
"Neil's achievements were more visible, of course, but it should never be overlooked what Peter Lawwell delivered over such a long and prolonged period of unparalleled success to Celtic.
"Who ever thought they would see Celtic win TWELVE successive domestic trophy for the unprecedented quadruple treble? I never thought it was possible.
IT TAKES TWO…Neil Lennon and Peter Lawwell in discussions at Hampden in 2019.
"Even in Jock Stein's era the best we could offer were clean sweeps in the all-conquering season of 1966/67 and another in 1968/69.
"No manager achieved a treble until Martin O'Neill arrived to sweep through the league, the Scottish Cup and League Cup in his memorable debut campaign in 2000/01. That's an incredible gap of THIRTY-TWO years between both achievements.
"Peter Lawwell was the man in position to aid his managers from 2003 and look at the success that brought the club. Don't forget I am a Celtic fan as well as being an ex-player.
"I was a Celtic supporter before I even signed for the club as a teenager. I was a Celtic fan all the way through my career in the green-and-white hoops before the manager decided I was expendable and I was transferred to Crystal Palace when I was only twenty-eight. It's fairly well documented that I did not want to leave the club, but it wasn't easy winning arguments with Big Jock.
"But I never stopped supporting Celtic. If I haven't been at Parkhead on match-day since I hung up my boots, there will have been a good reason.
"So, it's fair to say I have been more than satisfied over the years we have had Peter Lawwell at the helm. Of course, it hasn't been all plain sailing and there were intrusive obstacles everywhere that needed to be negotiated. That happens in life and not just sport.
THE QUADRUPLE TREBLE WINNERS…Celtic celebrate their pehomenal success at Hampden in December 2020.
"The people who occupied that position before Lawwell came in were fairly anonymous. How many people can name the chief executive before he took over? It was a chap by the name of Ian McLeod. Ian Who? Yes, I wouldn't blame you for asking the question.
"He was there for two years after succeeding Allan MacDonald in March 2001. He arrived as a stranger and left as a stranger."
Hughes continued: "I think we can all agree that Dermot Desmond is no fool when it comes to making hard and fast decisions. You do not become a multi-billionaire if you make too many wrong calls, that's for sure.
"It was the club's majority shareholder who put Lawwell in place in 2003 and his remit was clear: Sort out this financial mess.
"Wages for certain individuals were sky-high – that's a matter of record – and the club were haemorrhaging money. They were millions of pounds in debt. I don't possess the exact figures, but I do recall thinking they were fairly scary when they were mentioned to me at the time.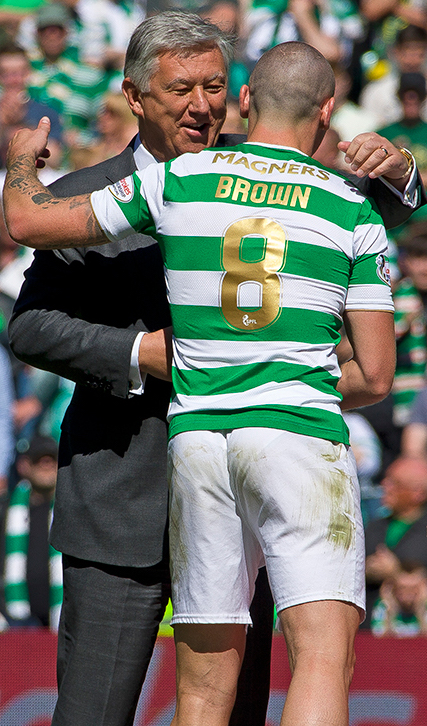 THAT'S MY BHOY…Peter Lawwell congratulates victorious skipper Scott Brown on title prize-giving day in 2018. 
"So, Peter Lawwell was asked to bring down the wages while making sure the team continued to be successful. That's a fair balancing act.
"And you have to give him monumental credit for doing so. There may have been characters leaving the club to cut astronomical wages who weren't too happy and had their say, but it had to be done. You only have to look at the financial fall-out across Glasgow as to the dire consequences if you do not control your spending.
"Celtic fans can be thankful that situation was never going to happen while Lawwell was the chief executive.
"Dominic McKay has big boots to fill when he succeeds Peter Lawwell. Not a lot is known about the character apart from the fact he is an executive with Scottish Rugby. He will find life at Parkhead a whole new ball game, but I am sure he will be well prepared for the enormous challenge.
"I have been informed Peter Lawwell has been extremely active in making sure the handover is as smooth as possible. You can be certain Peter Lawwell has not been sitting on his hands since the January announcement of his departure."
JOY BHOYS…Scott Brown and Mikael Lustig leads the title celebrations in 2018.
Hughes added: "Unfortunately, the coronavirus pandemic has wreaked havoc to Celtic's finances, as well as every other club in the universe. There is nothing that can be done in those extreme and pulverising circumstances.
"I've already gone on record with my thoughts of how Celtic have suffered more than most through performing in a stadium bereft of fans.
"Who wouldn't miss the best supporters in the world? I've read comments in CQN by my former team-mates Bertie Auld and Davie Hay in recent weeks and we all agree, the missing fans have cost us dearly.
"I do not believe for the merest heartbeat the team would be 20 points adrift of tomorrow's visitors if we had packed Celtic Parks behind the team every home game plus the thousands who loyally follow for away games.
"So, of course, the capitulation has been painful and the hurt is obvious. We have all felt it. It was a season that promised so much in the summer, but went awry.
"Peter Lawwell will leave Celtic in June and he can walk out of Celtic Park for the last time with his head held high.
"As a Celtic man, I would like to thank him for everything he achieved for my club and I wish him nothing but success wherever he goes."
TOMORROW: Don't miss another Big Yogi EXCLUSIVE – only in your champion CQN.
Click Here for Comments >