THE third season of Tommy Burns' turbulent time in charge of Celtic ended abruptly when he was fired.
The Scottish Cup semi-final replay exit against First Division Falkirk on April 23 brought down the curtain on the fans' favourite dug-out involvement just before the completion of an explosive, topsy-turvy 1996/97 campaign.
Burns had returned to the club on July 12 1994 and had won the Scottish Cup in his debut campaign, but two consecutive barren crusades brought about an inglorious conclusion to his days as Celtic manager.
Today we conclude another CQN EXCLUSIVE series with the twenty-fifith and final instalment from Alex Gordon's tribute book, The Winds of Change, which was published by CQN in 2015.
Please enjoy.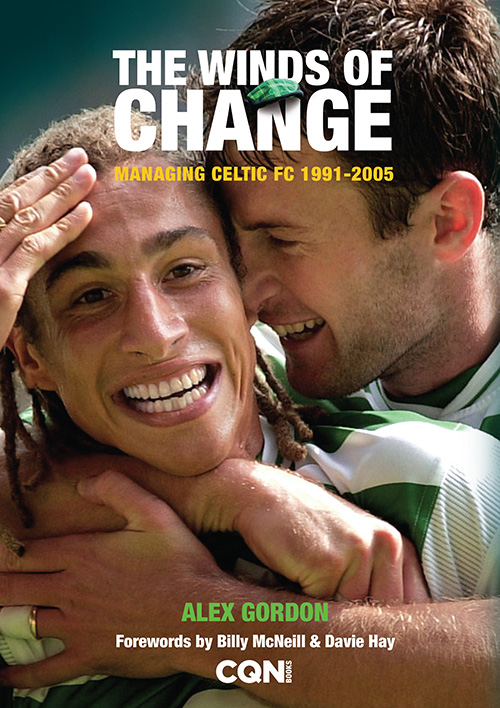 FERGUS McCANN made the decision to ultimately sack Tommy Burns on May 2 1997.
The friction between two strong-willed characters, with Celtic as their dominant interest, but with vastly different views of how to progress, had been there from the first weeks of working together.
Burns would later admit: "My relationship with Fergus deteriorated to the point there was no returning, basically after weeks in the job. So, it was a difficult three years in trying to build a relationship because we didn't really have one.
"I just basically didn't like him, but I'm open-minded enough to think being in his position he probably didn't like this wee guy who's come from the Gallowgate and played for Celtic."
On the fateful day of Burns' last day as Celtic manager, McCann asked the head of security to escort the newly-unemployed boss to the back door. Tommy stood proud and said: "I came in through the front door and, sure as God, I've not done anything to make me want to walk out the back door."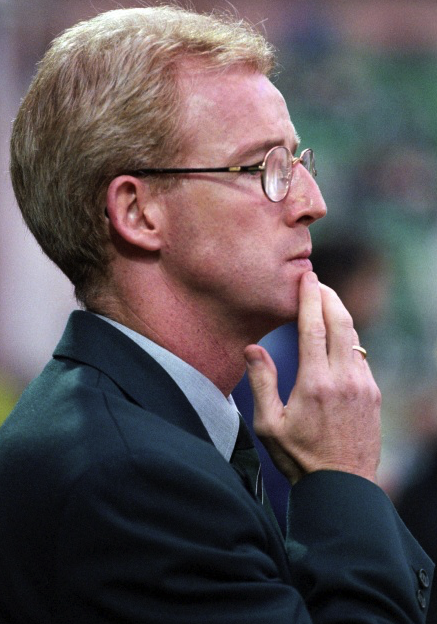 THE END FOR AN ICON…Tommy Burns' three-year reign as Celtic manager concluded on May 2 1997.
Davie Hay, former player, manager and Burns' chief scout, said: "There was a story going around that Tommy had decided to quit as manager immediately after the Falkirk defeat. It went along the lines that he was prepared to hand in his resignation the following morning, but was talked out of it by a Celtic supporter he met on his way to the ground after parking his car.
"Fanciful story and I just don't believe a word of it. Anyone who ever knew Tommy Burns would have realised it would have been impossible for him to walk away from that job, no matter the circumstances.
"Yes, he would have been deeply hurt, but to my mind that would just have made him all the more determined to turn things around. Tommy Burns was never a quitter."
Amid the tumult, Billy Stark, Burns' closest confidante at the club, agreed to take charge of the team for the three remaining league games against Hibs, Kilmarnock and Dundee United, but he stressed he had no intention whatsoever of remaining at the club once that obligation was fulfilled.
HAPPIER TIMES…Tommy Burns expresses his delight as he is announced Celtic manager on July 12 1994.
Two days after his friend's dismissal, Stark was in the Easter Road dug-out to watch Celtic win 3-1 with Jorge Cadete (2) and Paolo di Canio on target.
Afterwards, he said: "I came to Celtic with Tommy and leaving is not a difficult decision to make. I will speak to Mr McCann regarding when I will go in the next few days. I was asked to look after the team and I was mindful of Tommy and I always had the fans' interests in mind, so I thought it was the right thing to do.
"The events had an effect on everyone, but the players knew they had to stand up and be counted after the semi-final result and Tommy leaving. They have taken some stick in recent weeks, some of it deserved, but after this game they deserve credit. I was delighted with the way the players were committed to the game. It took a little bit of magic from Paolo at a crucial time to send us on our way."
The game was televised live and Di Canio, a born showman, stepped into the spotlight on and off the pitch. He was mesmerising against a bemused Edinburgh side who couldn't get near him as he pirouetted and sashayed his way through a fabulous solo performance.
PARADISE…Tommy Burns is welcomed back to Celtic by Fergus McCann, but the return failed to last three full years following acrimony between two strong-willed individuals.
To cap it, he scored with a typically cheeky delivery when, with his back to goal on the edge of the box and with defender Michael Renwick practically wearing the same shirt, shimmied one way, then the other, spotted a tiny exposed spot between Jim Leighton and his near post and promptly banged the ball through the vulnerable space for a memorable effort.
It turned out to be his last goal in Scottish football. To mark the occasion he threw his jersey into the crowd.
He showboated, too, on live national television in the interview afterwards. "I have a little problem with my contract," he revealed, emphasising the word 'leettle' while holding up the forefinger and the thumb of his right hand to indicate just how 'leetle'.
He then launched into some uncensored diatribe that must have rendered the club's managing director apoplectic. "Fergus McCann has made a mistake and I am very unhappy that my gaffer, Tommy Burns, was not on the bench today.
"Now I don't know about my future. I don't know if I will be back in the summer. I was very happy with Tommy Burns. I liked him very much. I've been very unhappy for days. I don't know if I will stay here now. Tommy was a good manager.
"The coup de grace was the 'leetle problem with my contract and I don't know if I'll be back."
THE ITALIAN LOB…Paolo di Canio flummoxes Aberdeen keeper Nicky Walker to score the winning goal at Pittodrie on Boxing Day 1996.
While the Celtic support took time to digest this stunning revelation, there was more to follow quickly. Jorge Cadete, another fans' favourite, admitted: "My agent has had eight meetings with Fergus McCann in Glasgow and not much progress has been made.
"I have been loyal to this club, but some things about the contract are not good."
Doom and gloom merchants had a field day; Celtic were, indeed, falling apart.
Di Canio, of course, was missing through suspension when Celtic played out a goalless draw against Kilmarnock three days later at Parkhead. The memory of this game would fade as swiftly as the club's championship challenge. Inertia was setting in and the nearest a crowd of 42,994 came to a Celtic goal was a header from Tommy Johnson that snapped against the crossbar.
On the same evening, Rangers cemented their ninth consecutive title with a headed effort from Brian Laudrup giving them a 1-0 win over Dundee United at Tannadice.
SILVER SMILES…delighted duo Tommy Burns and Billy Stark hold the 1995 Scottish Cup, their only trophy success in three years.
Billy Stark didn't waste his words afterwards. "We looked like a team which didn't have anything to play for," he remarked. "I can't explain why we were so flat. All we can do is try to atone for that performance when we play in front of our fans for the last time this season on Saturday."
A remarkable crowd of 46,758 turned out at Parkhead on May 10 for a meaningless game to watch a team that had won nothing and didn't even have a manager. The scoreline mattered not a jot, but, for the record books, Celtic beat Dundee United 3-0 with goals from Jorge Cadete, Chris Hay and Tommy Johnson.
Cadete was substituted eight minutes from time and he went through the entire grand theatrical gestures, including kissing the turf transporting memories back to a day in February 1996 when he first made his appearance in Glasgow.  He hugged Billy Stark, waved once more to the fans, disappeared up the tunnel and was never seen again in a Celtic strip.
Billy Stark said: "Obviously, I won't be here next season, but I'm doing everything in my power to make sure Rangers don't go beyond nine-in-a-row. The players are naturally disappointed about not winning the title, but over the past few days I've been trying to lift them. I've told them once they come back from their summer holidays, they'll be fresh and full of optimism about the season ahead.
"I'm sure they'll be fighting for every trophy that's available to them. Hopefully, it won't be long before they win the league. When we beat Rangers in the Cup, things looked good and we had the chance of the Double. But then we lost to them in the league match shortly afterwards and many thought their world had caved in – and I suppose for some of us it did.
GOODBYE BHOY…Jorge Cadete celebrates a Celtic goal before playing and scoring in his last game for the Hoops, a 3-0 win over Dundee United at Parkhead on May 10 1995.
"We were very, very near to stopping Rangers – a lot closer than some would have you believe. Injuries and suspensions cost us dear throughout the season and that is a factor, not an excuse, for us not being able to get the success we wanted. But for some people to claim we lost to Rangers because were outplayed tactically is very naive.
"It was individual errors that cost us against them and not even the best coach could legislate for that."
So, the competitive season that kicked off with so much hope and ambition had come to a shambolic and inglorious conclusion. The drama, though, was far from over. Six days after the Dundee United game, Paul McStay was forced to announce his retirement, 16 years as a loyal one-club man coming to a premature end at the age of 32.
The ankle problem that had bedevilled him from day one of the season finally had the last word.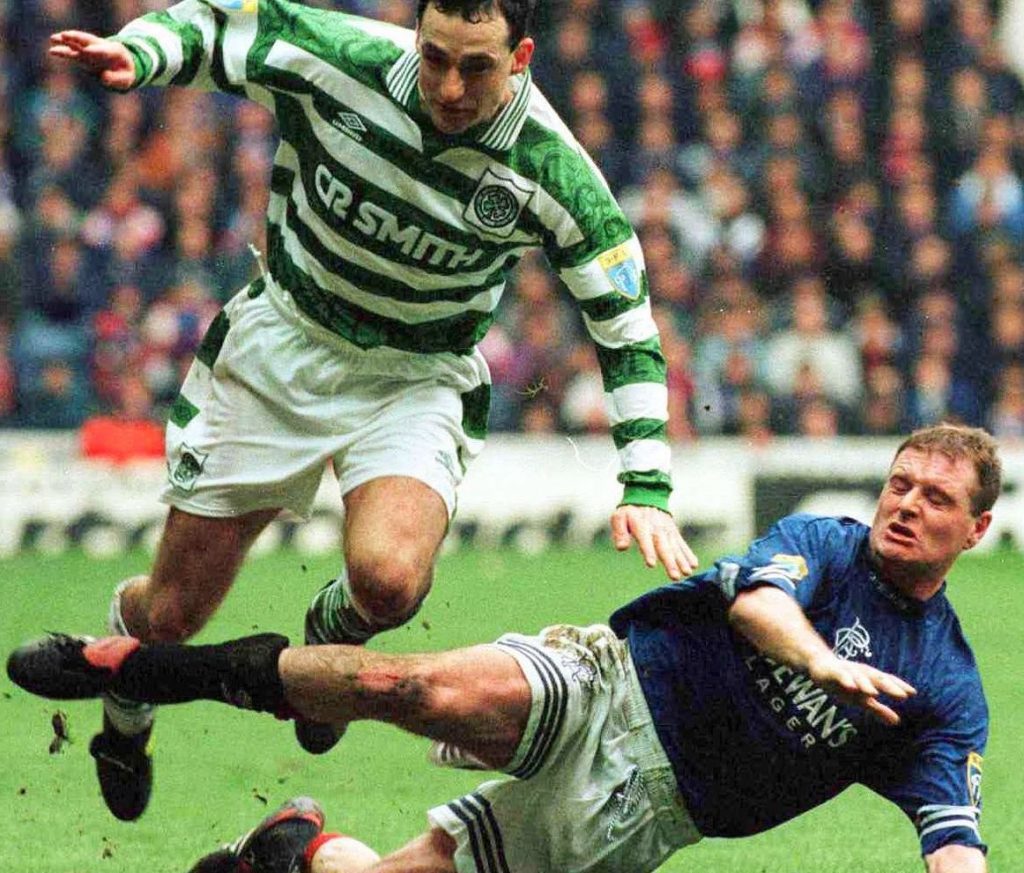 END OF PARADISE ROAD…Paul McStay hurdles a slide-tackle from Paul Gascoigne as he shows the form that made him a firm favourite with the Celtic fans – but it was all over for the captain during a frantic 1995 at the club. 
There would be no sign of the inspirational midfielder, acknowledged as 'The Maestro', and, increasingly, it looked as though there would be no sightings of Jorge Cadete or Paolo di Canio who would join the lead of the Third Amigo, Pierre van Hooijdonk, and vamoose Paradise.
Cadete claimed he was owed £400,000 as a personal fee for joining the club and, of course, this was vehemently denied by Fergus McCann. Di Canio's demand was somewhat less dramatic; a £900 'private' hotel bill when he first arrived in Scotland.
Once again, the club insisted it was his bill and refused to pay it. Di Canio went public with his complaints which brought about a fine of a fortnight's wages while being suspended over the same period.
Celtic had agreed to play a Republic of Ireland XI in a testimonial game for Pat Bonner at Lansdowne Road on May 18 and Di Canio was ordered to stay away from the match. Instead, he was expected in Glasgow for a meeting with McCann. The Italian might have got a 'leetle' confused; he turned up in Dublin, watched the action from the stand, and gave the club's MD a body-swerve.
JOY BHOYS…Paul McStay, Pat Bonner, Brian O'Neil and Willie Falconer celebrate the 1995 Scottish Cup triumph.
For the record, Celtic lost the game 3-2 with Tony Cascarino, of all people, getting the winner six minutes from time.
After the encounter, watched by over 21,000 fans, Bonner returned immediately to Scotland for talks with McCann about extending his player/coaching role at the club. The goalkeeper was Jock Stein's last signing for the club in 1978. At that stage, the legendary manager was only Celtic's fourth boss in 90 years.
Bonner's contract wasn't renewed and, in the wake of this decision, the club severed its last link with their most celebrated incumbent of the dug-out.
Tommy Burns attended Pat Bonner's farewell in Dublin that afternoon. With Burns' departure, Celtic were now seeking their fifth manager in seven years.
* DON'T miss the big-name EXCLUSIVES – only in your champion CQN.
Click Here for Comments >