THE Great Celtic Manager Guessing Game is in full swing with names being bandied about with reckless abandonment.
Even before Neil Lennon debarted the club last month, it appeared there was a queue of replacements waiting to take over the hot seat.
One man has remained stoically silent – Dermot Desmond, the Parkhead powerbroker.
The ultra-wealthy businessman rarely rushes into print unless he has something worthwhile to say.
In another CQN EXCUSIVE, author Alex Gordon, who has written fifteen books on Celtic, looks back at one of his tribute publications, 'The Winds of Change', to illustrate how the Irishman gets things done.
Here is an edited extract from a chapter in the book:
DERMOT DESMOND, suavely dressed in an immaculate grey suit, breezed into the luxurious suite at the exclusive London hotel and announced to the invited guests: "Gentlemen, meet Celtic Football Club's new manager." He paused for dramatic effect, ushered the smiling individual into the room and added: "Mr Martin O'Neill."
Silence. The audience was made up of Celtic boardroom members and there was little doubt that more than a few expected a Dutchman to be presented to them that day instead of a dapper Irishman.
Somewhere along the way, Guus Hiddink had become history, as far as the billionaire major shareholder of the club was concerned. Desmond had remained suspiciously silent as the quest for Celtic's fourth managerial appointment in as many years dominated the daily newspapers.
HIGH HOPES…Martin O'Neill leaps for joy as he watches Celtic thrash Dick Advocaat's Ibrox side 6-2 in his first Glasgow derby in August 2000.
One intrepid reporter caught up with the financier during one of his rare trips to Glasgow which were never pre-publicised. The pressman seized the opportunity and asked the inevitable question: "Who is going to be the Celtic manager?"
Without a flicker of hesitation, Desmond looked at the blue skies above and replied: "It's a lovely morning in Scotland." And with that observation, he took a backseat in a sleek limousine and was whisked away to another destination. The Fourth Estate would have to wait for the public announcement just like everyone else.
The debonair businessman, with the dashing Biggles-style moustache, had been busy in the background. He recognised Celtic urgently required stability and the revolving door policy concerning team bosses was having a chaotic effect on the club and, importantly, the fan base. They needed a manager who could meet the requirements and demands of a job that had convincingly demonstrated it had the ability to overwhelm individuals.
Martin O'Neill came into focus. Liam Brady was someone Desmond sought out while looking for advice and background knowledge of the somewhat quirky Leicester City boss. Brady gave O'Neill a more-than-favourable review. From that moment, the job was O'Neill's.
However, before the club could dispense with the news, they had to agree compensation terms with Kenny Dalglish who still had twelve months remaining on his £600,000-a-year contract as Director of Football Operations. There was not the remotest possibility of O'Neill and Dalglish working together. Dalglish would eventually take the club to the Court of Sessions in Edinburgh accusing them of unfair dismissal. Figures ranging from £750,000 to £1.2million were bandied about before the sorry, messy situation was resolved. Unwaveringly, though, O'Neill was on course to meet his new supporters on the dias at the front door at Celtic Park on June 1 2000.
Another problem had to be resolved, too. There was the small matter of O'Neill having already agreed a three-year extension to his Leicester City deal in June 1999, reputedly worth £600,000 a year, matching Dalglish's salary at Celtic.
By the summer of 2000, O'Neill had been team boss of the modest West Midlands outfit for five years after beginning his managerial career with non-league Wycombe Wanderers in 1990 and moving on for a brief stint at Norwich City in June 1995. The strong-willed character from the village of Kilrea, in Northern Ireland, had a disagreement with chairman Robert Chase over transfer policy and resigned six months later. He joined Leicester immediately after leaving the East Anglian club. He guided the Filbert Street side – with a ground capacity of 22,000 – to the Premier League in his first season.
* Colour images from a page in author Alex Gordon's fifteenth Celtic book, '50 Flags Plus One'.
He also led the team to two League Cup Final successes and it wasn't long before clubs with superior financial resources were looking in his direction. O'Neill, bright and astute, triggered his release from his Leicester City contract after exercising a clause that allowed him, during the close season, to speak to clubs interested in obtaining his services.
O'Neill would be working again with John Robertson, his former Nottingham Forest team-mate who was also his assistant at Wycombe, Norwich and Leicester, and Steve Walford, his Head Coach at Carrow Road and Filbert Street. Once more, Celtic had their very own version of the Three Amigos, although this particular trio would prove to be less troublesome.
In fact, you could add a fourth to that list because O'Neill extended Tommy Burns' emergency contract from the previous season to coach alongside Walford. Burns didn't need any persuasion to agree the deal.
O'Neill turned his attention to important team matters when it had become clear Mark Viduka believed his time as a Celtic player had come to a halt. His Australian agent, a character by the name of Bernie Mandic, had been touting him around Europe for almost half-a-season and there was reported interest from Spanish sides, but it was always more likely the striker would take the well-worn path to England.
David O'Leary, another good friend of Dermot Desmond, parted with £6million to take the player to Leeds United. O'Neill acknowledged the undoubted skills of the striker, but wasn't keen on an unhappy player in his dressing room.
Undoubtedly, he would have been aware of Viduka's antics when he spat out the dummy in the general direction of orbit during the eventful half-time of the Inverness Caley catastrophe, the very game that would eventually open the door to Parkhead for O'Neill. God only knows how the Irishman would have dealt with a mutinous player that evening; it doesn't bear thinking about.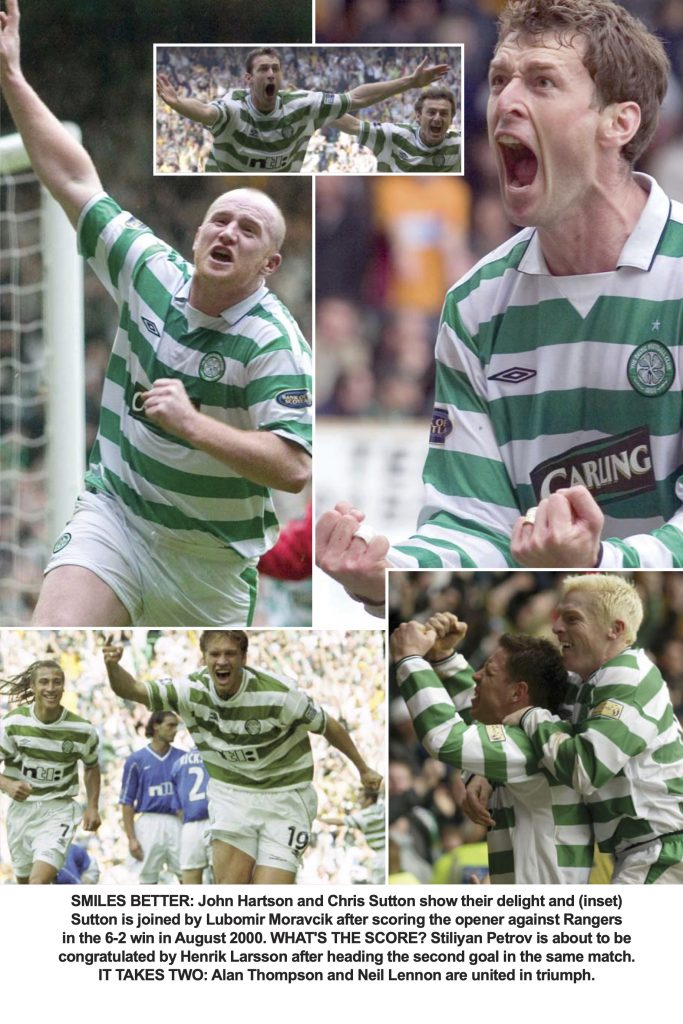 * Colour images from a page in author Alex Gordon's fifteenth Celtic book, '50 Flags Plus One'.
As Viduka headed for the exit, O'Neill went into overdrive in his wheeling and dealing for a replacement. He had his eye on Chris Sutton, who was in the throes of being frozen out at Chelsea following his £10million move from Blackburn Rovers the previous summer. The energetic, powerful attack-leader, for whatever reason, couldn't fit into the London side's style of play and scored only one league goal in twenty-nine appearances.
He was aware his miserable twelve-month stint at Stamford Bridge was as good as over when he failed to make Gianluca Vialli's squad for the FA Cup final against Aston Villa at the end of the season. Chelsea were willing to cut their losses and O'Neill was first in with a bid of £6million, the fee he had received from Leeds for Viduka.
However, Bryan Robson, the former England international stalwart who was manager at Middlesbrough at the time, matched that figure and the decision rested with Sutton. The player, thankfully, chose Celtic; the persuasive Irish tongue of O'Neill had won the day.
Without kicking a ball, Sutton became an instant hero with the Parkhead faithful. After completing the signing, he said: "I know the expectations of the Celtic fans. That's to win the league and put Rangers in their place." Sharp and succinct, the words of a winner.
The rest, as they say, is history. Sutton dovetailed brilliantly with Henrik Larsson and Celtic swept through Scottish football to reclaim their title while O'Neill became only the second manager in the club's history to complete a silverware clean sweep of the league championship, Scottish Cup and League Cup.
The Irishman followed Jock Stein in achieving the feat with the club's legendary gaffer performing the treble twice, in the all-conquering campaign of 1966/67 and then again in 1968/69.
Happy days.
Click Here for Comments >