ATLETICO MADRID are in the headlines this morning for all the wrong reasons after their volatile Champions League exit against Manchester City in the Spanish capital.
There was uproar at the frenzied Metropolitano Stadium as they had centre-back Filipe red-carded in the goalless draw that saw Pep Guardiola's side clinch a semi-final place against Real Madrid on a 1-0 aggregate.
The home players snarled and attempted to intimidate their opponents right from the kick-off and it continued in the tunnel afterwards. It was the unacceptable face of football.
But it was hardly a new experience for players facing an Atletico team.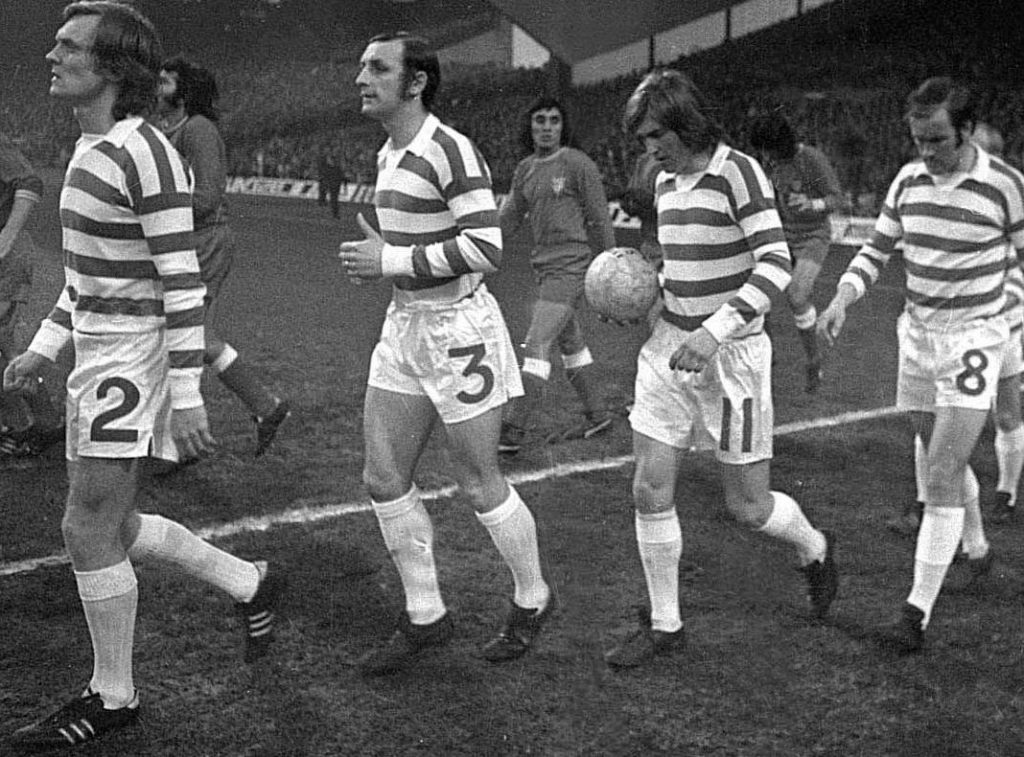 BEDLAM BECKONS…Davie Hay takes to the Celtic Park pitch on the evening of April 10 1974 to face Atletico Madrid and is followed by Jim Brogan, Kenny Dalglish and Harry Hood.
Celtic legend Davie Hay recalled two disorderly encounters against the side back in 1974 that saw his friend and team-mate Jimmy Johnstone booted all over Celtic Park on Wednesday April 10 in one of soccer's shame games. Even worse, there was a death threat made to the Hoops idol before the return leg.
Former player and manager Hay revealed all in his best-selling autobiography, 'The Quiet Assassin,' co-authered by Alex Gordon, which was published in 2009.
In another CQN EXCLUSIVE, we bring you an edited extract on those explosive games in Glasgow and Madrid.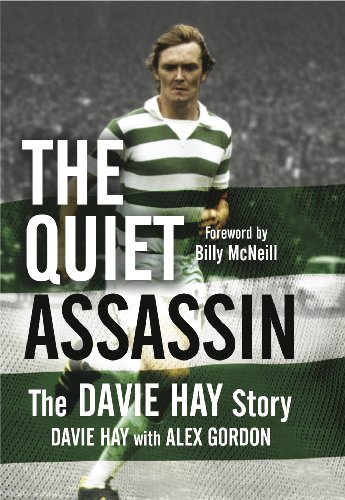 "WE were involved in the infamous brawl with the odious thugs who masqueraded as footballers in the name of Atletico Madrid.
"They arrived in Glasgow for the first leg of the European Cup semi-final and right from the start they showed they had not come for a game of football. That was way down their list of priorities.
"They started kicking Jimmy Johnstone all over the place straight from the off. Some of the tackles were simple assaults. If they had been committed out on the street the offender would have been jailed. It was farcical. The Turkish referee hadn't a clue how to deal with these 'animals', as Wee Jinky labelled them forever afterwards.
"They were managed by an Argentine called Juan Carlos Lorenzo and Jock Stein had come up against him in 1967 when this loathsome individual was in charge of the ruthless Racing Club in the three World Club Cup games. The last of those descended into outright warfare as battles erupted all over the pitch with the Celtic players, unfortunately, losing their cool under extreme provocation.
POLICE GUARD…Atletico Madrid boss Juan Carlos Lorenzo (second left) watches the brawl from the dug-out.
"Lorenzo was facing Big Jock again and, sadly, his mindset was still the same. He sent out his players to hack at everything in sight. Jinky was their No.1 target, but I was getting kicked, too. Everyone was getting kicked.
"Three Atletico Madrid players – Ayala, Diaz and Quique – were sent off and nine were booked by a harrassed match official on a night of shame. If Atletico had performed like that today I have no doubt whatsoever that they would be booted out of Europe by UEFA.
"Unfortunately, television coverage isn't what it is today and the cameras missed a lot of what was going on off the ball. As it was, they did receive a small fine and a warning about their future conduct. Big deal.
GROUNDED…Jimmy Johnstone is left floored again as the Turkish referee speaks to an Atletico assailant. Davie Hay discusses the matter with Ruben Ayala who was later sent off.
"It was a brutal evening when football took a backseat as far as the Spaniards were concerned. This collection of hooligans with blood on their studs actually managed to keep the game scoreless. In fact, it was a non-game. We had been well warned by Big Jock not to get involved. Actually, I think we treated our opponents too well.
"A crowd of 74,000 watched in horror that evening and couldn't believe or take in what they were witnessing. Jinky was kicked black and blue and he was also their target at the final whistle. No-one was going to be shaking hands with this lot as we made our way to the tunnel.
"Then I saw Jinky being walloped again by one of their players. Deep in the tunnel, away from prying eyes, I decided to exact some retribution for my wee pal. I got 'involved', for the want of a better word, with a couple of their players and punches were thrown.
"I could hear one of them squealing and by the time I reached the dressing room I had a clump of someone's hair in my fist. I wonder how that got there!
CONFRONTATION…Davie Hay prepares to a free-kick as the ref warns an Atletico defender after yet another foul on Jimmy Johnstone.
"Now we had the little matter of the return leg in Madrid to cope with. Their fans discovered in which hotel we were staying and they kept up a steady drumbeat for hours throughout the night. They also got a hold of the telephone number in the room Jinky was sharing with Bobby Lennox.
"Apparently, Jinky's face went chalk white when he answered a call in the early hours of the morning. 'Bobby,' he shouted, putting on the bedside lamp. 'Bobby, they're going to shoot me!' Someone had threatened to kill him.
"Now, Jinky was as brave as anyone I have ever met, but he was more than just a little perturbed that he had just received a death threat. Who could blame him?
"He went to Big Jock to relay the news and our manager smiled and said, 'Aye, they've threatened to shoot me, too. At least, you can go out there and run about. I'm a sitting target in the dug-out!'
SHAME GAME…Jimmy Johnstone limps off after another interruption to the game.
"The whole pathetic Atletico Madrid episode is one that is better forgotten. We were subject to abuse everywhere we went in Spain. Normally, the players will go out sight-seeing and suchlike. We would have needed an armed guard to leave our hotel such was the hostility shown toward us.
"The actual ninety minutes passed in a calmer atmosphere at the Vicente Calderon Stadium. We were doing reasonably well considering the circumstances and were drawing 0-0, but, as luck would have it, they scored two late goals and got through to the final where they would meet Bayern Munich.
"And this bunch of louts and cowards came within a minute or so of winning the trophy. How unjust would that have been? Football would have been the loser.
"They were a goal ahead in the fading moments when the West Germans were awarded a free-kick. Their giant defender Georg Schwarzenbeck strode forward and blasted an unsaveable effort into the roof of the net.
"I was watching the game on TV at home and I cheered as loudly as I would have done a goal from Celtic. There is a happy ending – Bayern won 4-0 in the replay with two goals apiece from Gerd Muller and Uli Hoeness."
* DON'T miss the big-name EXCLUSIVES – only in your champion CQN.
Click Here for Comments >