CELTIC legend Davie Hay continues his inside stories of Wim Jansen's successful title-winning debut season in 1997/98.
The former Hoops player and manager was a right-hand man and chief scout in the Dutchman's backroom team as the Parkhead club were handed the task of preventing Rangers from claiming the historic 10 in a row.
In another CQN EXCLUSIVE, Hay opens up in a massive year of change at the club as he reveals all in his best-selling autobiography, 'The Quiet Assassin', which was co-written by long-time friend and Celtic book author Alex Gordon.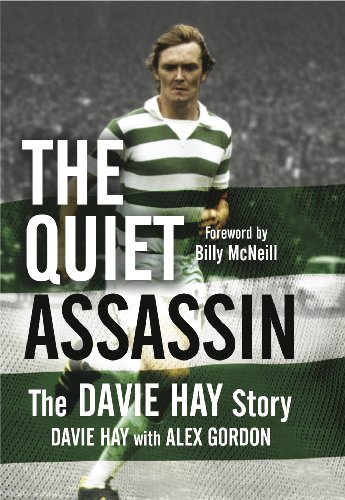 CELTIC went into the last league game of season 1997/98 knowing exactly what they had to do to clinch their first championship in a decade and, in doing so, prevent Rangers from achieving an astonishing ten-in-a-row winning sequence.
Wim Jansen's men had to beat St.Johnstone at Parkhead by any margin and the title party could begin in earnest. Rangers were due to face Dundee United at Tannadice, but their destiny was out of their hands. Celtic had seventy-one points going into their last league encounter while Rangers had two fewer.
I had started the season as the club's Assistant General Manager, but on this crucial day I was with Livingston in a consultancy role. I had been shown the door by Celtic for a third time.
I felt I should have been involved in the east end of Glasgow, but, instead, I found myself watching Livi lose 2-1 to Inverness Caley Thistle in front of 2,812 fans at Almondvale.
WELCOME TO PARADISE…Wim Jansen with club supremo Fergus McCann at the start of season 1997/98.
You would have expected everything to be rosy in the background at Parkhead in a season where the club was so close to glory. You would have been wrong. Wim Jansen, who had won the League Cup and was within ninety minutes of delivering the league title in his first campaign as Celtic manager, was clearly unhappy and there had been leaks of a rift between the Dutchman and Jock Brown, the General Manager.
If I had found out anything about Wim Jansen in the months I had worked with him it was that he was very much his own man. He didn't accept interference or meddling. If he thought he was being overruled or bypassed he would show his displeasure.
Remarkably, Wim left the club two days after bringing home the Premier League title following ten years in the wilderness. His assistant Murdo MacLeod followed shortly afterwards. I beat them both through the exit after my relationship with Brown became somewhat strained.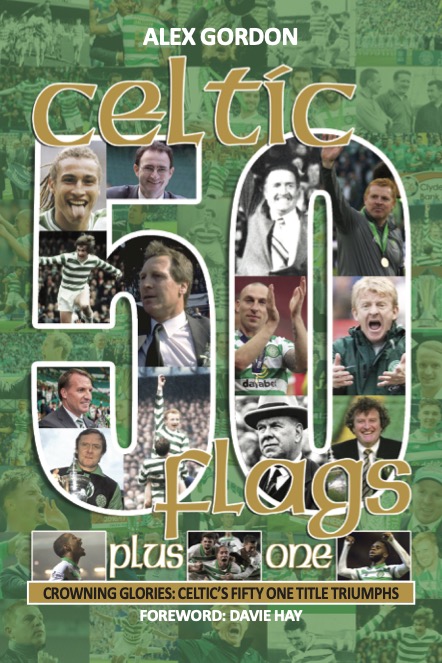 READ ALL ABOUT IT…Celtic's thrilling rollercoaster 1997/98 season is covered extensively in Alex Gordon's tribute book, '50 Flags Plus One', which focuses on the tean's first 51 untainted titles.
It reached breaking point around halfway through the season and I have to say I was resentful at the way I had been treated. I had actually been Interim General Manager for a spell and had an interview for the top job. Apparently, I was found by my interviewers to be 'unsuitable'.
Now, I know a lot of people in the game believed the job was as good as mine and any interview would be a mere formality. Managing Director Fergus McCann obviously didn't agree with those views.
Fergus, who had taken over the club in fairly dramatic fashion, felt the position should go to someone with a professional background.  Jock Brown, whom I had once employed as my lawyer, had no previous Celtic connections and was also in the running. Of course, he got the nod. I was massively disappointed, to say the least. So, there was a degree of friction between us from the very start.
The Celtic support appeared to be dumbfounded that a guy who doubled as a lawyer and a match commentator could get such an important post. Despite any animosity, Jock and I knew we had to work together for the good of the club in an extremely important campaign.
AERIAL ANTICS…Henrik Larsson puts the pressure on Hibs keeper Bryan Gunn – alas to no avail.
Let me admit straight away there were faults on both sides. It came to a head and Fergus had to make a choice. Once more I found I was expendable. I didn't stop me continuing to support the club, though, and I watched the title run-in with a fair degree of fascination. I really wanted Wim Jansen to complete his mission. I wanted Celtic to be crowned champions.
All the aggro had been bubbling under the surface as the season came to a conclusion. Nerves were evident in the third last game of the season against Hibs in Glasgow on April 25. A crowd of 49,619 turned out to cheer on their favourites with the championship very much in sight.
WATCHING BRIEF…Henrik Larsson focuses on play while he is covered by ex-Celt Pat McGinlay.
Hibs, after beating Celtic on the opening day of the season, were heading for relegation. Rangers had to travel to Edinburgh that afternoon to take on a dangerous Hearts side, who still had ambitions of overtaking their Ibrox rivals and achieving second place. A defeat at Tynecastle for Walter Smith's men would have had the champagne being put on ice in Celtic supporters' households everywhere. Including mine! It had been a long time since the bubbly had flowed in celebration of a title triumph. Far too long.
Rangers had hammered Hibs 3-0 at the start of the month, but Celtic were prepared to accept any winning margin against a team that was virtually doomed. Hibs hadn't kept a solitary clean sheet on their travels all season and had conceded five at the same venue on their last visit just before Christmas Day with Craig Burley (2), Jackie McNamara, Morten Wieghorst and Henrik Larsson getting the goals. Could they hope to hold out Larsson and Co this time around? Remarkably, that's exactly what they did.
FLAT OUT…Henrik Larsson sees a shot pushed away by Dunfermline keeper Ian Westwater.
Veteran goalkeeper Bryan Gunn wasn't exactly overworked as the game limped to a tame goalless scoreline. How did Rangers fare in the capital? News came back that they had won rather easily by 3-0 with goals from Rino Gattuso (2) and Jorg Albertz. Rangers now had sixty-nine points, one behind Celtic. It was getting too close for comfort.
The Ibrox side had the opportunity to go top of the Premier Division when they met Kilmarnock in Glasgow on Saturday May 3 with Celtic playing Dunfermline at East End Park twenty-four hours later. If the tension was showing on Celtic, it was also getting through to their oldest rivals. They blew their opportunity and lost 1-0 to an Ally Mitchell goal.
Wim Jansen took his troops to Fife in the realisation that a victory would mean the long, anxious wait for the title was over. Celtic would be crowned kings of Scotland for the first time since 1988. Would you believe I travelled through to Fife with the Davie Hay (Paisley) Celtic Supporters Club, which is run by my good friend Peter Rafferty?
WHOOPS…Simon Donnelly lashes in a right-foot drive to give Celtic the lead against Dunfermline at East End Park in the crucial title run-in.
OOPS…Celtic's championship hopes are delayed after the Fifers' last equaliser.
I had missed out ten years ago as I had left the previous summer, but I was ready to give it pelters now. I felt like quiz master Bamber Gasciogne on University Challenge, 'I've started so I'll finish!'
I could just about taste the champagne as Simon Donnelly fired Celtic ahead. I was in the stand with the fans and we waited for a second. And we waited. Nerve-ends were jangling everywhere, on the park and on the terracings where 12,719 crammed into a ground whose official all-seater capacity was 12, 509.
It wasn't much of a spectacle, truth be told, but no-one would have minded if the referee had just blown for time-up and allowed the festivities to kick off in real. The clock was ticking down when disaster struck. Dunfermline had rarely threatened all afternoon, but, with only minutes remaining, they equalised with a header from substitute Craig Falconbridge.
No-one could believe it. We travelled home in silence.
* TOMORROW: Don't miss the concluding thrilling chapter in Davie Hay: The Return.
Click Here for Comments >