CELTIC goalscoring great John 'Yogi' Hughes hopes Ange Postecoglou activates the remaining 12 months on Leigh Griffiths' contract.
The striker who netted 189 goals to become the seventh-highest scorer in club history insists the frontman has some unfinished business at the Hoops.
Hughes told CQN in March that he believed Griffiths owed the club a massive debt.
The once-prolific marksman has disappointed big-style over the past three seasons with a total of 25 goals, including a meagre seven in the previous dire campaign as the club endured its first trophyless term in 11 years.
Hughes opened up once again to Celtic author Alex Gordon, who co-wrote the former fans' favourite's autobiography, 'YOGI BARE: The Life and Times of a Celtic Legend', and claimed it was time for Griffiths to shut up and do all his talking where it matters most – on the pitch.
Big Yogi, in another CQN EXCLUSIVE, said: "Neil Lennon and Leigh Griffiths are in the middle of a very public spat and I don't think it shows either the former manager or his ex-player in a good light.
"It's all very fascinating, but, ultimately, it's very sad. It's part of a season we all want to forget and belongs in the past. They have both had their say, but it is now time to move on.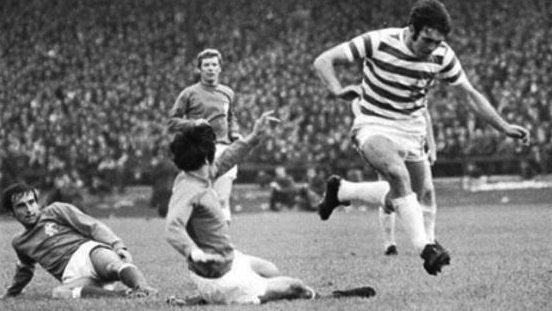 RUNNING BEAR…John 'Yogi' Hughes rampages past Rangers defenders Ronnie McKinnon and Colin Jackson in his Celtic heyday.
"I mentioned three months ago that Griffiths owed the club and, unfortunately, he didn't respond. For whatever reason, he rarely figured and when he did the player provided little to enhance his reputation.
"John Kennedy started him in the Scottish Cup-tie against First Division Falkirk at Parkhead in April. It was set up for Griffiths to spark and get a couple of goals to at least help Celtic to a grandstand finish to a dreadful season. The Cup was up for grabs and it had been in the club's possession for the previous four years.
"Was it too much to ask for the players to at least give the fans something to cheer before the curtain came down? Griffiths was hooked after the hour mark to be replaced by Albian Ajeti. To be honest, the player contributed virtually zilch against third-tier opposition. If Ange Postecoglou was basing his decision on the striker's future on that showing there would be absolutely no chance of him remaining at Parkhead.
"Let's face it, the player's strike rate over the past three seasons has been appalling. Big Tommy Gemmell, my old team-mate in the sixties, was a left-back who could get into those sort of figures and better every year.
"Look at Griffiths' totals over that period. He netted six in 20 games in season 2018/19 and followed that up with 12 in 33 appearances. He collected a mere seven last time around from 26 outings.
HEADS I SCORE…Leigh Griffiths nods the equaliser past Aberdeen keeper Gary Woods at Pittodrie in April – one of only seven goals last season.
"Those are dismal tallies for a player we all know is a natural finisher. Look at his record in 2015/16 when Ronny Deila was in his second and final year as manager – he walloped in an astonishing FORTY goals. Think about that for a moment.
"That is 15 more than he has scored in total over the past three years. I think that tells you all you need to know."
Hughes, now 78, added: "We are all aware of the personal issues Griffiths has had to deal with and we have all extended our sympathy. But it is now time for the player to show what he can provide in a forthcoming campaign that is crucial for Celtic.
"We cannot afford to drift in among the also-rans. The time to arrest the slide is NOW. The new manager is aware of what is expected of him and the urgency to deliver the goods that comes with the position.
"Another season without a trophy is unthinkable.
"Leigh Griffiths will be extremely lucky if he is offered the chance to play a part. He will be 31 in August and time is running out. He is in football's Last Chance Saloon.
"We will find out within the next five or six days if Postecoglou rates him worthy of at least another year. I said it in March and I will repeat it today: Leigh Griffiths owes Celtic. He has unfinished business at the club."
Click Here for Comments >