CELTIC'S legendary winger Jimmy Johnstone passed away exactly 17 years ago today at the far too young age of 61.
Former Hoops manager and player Davie Hay, now a club ambassador, was one of Jinky's best friends during their playing days and beyond.
In another CQN EXCLUSIVE, Hay talks to author Alex Gordon, who co-wrote the club icon's best-selling 2009 autobiography, 'The Quiet Assassin', to reveal some thoughts of the fabulous entertainer with the ability to light up the beautiful game.
Please enjoy!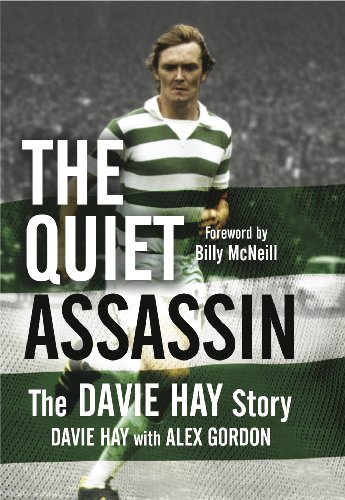 JIMMY JOHNSTONE, at a mere 5ft 4in, always stood out in a crowd. He was a mesmerising mix of magic and mischief and you couldn't take your eyes off him when he was embroidering his uncanny skills into the pattern of a football game.
The Wee Man was a genius, a sorcerer, a maestro, a crowd-pleaser and, at times, a matchwinner. He was blessed with an extraordinary talent. He was also my good friend.
Jinky, of course, will be forever remembered for some of his off-the-field exploits, too, and, as you might expect, some of these tales have grown arms and legs over the years. Why let facts get in the way of a good story?
Yes, he could be a wee scamp at times. And, yes, he could be temperamental; it must have had something to do with that mop of brilliant red hair he sported as a youngster. But he was a bubbly, effervescent character more often than not.
Jinky's widow Agnes is a cousin of my wife Catherine and we were always close. I've heard it said I was often his unofficial minder on international business and we did room a lot. I thoroughly enjoyed his company and he always had an outrageous anecdote to tell.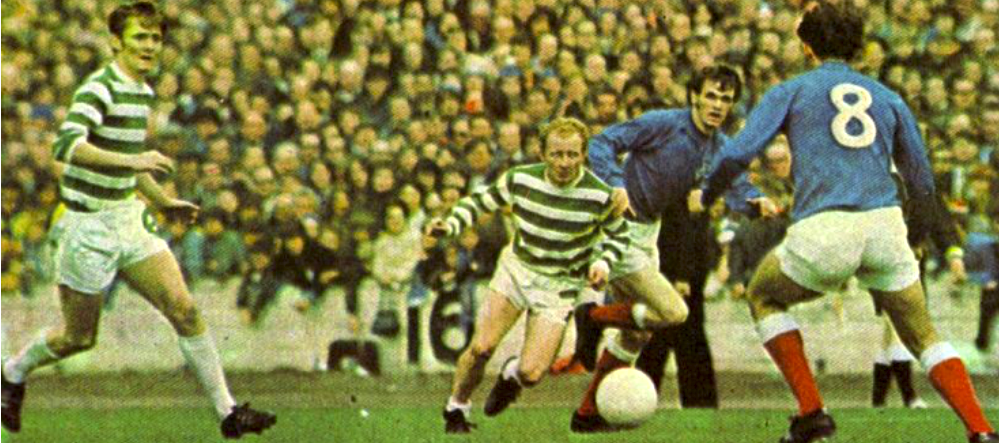 IT TAKES TWO…Davie Hay gets a good view of Jimmy Johnstone's skills as the winger puts pressure on Rangers' Willie Mathieson and Andy Penman.
When I was breaking into the team in 1969 I played mainly at right-back and from that position I could see how good Jinky was as he was performing in front of me. He was an absolute dream. I loved bombing up and down that right wing, especially when we were playing in front of the fans in The Jungle.
Those were the sort of punters who weren't interested in the comfy seats in the stand; The Jungle was their place. That's where they stood week in, week out and those were the guys to impress. I knew they were knowledgeable about the game and I was also only too aware that they would give any player their full support and backing if they believed you were giving your all for the club.
I was never known as a slacker and it was music to my young ears as Jinky took the ball for a walk inside and I got the opportunity to hare down the touchline with those fans urging me all the way. Sometimes I got a pass and, on other occasions, the Wee Man decided to go solo.
Either way, it was an exhilarating experience playing alongside Jinky.
Big Jock had to change our training routines to ensure we were all involved. Jinky's dribbling skills were phenomenal and there were occasions when he was simply waltzing past everyone at will.
SCOTLAND THE BRAVE…Davie Hay and Jimmy Johnstone prepare for an international against England at Hampden in 1974. The Scots won 2-0 and Jinky put on a Man of the Match display.
'That's enough of that, Johnstone,' our boss would bellow from the touchline. Jinky, as usual, paid no heed. An exasperated Stein then introduced two-touch football to curb the Wee Man's enthusiasm. You would gather the ball in one instant and move it on at speed in the next.
Jinky could no longer keep it all to himself. Well, something had to be done to allow the rest of us to get a kick at the ball because there was little or no chance of us getting it off our colleague by fair means!
There are so many lovely stories about Jinky, laced with a lot of humour. His legend transcended mere football. Hollywood actor Robert Duvall, of Godfather fame, was watching footage of Celtic in action in the Sixties as he prepared to make a football movie in Scotland called A Shot At Glory.
Duvall was transfixed by Jinky dodging in and out of befuddled defences while generally creating mayhem. The actor paid our player the highest accolade; he named his dog Jinky!
HIGH AND MIGHTY…Tommy Gemmell hoists Jimmy Johnstone into the air after the winger's first goal in the 2-2 draw with Rangers at Ibrox on May 6 1967 when the Hoops won their second successive title. Bertie Auld is about to add his congratulations.
I was more than a little dismayed when there seemed to be no future in football for Jinky when he eventually hung up his boots. He had graced the game and, at his best, was undoubtedly world-class and Scotland didn't produce too many of his kind.
When I went back to Celtic as manager I contacted the Wee Man. I had an idea he still had something to contribute to Celtic's cause. I realised the youngsters at the club still saw him as a superstar. Just mixing in his exalted company seemed to gee them up and give them a boost.
Jinky, for all the praise he received from around the world, was a genuine down-to-earth character. He had been winding down his career by playing for Shelbourne in Ireland, Elgin City in the Highlands and then Blantyre Celtic in the Juniors where it had all kicked off nineteen years earlier.
I don't mean this in a nasty way, but my wee pal should not have been mixing in that company.
I had a word with Bobby Lennox who was doing a great job running the reserve team at the time. I knew Bobby and Jinky were the very best of buddies and I mentioned to our second team coach that I had been thinking about getting a Youth post for Jinky.
'Great idea, Davie,' enthused Bobby. I brought in the Wee Man and he took over the newly-formed Under-18 team. By the way, Bobby's reserves won the league and the Cup that season and everything looked good for the future.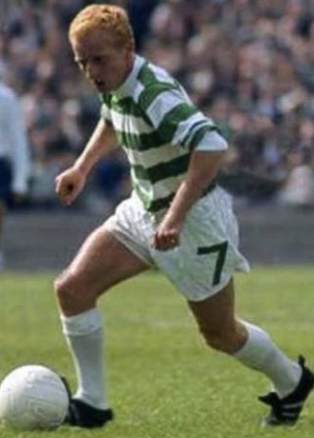 LORD OF THE WING…Wee Jinky in tantalising motion.
Sadly, though, Jinky possessed a self-destruct button. He could be a complex personality if he perceived there was an injustice being done to him. It could be real or imagined, but you could always detect that Jinky was fretting about something.
The young players, as I said, loved being in Jinky's company. They appreciated what he meant to Celtic. Jinky would take training, but still wanted to display all his tricks and flicks.
The kids were hardly getting a touch of the ball as Jinky went through his tantalising routines. He was taking a trip down memory lane. I had to remind him on a few occasions that he was supposed to be supervising training and not participating in it.
He was still like a wee boy with his first ball. You would have to take it off him at gunpoint. A lot of people had warned me about employing Jinky. I was told he would let me down. They were quick to throw that back in my face when things didn't work out.
Simply put, Jinky was a free spirit. He was a performer and, of course, that is what he excelled at throughout his glittering career. He won nine league championships, five League Cups and four Scottish Cups. There was the little matter, too, of the European Cup breakthrough in 1967.
PARADISE…Jimmy Johnstone in his spiritual home of Celtic Park.
Jinky, of course, is no longer with us, a victim of Motor Neurone Disease. The illness was diagnosed in 2001 and he died on March 13 2006 at his home in Uddingston. He was only 61 years old. I visited him not often enough before he passed away.
Sadly, his body had been ravaged by the disease. But on last visit he was still the charismatic, genuine Wee Man I had known for so long. His bravery was immense, even inspirational. And his sense of humour had remained intact.
He was still laughing and cracking jokes throughout my stay.
The supporters voted him The Greatest-Ever Celtic player in 2002. I have always insisted those supporters knew their football.
* DON'T miss the big-name exclusives – only in your champion CQN.
Click Here for Comments >