CELTIC legend Davie Hay continues his revelations with a look back 45 years ago when the club welcomed a new manager.
In another CQN EXCLUSIVE,  the club's former player and boss turns the spotlight on the team Wim Jansen assembled – including Henrik Larsson – that turned around the fortunes of the Parkhead club.
And prevented Rangers from claiming a historic tenth successive title.
Please enjoy.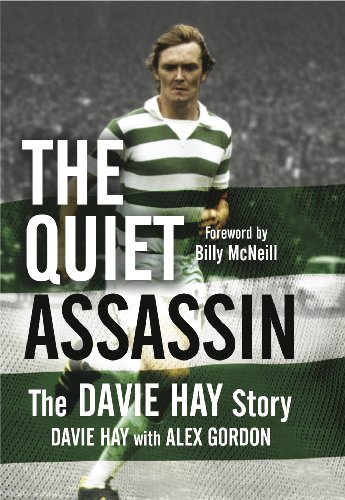 WIM JANSEN had joined the club in July 1997 and Murdo MacLeod, who had been dismissed as manager of Partick Thistle the previous season, came in shortly afterwards as his assistant.
It was around this time that I realised Wim could be good for the club. He was a bit of an unknown and his job prior to joining Celtic was in Japan with Hiroshima. The fans waited to see how the club would react to being turned upside down. Wim and I were busy in the summer as the team went through a massive shake-up.
July was a bit hectic on the transfer front. Striker Darren Jackson arrived from Hibs for £1.5million, Scottish international midfielder Craig Burley cost £2.5million from Chelsea, French left-back Stephane Mahe joined from Rennes for £500,000 and goalkeeper Jonathan Gould was a £200,000 snip from Bradford City. Henrik Larsson, of course, was already in place after his £650,000 arrival from Feyenoord.
All eyes were on the kick-off against Hibs at Easter Road on August 3 1997 for the opening day of the league season and, hopefully, the beginning of a glorious new era for the club. Wim sent out this team: Gordon Marshall; Tommy Boyd, Malky Mackay, Alan Stubbs and Tosh McKinlay; Jackie McNamara, Simon Donnelly, Craig Burley and Andreas Thom; Darren Jackson and Tommy Johnson. Henrik Larsson was on the substitutes' bench, but he would play a major role in the outcome of the game.
IT TAKES TWO…Davie Hay, then the Celtic chief scout, has a chat with manager Wim Jansen.
It was deadlocked at 1-1 when Wim introduced Henrik to the expectant Celtic fans. The Swede set up the winner with an inch-perfect pass, but, alas, the ball went straight to my former St.Mirren player Chic Charnley. Everyone knew Chic had a sweet left foot and he didn't hesitate to use it as he ran onto the loose ball and first-timed a ferocious 20-yarder low past Marshall. That was the winning goal. It wasn't quite the start we were looking for from Henrik or from Celtic, for that matter.
How would Wim react? He immediately displayed a ruthless streak and axed keeper Marshall and he never played again for the club. Jonathan Gould got the nod and he made his debut in front of over 45,000 fans at Celtic Park the following week. Wim showed great reassurance in Henrik and played him in the No.7 shirt that afternoon.
Unfortunately, the result was identical to the previous week with the Fifers going home with the points. A rather unkind headline emerged in a newspaper that had a former player stating Wim had been the worst thing to hit Hiroshima since the Atomic Bomb. No-one was laughing, especially our manager who would not be sidetracked from the task at hand. His determination was more than commendable. You only get one chance to make a first impression and two successive defeats didn't please the Celtic support.
Thankfully, there were signs of things to come the following week when Henrik scored his first goal for the club in a 2-0 victory over St.Johnstone in Perth. As usual, the Swede did things in style with a flying header that almost ripped a hole in the net. Darren Jackson got his first goal, too, and we were on the board.
HENRIK THE FIRST…Celtic sensation Henrik Larsson flies through the air as he bullets in his opening goal for the team in a 2-0 win over St Johnstone in Perth.
The signings continued with Danish international centre-back Marc Rieper arriving in a £1.8million deal from West Ham in September. He made his debut only days afterwards in a close-fought 3-2 triumph over Motherwell at Fir Park where Craig Burley claimed two, his first league goals for the club. It was early days, but it looked as though Wim's jigsaw puzzle was coming together.
He was still looking for a bit of extra quality in the middle of the park and that was provided by Paul Lambert when he joined for £1.75million from Bundesliga outfit Borussia Dortmund in November. He had helped the Germans win the Champions League the previous season, beating Juventus 3-1, and he was a first class acquisition. Again, like Mo Johnston all those years before him, he didn't take a lot of persuading to put pen to paper.
Following the home defeat from Dunfermline in the second game of the campaign, Celtic had racked up eight successive victories. That came to a halt at Ibrox on November 8 when Paul Lambert made his Celtic debut as a substitute. The team played well, but couldn't convert their chances and were undone by a Richard Gough goal.
WELCOME TO CELTIC…new Hoops boss Wim Jansen with club owner Fergus McCann.
A crowd of 47,464 turned out for the following game at Parkhead against Motherwell and were as baffled as anyone as the Fir Park side emerged with a 2-0 victory. That wasn't in the script. Four days later 49,427 were in attendance in the east end of Glasgow to see a late header from Alan Stubbs give Celtic a 1-1 draw with Rangers. That was to turn out to be an extremely vital point at the end of the day.
Three games and no wins. Were the cracks beginning to show? How would Wim cope with the strain? I used to have a cup of tea with Wim in his office most mornings and I have to say I was hugely impressed by his single-minded attitude. He was utterly convinced that things would come together.
We had to keep our focus. The fans were certainly showing their support for the Dutchman. Next up at Parkhead were Dundee United and 48,200 rolled in for the third consecutive home game. A total of 145,091 had turned out over that period. The supporters were backing the revolution.
Henrik hit two against the Tannadice men to take his league tally to double figures. He was emerging as a formidable frontman with the happy knack of putting the ball in the opposition's net. That was down to a change in his role by Wim. He could see he would be more effective inside and his days of playing on the wing were over.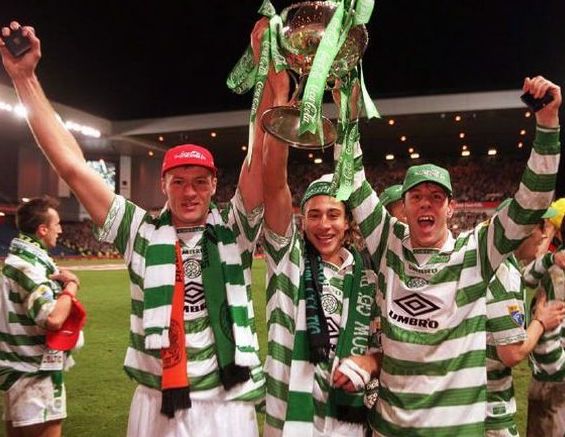 LEAGUE CUP WINNERS…goalscorers Marc Rieper, Henrik Larsson and Craig Burley celebrate the 3-0 success over Dundee United at Ibrox.
That was demonstrated once again the following Sunday, November 30, when the Swede was on target again as Celtic lifted the League Cup – then under the guise of Coca-Cola Cup – by defeating Dundee United for the second successive game. This time it was 3-0 at Ibrox and Marc Rieper and Craig Burley were the other goalscorers while a crowd of 49,035 watched the enthralling action.
It was the first time the club had won this trophy in fifteen long years. It was a bit of a breakthrough for Wim because, after only three months in charge, he had given the supporters some tangible success. He put out this team: Jonathan Gould; Tommy Boyd, Marc Rieper, Alan Stubbs and Stephane Mahe; Jackie McNamara, Craig Burley, Morten Wieghorst and Regi Blinker; Andreas Thom and Henrik Larsson.
Enrico Annoni, bought from Roma by Tommy Burns the previous season, Simon Donnelly and Paul Lambert came on as second-half substitutes with McNamara, Thom and Blinker making way. Wim was doing his best to keep everyone involved.
Exciting – and dramatic – months were ahead.
*TOMORROW: Don't miss the next thrilling chapter of Davie Hay: The Return.  
Click Here for Comments >