"WRITE off Celtic at your peril!'
Those were the defiant words delivered by club legend Davie Hay in an exclusive interview which appeared in CQN LAST YEAR.
The former Hoops manager and player was as hurt as any of the Celtic persuasion at the inexplicable downfall of Neil Lennon's team during their appalling failure to lift a historic tenth successive title.
The domestic Cups were surrendered in a feeble manner and the European excursion was nothing short of an embarrassing disaster with the Champions League adventure not lasting beyond the first qualifier, a 2-1 loss in Glasgow to the unseeded Ferencvaros.
Many critics were queueing up to proclaim the team from Govan were now poised to dominate Scotland's top flight with the Hoops cast among the also-rans merely existing to make up the numbers.
NUMBER ONE…Davie Hay believes Celtic are back where they belong.
Hay, though, was far from convinced and said at the time: "I am reading and hearing about the Ibrox men getting ready for a period of sustained glory. Yes, they have done well on the domestic front this time out as far as the Premiership is concerned and that deserves to be acknowledged.
"However, let's remember, please, that Steven Gerrard has won only one out of the eight trophies that have been up for grabs since he took over three years ago. Winning the championship always deserves applause, that should go without saying.
"But one trophy from eight is far removed from the achievement of a quadruple treble, twelve victories in succession over four amazing years.
"Undoubtedly, there will be massive changes at Celtic in the summer, but I don't think any new manager and any set of players wearing green and white hoops will be too willing to roll over.
"Write off Celtic at your peril."
THE CUP THAT CHEERS…Davie Hay with the Scottish Cup after the 1985 triumph over Dundee United.
Hay smiles at the recollection after the astonishing turnaround in his old club's fortunes after many had decided dark clouds were about to settle on the east end of Glasgow for years to follow.
In another CQN EXCLUSIVE, the former fans' favourite spoke to author Alex Gordon, who co-wrote the icon's best-selling autobiography, 'The Quiet Assassin', about the joys of watching Celtic this time around.
"Yes, last season was a hard one to take," he said. "I made the point at the time that my old club suffered more than most from the lack of atmosphere generated by the fans. That was not an excuse for some of the poor form from the players we had to watch on TV from our armchairs.
"It was like viewing training grounds knockabouts and Celtic just could not raise the level of their performance without the vocal backing of the best fans in the world.
"Yes, I realise it was the same for every club, but I also knew there were a few players at other teams who were relieved to play to empty home grounds because the crowds were quick to get on their back if they did not get into their stride early in a match.
CHAMPIONS…Davie Hay with Tom Boyd and the Premiership trophy at Parkhead in 2016.
"It was the same for Liverpool at Anfield. They struggled to get above average and at one stage it looked as though they could lose out on a Champions League place.
"Look at the difference this season with their fans allowed back into the stadium. They are just 90 minutes away from the Final after last night's 2-0 win over a very well-organised Villarreal team who, of course, knocked out Juventus and Bayern Munich to reach this stage."
Hay, now 74, continued: "Celtic have got a long way to travel before they get to that level, of course, but you have to give Ange Postecoglou and his players massive praise for the way they have responded to getting the team back on its feet in such a short space of time.
"Let's face it, would anyone have pointed a finger of blame at the new manager if we had won nothing this season? Certainly, I wasn't expecting such a welcoming transformation.
"I know what it's like to occupy that dug-out. The highs and lows are never far from each other. I was manager when we won the league in 1986 – and I was sacked a year later.
DOUBLE TALK…Davie Hay with author and friend Alex Gordon at a book signing at Celtic superstore.
"So you don't have to tell me the margins between being a hero and a zero in that particular job are slim.
"But Ange came in, accepted the job without a posse of his own backroom team, looked at what he had inherited and set about his revamp with a praiseworthy attitude.
"Players were heading out the door and had to be replaced in double-quick time. What I liked straight away about the incoming boss was that he would not skimp on quality.
"Agents would have been throwing their clients at him and he might have been persuaded to just accept mediocre players to get the squad numbers up. That would have seen him through the first transfer window and given him some breathing space as the season unfolded.
"But Ange refused point-blank to compromise. He had set his sights on quality replacements and we could see that immediately with the form of Liel Abada, just 19 years old at the time, who came in from Israel at the cost of £3.5million and hit the ground running.
CLAP HANDS…Ange Postecoglou deserves a massive round of applause, insists Davie Hay.
"Kyogo Furuhashi was the same when he arrived in a £4.6million switch from the J-League and others such as Filipe Jota, Josip Juranovic and Joe Hart looked as though they had been around the place for years.
"There were others who took a wee bit of time to settle, Carl Starfelt, James McCarthy and Giorgos Giakoumakis, for a start, but that is not unusual in football. It's a bonus if you bring in a new player and he simply fits into the system as though he has been working with the same colleagues for a lengthy period."
Hay added: "But the manager persevered and look where we are today. A win over Rangers on Sunday will push the side nine points ahead with three games to go.
"Okay, Celtic will still need a point to be certain – and that could arrive the following weekend when Hearts visit – but no-one can see any other outcome than the crown returning to Parkhead.
"There is little doubt Giovanni van Bronckhorst's players will do everything they can to delay a title party at Parkhead.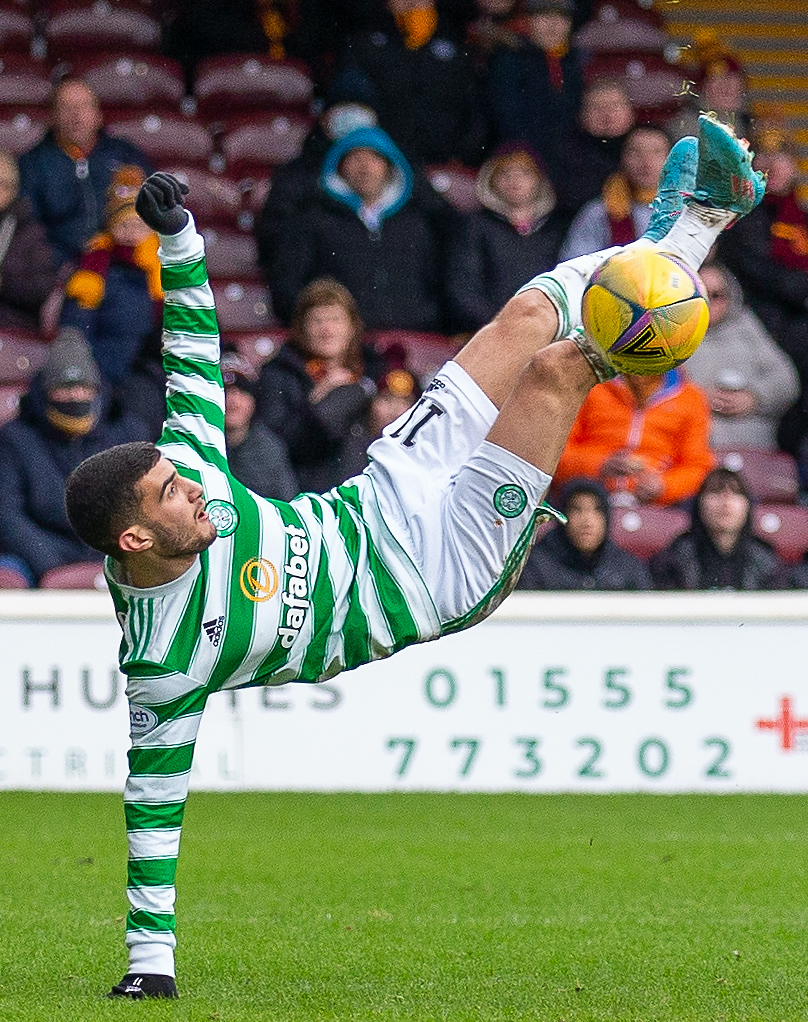 MAKING A GOOD FIRST IMPRESSION…Liel Abada attempts an acrobatic attempt in the 4-0 win over Motherwell at Fir Park in February. 
"Forget talk of fatigue after playing in Leipzig tonight. That's nonsense. Ask any player what he prefers between playing football or training. The answer is obvious.
"You are as fit as you will ever be at this stage of the season and there is very little work done on the training ground.
"If a professional footballer cannot perform to the absolute limits of his physical ability with a two-day break in between games then I would suggest they are in the wrong sport.
"Celtic will have to earn those points on Sunday and the players will have to perform for the full 90 minutes.
"I doubt if Ange Postecoglou would want it any other way."
* DON'T miss some more big-name EXCLUSIVES coming up – only in your champion CQN.
Click Here for Comments >