Fans Against Criminalisation (FAC) are closer than ever to achieving their goal of having the Offensive Behaviour at Football Act repealed. While the majority in the Scottish Parliament are on their side, the Scottish Government have gone deaf to the voice of the Scottish people in the hope they can successfully distract attention from the issue.
FAC would like you to join their campaign by emailing your MSP. The Celtic Trust have made the process easy with a link to 'Find my MSP' and an email template here.
Good luck to all who join the campaign.

NEW CQN PODCAST OUT NOW FEATURING TOMMY SHERIDAN
A Celtic State of Mind presents its 30th instalment of insightful discussion around the culture of Celtic Football Club, the city of Glasgow, and fans of the reigning treble-winning Scottish champions.
Kevin Graham is joined by Scotty Alcroft to interview Scottish pro-independence politician, Tommy Sheridan, at The Penalty Spot in Glasgow.
The interview took place as part of A Celtic State of Mind's first live event – Five-a-sides at The Penalty Spot – and, as such, there is some background noise (including mobile interference – apologies) from the audience.
The other voice you may hear throughout this episode is that of former Celtic striker, Frank McGarvey, who is a friend of Tommy's, and who was also interviewed separately that day for a future show.
You are sure to enjoy Tommy's eclectic input, as he discusses everything from Catalan independence to Coolio, with a constant undercurrent of that thing called Celtic.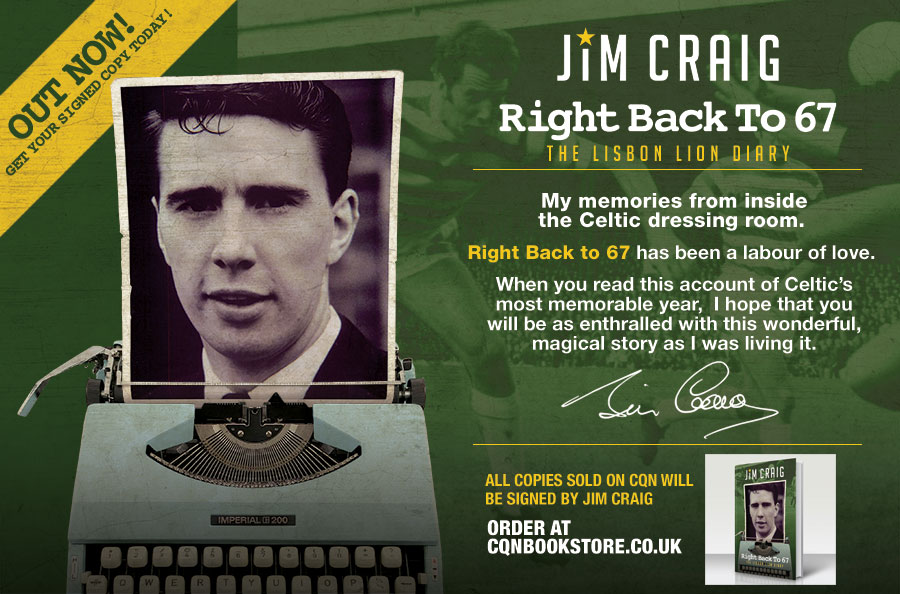 Order Jim Craig's new Lisbon Lion Diary – Right Back to 67 from CQNBookstore.co.uk and you will receive a signed copy from the man himself plus a FREE copy of That Season in Paradise – Ten Months of Celtic Heaven signed by fellow Lisbon Lion Bertie Auld! Simply order Jim Craig – Right Back to 67 and the second book will be sent automatically. Stocks are running very low so hurry!
Click Here for Comments >