Two weeks ago, in the State of the Club Report, I noted, "What happens in [Newco's] qualification tie against Malmo and if they progress, in the subsequent play-off round, will go a long way to determine how competitive the league race is over the next decade.  It is the sting in the tale of losing such a momentous title."
The next decade's power within Scottish football is what last night's result is all about.  To explain why, let's look at what is allowed under Uefa's Financial Fair Play (FFP) rules:
Clubs are allowed to lose €5m each season without breaching FFP.  Some costs are deductible: spending on youth development and depreciation (often incurred to improve facilities) are deducted from your FFP loss.  In addition to this, clubs can convert up to €25m debt into shares, raising the maximum allowable loss for any period under consideration to €30m.
The monitoring period for FFP in normal times covers the three years before the current season.  In response to the current crisis, Uefa amended the reporting period for season 2019-20 to cover two seasons (2019-21), so currently, the FFP reporting period is for seasons 2017-18 until 2020-21.  Uefa also permitted crisis-related costs of revenue falls would be recognised, so clubs that are normally run prudently will not be penalised due to the mess the world is in.
Newco's most recent accounts are for year ending June 2020.  Figures for the season just ended have not been published yet, but they were obliged to report their figures to Uefa at the middle of last month and are due to report again to Uefa in October.
See graph below: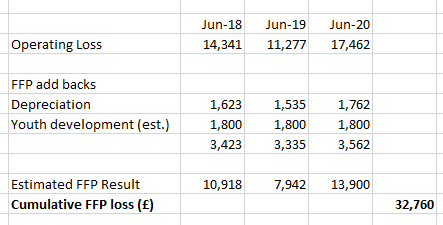 I calculate three of the four FFP years show a cumulative loss of £32.76m.  This converts to €38.657m.  Unlike Celtic, Newco did not offer season ticket holders refunds for season 2019-21, though there will be some crisis-related loss of revenue, I estimate no more than £500k.
To align with FFP requirements, Newco would have to have made a profit after adjusting for the crisis of around £8m last season.  That did not happen.  It is more likely that their adjusted figure was between the trend of £11m loss and £15m loss.
All of this crystallises now.  Champions League revenue would have resolved this, but now they are in breach, and will be required to come into compliance if they wish to compete in European football.
So what happens next?  Uefa will investigate Newco's financial housekeeping on receipt of the figures submitted last month.  This will be reviewed in October, allowing Newco to downsize and come into compliance during this transfer window.
If they do not come into compliance, Uefa will offer a Settlement Agreement.  The most relevant recent example is Milan, who were in breach for the monitoring period, seasons ending 2015, 2016 and 2017.  Uefa offered, then imposed, a two-year European ban in 2018.  Milan appealed to CAS, then in 2019, the club accepted a compromise one-year ban.
Other remedies short of a ban are available and have also been used.  These always include a transfer ban and reduced European squad size, and are only permitted when strict measures are taken to bring the offending club into compliance.  The process can be lengthened by appeal, so Newco can choose to bury their heads in the sand and compete for the title this season.
This latter possibility is dependent on them continuing to raise money.  Between November last year and June this year, Newco issued share capital on 10 occasions, giving the impression of a business living very much hand to mouth.
With Europa League revenue, everything else being equal, I estimate their loss for this season will be around £15m.  If they fail to reach the Europa, that figure will rise to a £25m loss.  That's a lot of BMW sales.
I started CQN in 2004 because there was financial madness going on at Ibrox and many Celtic fans were asking why we were not working with the same gusto.  For 8 years, I predicted Rangers would crash and burn before they eventually did.  I predicted this would lead to a Generation of Domination – which it did.
Those were tough years in the Celtic financial blogging scene as we lost leagues and trophies to an outfit that seemed to always survive.  Like Oldco Rangers, Newco are playing casino football.  They run huge losses in order to become competitive.  If they lived within their means, they would have finished nowhere near the top of the table last season.
The predictions I made for Oldco were always likely but never certain.  We have followed Newco's accounts for years.  The direction of travel was clear, but a team that was a goal up and comfortable against 10 men at halftime last night, blew their chance of competing for a £40m lifeline tie against a side from Bulgaria.
On the turn of a 4-minute spell last night, the world changed.  Football is a fascinating business; the complexity of risk is incomprehensible.  If you think it looks easy from the outside, you are almost certainly missing a huge part of the plot.
And permit me another point, if a grinning Jon Dahl Tomasson knows all of this, why do you have to come to CQN to read about it?  We are talking about publicly available information here, noted in Newco accounts and prospectuses.  A decade on and again, the mainstream are sleeping while the biggest story in football unwraps.
Click Here for Comments >