I reckoned Champions League participation was worth circa £22m to Celtic. By contrast, Europa League football will be worth less than a quarter of that. Ancillary income, such as retail and kiosk sales, will also suffer.
The challenge now is to improve the team without that income. This should not be impossible. Malmo managed it, and we're not in a situation where the bank is hammering at the door. But what should be clear, is that the next five days represent the best chance to strengthen the team for next August's qualifiers. There's a notion that the biggest games of our season come early, but we've 11 months to plan for 2016's biggest games.
Three things to remind you about:
Golfers: buy a raffle ticket for £1 to win a round of golf FOR FOUR PEOPLE at the magnificent Aberdour course in Fife. Competition ends on Saturday, get your tickets here!!! It's offered by Taggsybhoy, in support of the Foundation.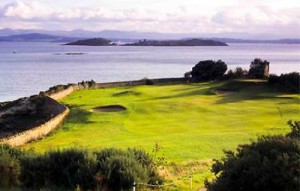 There's a Mary's Meals collection from 1pm on the Celtic Way ahead of the game on Saturday. Ideally we're looking for backpacks, but handtowels (the school kitchens you paid for have handwashing facilities and each child is given their own handtowel), pencils, rulers, etc.
If the kids got new kit for starting school last week, dig out the old stuff and bring it along.
Magners have kindly donated two Premium Seats in the Jock Stein Stand for Saturday's games. You can win the tickets by answering this question:
Who is Celtic's top scorer this season?
Player's surname in the SUBJECT line of your email to celticquicknews@gmail.com . Competition closes at 22:00 TONIGHT, so not a lot of time to enter.
No call today for a donation, go stick a £1 in Taggsy's raffle instead. Thanks.
Click Here for Comments >