GORDON STRACHAN admits his former Aberdeen and Scotland team-mate Alex McLeish MUST find a system to accommodate Keiran Tierney and Andy Robertson.
The Celtic and Liverpool defenders played in Friday night's embarrassing 4-0 defeat against Belgium in the friendly at Hampden.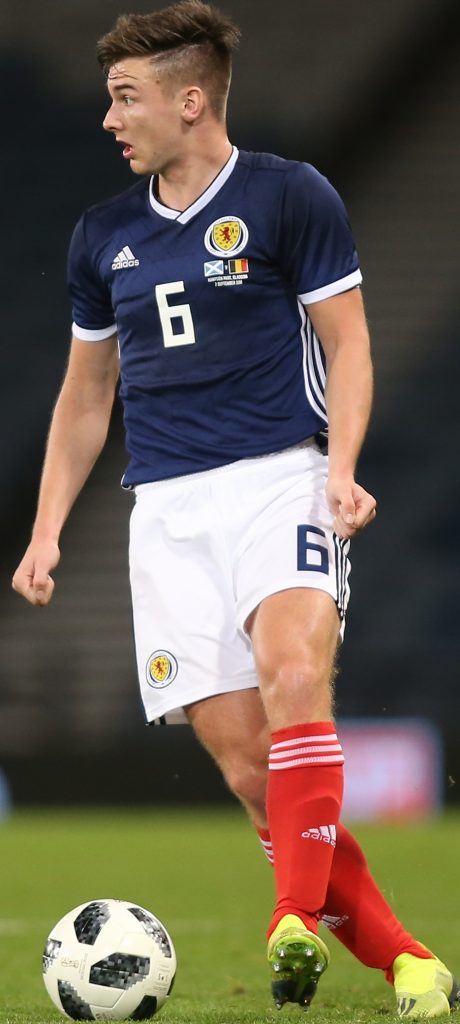 A CERT…Kieran Tierney is too good to drop, insists Gordon Strachan.
McLeish deployed captain Robertson at wing-back with Tierney in a back three and ex-Scots gaffer Strachan said: "You've got two left backs that are top, top class and you can't have one on the bench.
"Alex has to adapt them to a system. People say 4-4-2 is dead, but it's not. Look at Uruguay – they play it to get Edinson Cavani and Luis Suarez up front."
At international level, the former chief played Tierney at right-back and centre-back and insisted the 21-year-old Hoops star is "more adaptable" than Robertson, 24.
A CAPTAIN'S ROLE…Andy Robertson is a must. Pics: Geo.
Strachan added: "He's brilliant. I asked him if he wanted to play right-back and he just said: 'Yeah'. It wasn't even a conversation. Then he played centre back against England; not a problem to him."
Scotland drew 2-2 in Slovenia in his final game a charge last October, when a win would have secured a World Cup Finals play-off place, and the former Celtic manager rues being "just one goal away".
Strachan added: "If Alex can get another goal from somewhere, or defend another goal, we'll be alright.
"He's changed the group a wee bit, which is understandable because he wants to have a look at some other players.
"In Scotland we have to, over the next 10 years, produce three or four top players and then it'll make it a lot easier."
Click Here for Comments >