BOBBY LENNOX bowed out of football when he brought his phenomenal 20 years, 273 goals and 26 honours for Celtic to a halt exactly FORTY-TWO years ago today.
The Lisbon Lion, at the age of 36, brought down the curtain with a Scottish Cup winner's medal as is befitting such an iconic and enduring fans' favourite.
Alas, the Buzzbomb's last hurrah was not marked by banner headlines and an avalanche of praise for the veteran hitman's past daring deeds as he piled up the goals for his beloved Bhoys with only a seven-month interlude when he had a stint with Houston Hurricane in the States.
Instead of accolades, the infamous Hampden riot of 1980 dominated the coverage when fans of both sides scrapped it out on the pitch only moments after skipper Danny McGrain had been awarded the silverware following George McCluskey's late goal in extra-time.
It was the only strike of a dramatic, nerve-riddled occasion as Billy McNeill's men found extra reserves of strength and energy to see off their old rivals.
BHOY RACER…Bobby Lennox speeds past Rangers defender Ally Dawson.
Lennox, a second-half substitute for Johnny Doyle, cavorted with his Hoops team-mates as McGrain's effort was cutely diverted by the astute McCluskey beyond Ibrox keeper Peter McCloy to send the Parkhead followers into raptures.
Inside half-an-hour, the pitch looked like a battlefield as warring supporters met head-on in one of the most disgraceful scenes ever witnessed in Scottish football.
It deprived the second-highest goalscorer in club history to say a proper goodbye to the support and captain McGrain admitted he felt disappointed for his colleague and good friend.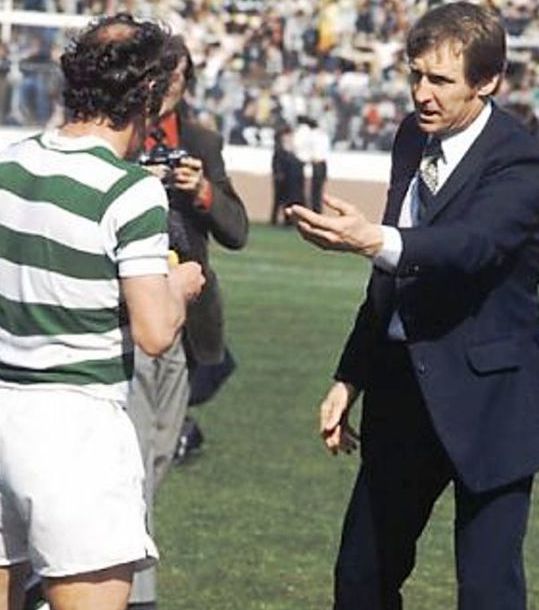 EXTRA SPECIAL…Billy McNeill has a word of advice for Bobby Lennox as the Cup Final prepares for an another eventful 30 minutes. 
The world-class right-back reflected on a day of mayhem in Mount Florida and admitted: "Bobby is the best guy I have ever met in football.
"He is a nicest man you will ever come across. I played with him from the minute I broke into the team until he left. He was such a great professional. He loved the game.
"He always had a smile on his face Bobby, good, bad or indifferent. He had a great sense of humour. It was a shame for him I suppose. But at the end of the day he got the medal and he got the bonus. I am sure he was quite happy with that."
McGrain picked up the Man of the Match honour for another faultless performance during the 120 energy-sapping confrontation.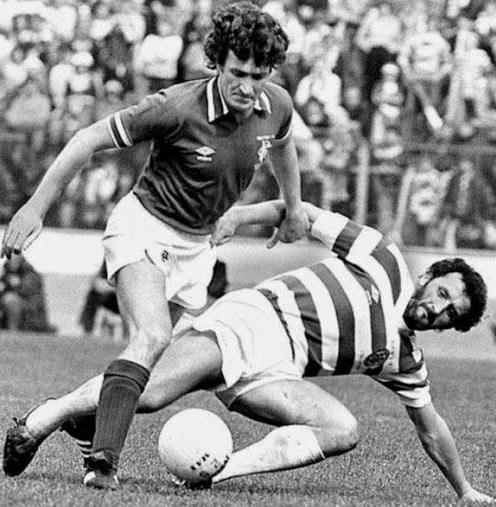 CRUNCH…Danny McGrain tackles Rangers right-back Sandy Jardine.
The former Scotland international defender, who celebrated his 72nd birthday at the start of this month, recalled: "It was an Old Firm derby, a Cup Final and the last game of the season, so it was a tense occasion.
"It was scorching hot, as well. I remember it being a torrid game, a real end-to-end affair. It was quite scrappy if you ask me. I wouldn't say it was a classic. But it ended up being fantastic for us because we won it."
There was obvious fatigue in the limbs of both sets of players, but it didn't prevent the Celts from taking the lead after Davie Provan had swung in a corner-kick in the 108th minute.
McGrain remarked: "When the cross came over I thought: 'We need to get this ball out the park'. I was tired and the whole team was tired. It was such a hot day. We had everybody up for the corner-kick, so we could score from it and win the game from there. But I thought: 'If I lose the ball here the next player behind me is Big Peter (goalkeeper Latchford)'.
YIPPEE…Danny McGrain leaps high as George McCluskey (extreme left) diverts the winner beyond the grounded Peter McCloy.
SKY'S THE LIMIT…George McCluskey leaps hih as he celebrates his winning goal.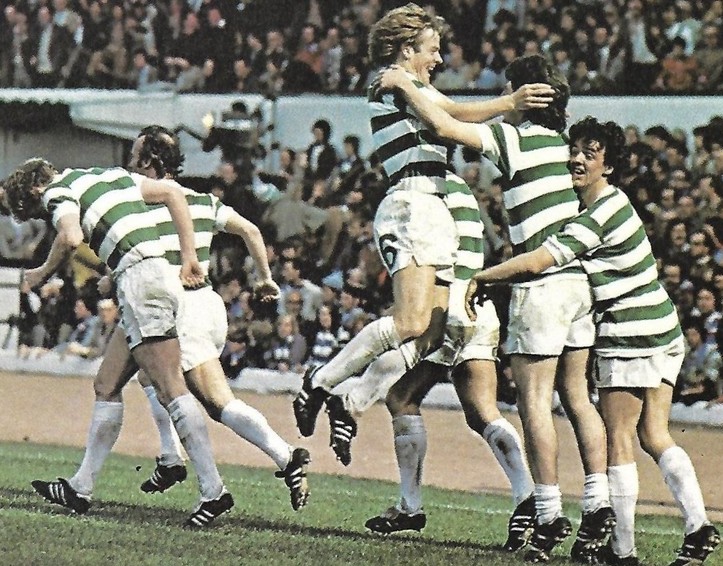 HOOPY DAYS…Murdo MacLeod and Frank McGarvey congratulate George McCluskey after his Cup-winning strike.
"It was a comical corner-kick. It broke to me outside the box. My first instinct was to get the ball out the park, to waste time. I miskicked it. George McCluskey stuck his foot out and it went in. A typical George McCluskey goal! I think Peter McCloy must have been too busy chuckling at my effort to save it!"
The shameful events that unfolded after referee George Smith brought an end to proceedings were no laughing matter.
McGrain added: "It was a great moment to be presented with the trophy. We had just beaten our greatest rivals after extra-time, our side of Glasgow was going mental. We were looking forward to going out onto the park to celebrate with our fans. I looked out and saw a few people on the park. I thought: 'Well, I suppose that's allowed in the circumstances'. But all of a sudden there were 200, 300, there.
"When we went down to the stairs to the pitch side we were told we couldn't go out on the park to do the lap of honour. We didn't know what was happening. A policemen came over and said: 'It's a battle out there'. It was the right decision. There were too many arms and legs flying about. It wouldn't have been safe.
THE CUP THAT CHEERS…Danny McGrain and Peter Latchford holds the silverware as the Hoops stars leave Hampden.
"When we came out of the ground there was a lot of police running about chasing people. But we got on the bus with the Cup, not giving two hoots about anything. We were in our own world. We weren't really aware of quite how bad it was.
"By the time we got back to Celtic Park, though, we had heard on the radio what had happened."
The worst-ever riot in Scottish football in 70 years, led to 210 fans being arrested and 100 people suffering injuries, many of them serious. It also resulted in alcohol being banned from Scottish football grounds, an embargo that remains in place over four decades later.
Click Here for Comments >