CALLUM McGREGOR and three Celtic team-mates Anthony Ralston, Greg Taylor and David Turnbull were involved in an explosive conclusion to Scotland's 4-1 win in Armenia last night.
Bottles were lobbed onto the pitch after skipper Kamo Hovhannisyan was red-carded following a brutal assault on substitute Lewis Ferguson in the fading moments.
He became the second home player to be dismissed after his namesake Arman Hovhannisyan received two quickfire yellow cards after a dreadful tackle on Nathan Patterson and then a headbutt on John McGinn before the end of the first-half.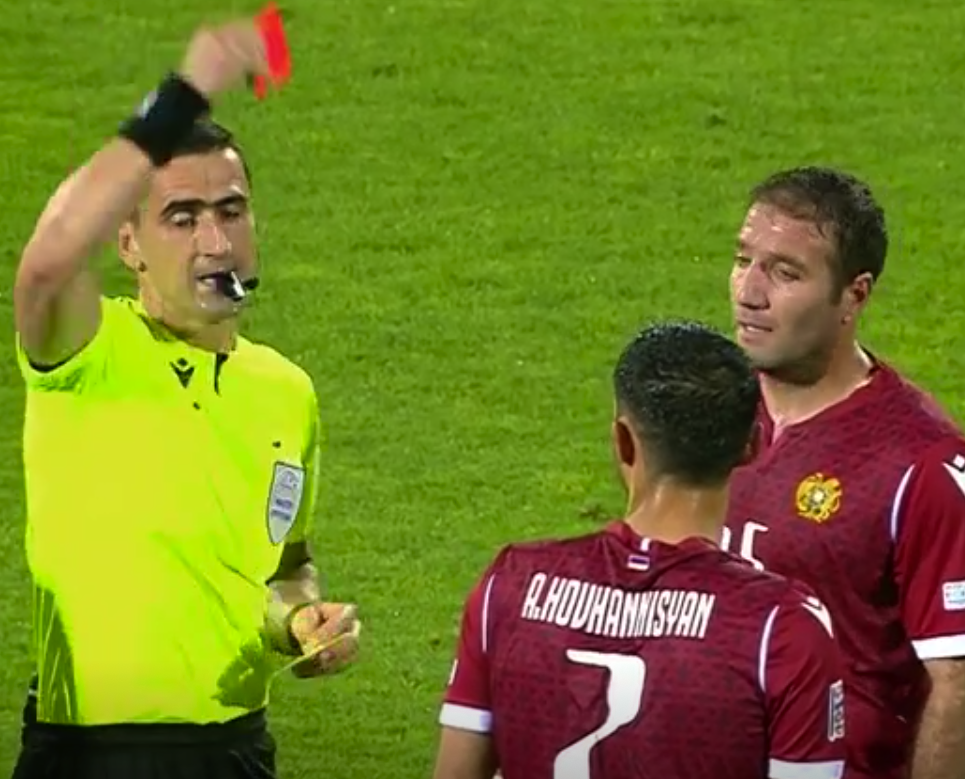 SEEING RED ONE…Armenian culprit Arman Hovhannisyan is dismissed by referee Nikola Dabanovic.
SEEING RED TWO…the match official banishes Kamo Hovhannisyan (extreme right) in the final minute.
There were unruly scenes at time-up as fans invaded the pitch at the end of a much-needed UEFA Nations win for the Scots following the 3-0 shambles in Dublin at the weekend.
Thankfully, none of the Celtic players was hurt or any team-mates in the melee at full-time and boss Steve Clarke was left furious after bottles were thrown onto the pitch in Yerevan.
The Scots were a goal down after just six minutes, but former Hoops midfielder Stuart Armstrong struck a double to give them the interval advantage and McGinn and Che Adams, with his first goal in 17 games, scored within 10 minutes of the second period to secure three points.
OUCH…Scotland substitute Lewis Ferguson takes the brunt of an over-the-top challenge from Kamo Hovhannisyan.
There was a flashpoint at time-up with the home team's Varazdat Haroyan having to be dragged away, while a handful of irate fans raced onto the pitch. Armenian coaches intervened and quickly got the situation under control as the Scots headed for the tunnel.
Clarke said: "To be fair to their coaching staff, they got onto the pitch pretty quickly. They made sure that everyone was calm.
"Listen, there were some bad tackles towards the end of the game. Professional players are always going to react to that, but it was nothing.
"I'm more concerned about the bottles that got thrown onto the pitch after the tackle on Lewis Ferguson."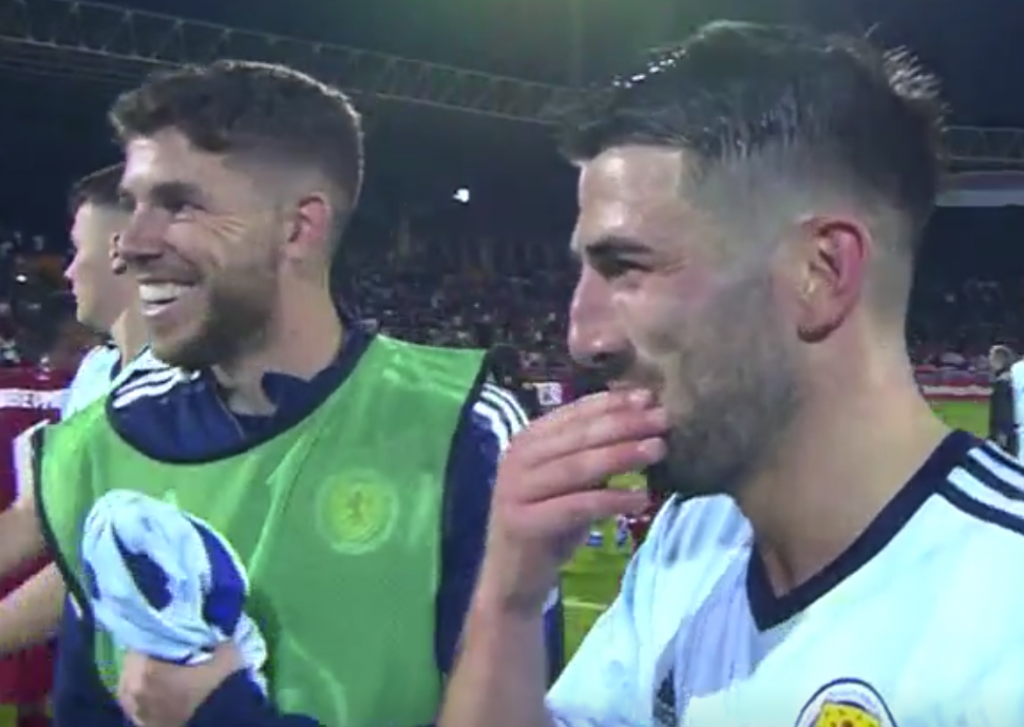 ALL SMILES…Greg Taylor and his former Celtic team-mate Ryan Christie share the joy at full-time.
Asked if it was the referee who was targeted by the missile, the Scots boss, speaking to the Scottish Sun, answered: "I don't know, but I saw one bounce on the middle of the pitch.
"It was a hell of a throw."
The Scots, who beat Armenia in Glasgow 2-0 a week ago, now have an international break before they return to Nation League action against World Cup conquerors Ukraine at Hampden on September 21 before taking on the Republic of Ireland in Glasgow three days later.
The qualifying group will be concluded with an away match against Ukraine on September 27.
ARMSTRONG AT THE DOUBLE AS SCOTS RALLY
Click Here for Comments >