Following deep discussions with my dad, and after months of deliberation, I took the bull by the horns and decided to ask for a transfer. My father and I wrote a respectful letter to the Board of Directors at Heart of Midlothian Football Club and, as we placed the handwritten note into an envelope, I wondered if my fate would be sealed like the transfer request contained within.
The Evening Times of 11th October 1972 reported: "Hearts will consider offers or any suitable propositions for left-winger Andy Lynch. Lynch asked for a transfer this week because he felt he needed a change of club to 'recharge his batteries.' He is an orthodox winger, still only 21, and has played over a hundred games and scored some 30 goals. Manager Bobby Seith said, 'We will consider a cash bid, or a player exchange, or any other deal that may be satisfactory to the parties concerned.' Some time ago it was understood that Celtic were interested in Andy Lynch."
Soon after making headlines, I was given the nod to go and see Bobby Seith in his office after a training session at Tynecastle. I thought, "Here we go," as Jock Stein's masterplan started to fall perfectly into place. Bobby told me that Hearts had accepted an offer from Celtic and that the transfer would happen the next day.
The next day I would be a Celtic player – Andy Lynch of Celtic Football Club. I liked the sound of that. I had imagined and dreamt and fantasised about this day my whole life and, after the opportunity seemed to have passed me by, it made this experience all the sweeter. I was ready for this; ready to sign for my boyhood heroes. I couldn't wait to get back on the train home to Glasgow and tell my family and close pals this unbelievable news. They were all massive Celtic fans and I knew they would be ecstatic for me. My father would be so proud that I was signing for his team; signing for our team.
The following day, Wednesday 7thFebruary 1973, I travelled to Tynecastle to bid my farewells to the Hearts men I had played, battled, trained, won, lost and showered with for over three years. You create and build a unique bond with your team-mates at a football club but I was soon to realise that, when you move on, you leave them all behind. I was swapping the maroon of Edinburgh's Hearts for the green-and-white hoops of Glasgow's world-famous Celtic.
As I climbed into the Rolls Royce owned by the Hearts Chairman, Mr William Lindsay, the realisation began to hit me that I was a short drive away from fulfilling everything I had toiled so tirelessly to achieve. All the training, hard work and social sacrifice was leading me to a hotel in Bathgate where I would meet the great Jock Stein and sign for the seven-in-a-row Scottish champions, Celtic Football Club.
Mr Lindsay was a decent man, he had been excellent with me when I first signed for Hearts and he realised that this was a momentous day for me and my family, as I was joining the club I had always supported. He wished me well as we made the short drive to meet Jock Stein at a halfway house.
I started visualising myself pulling that green-and-white jersey over my head for the first time. The famous green-and-white hoops that meant so much to so many people all over the world, and I was going to be representing all those people as an ambassador of this unique football institution. I really could not believe what was happening. I was still trying to stay calm and not let my imagination run wild as we arrived at the hotel and waited in the lounge for this giant of European football to arrive.
Mr Stein arrived alone in his big, square, dark green Mercedes and, as we shook hands, the buyer and seller exchanged pleasantries before producing some paperwork that required signatures. This was business and I was the commodity. A document had been forgotten and I could see that this slightly annoyed Jock Stein but his irritation did not last too long and we were soon in his big Mercedes heading through to Glasgow. I sat in the passenger's seat of this imposing man's car and never said a word. I just sat there like a five-year-old on his first day at school; I was completely awestruck.
Sinking back into the spotless leather upholstery of this German automobile, I allowed myself a few moments of reflection. I reminisced about Charlie Gallagher's cross meeting the head of Billy McNeill in that Scottish Cup final of 1965, and me jumping around behind the goals as a Hampden Park ball-boy. Billy McNeill would now be my team-mate, colleague and captain.
That victory eight years previously had heralded a new beginning for Celtic and now I was part of the journey. In that time the iconic figure, whom the Celtic fans now called 'Cesar', had held aloft both the national trophy and the League Cup on five occasions and had won the league championship seven times in-a-row. The Holy Grail, the big cup, had of course been won just two years into this fantastical odyssey.
Jock Stein was in the driving seat in more ways than one as he turned and told me that I would be signing a two-year contract with a three-year option and that I would be getting paid £60-per-week. He casually informed me that when my contract was up after two years I could discuss my terms with him and, if I had done well, he would look at giving me a rise on my basic wage. Finally, he advised that the contract was not negotiable. I just nodded in agreement.
If Jock Stein had told me to sign a contract where I was to pay Celtic £10 a week I would have agreed the terms just as willingly. That was the magnitude of me signing for this club. This was not about the money, it was about me pulling that Celtic jersey on and representing this great club.
On our way to Parkhead, we headed for the city centre as Jock wanted to register my signing forms with the Scottish Football Association. As we approached Bridgeton Cross we were struggling for time (as the SFA offices were due to close) and, with heavy traffic building up, a policeman was on a traffic point allowing a few cars at a time to go through. With one car in front of us, the cop signalled to stop our lane and big Jock immediately blasted the horn at him.
The hapless officer looked around and, when he realised who was driving the dark green Mercedes, he unceremoniously halted the other lines of traffic and waved us through as if he was in the presence of the King and ruler of all.
Come to think of it, maybe he was.
Written by Andy Lynch, former Celtic captain.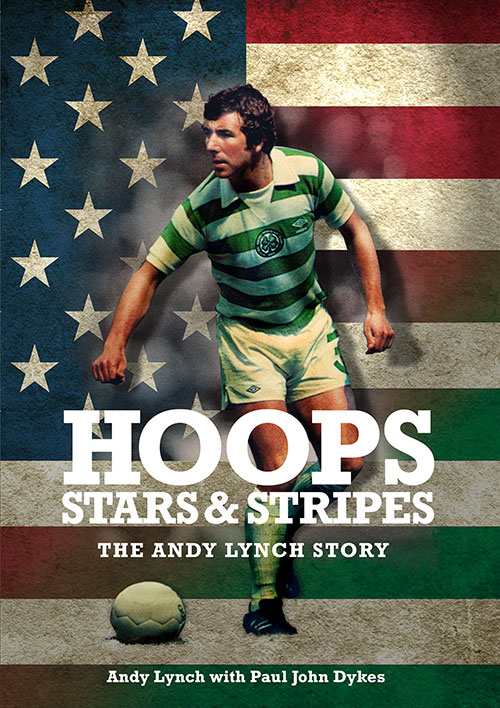 Extract from Hoops, Stars and Stripes, The Andy Lynch Story written by Andy Lynch and Paul Dykes. We have a limited number of signed copies available for only £10 plus p&p from CQNBookstore.com while stocks last.
NEW CQN PODCAST FROM CELTIC PARK ON SATURDAY
Kevin Graham is back with a new CQN Podcast from Saturday. He talks to supporters on the bus on the way to Parkhead, interviews John Paul Taylor outside the ground and captures the atmosphere and action inside the ground before getting some more supporters' views on the bus home after an eventful afternoon at Celtic Park.
Apologies for a few sweary words in this podcast near the end.
Click Here for Comments >