CELTIC'S George Connelly was the nearest Scottish football ever saw to a 'Franz Beckenbauer'.
Connelly was the first of the hugely talented 'Quality Street Gang' to make the breakthrough to first team football. In fact, he made his name, as a 16 year old, more than 12 months before our famous Lisbon night. At half time of a European Cup Winners' Cup Quarter Final against Dinamo Kiev, at Celtic Park, in January 1966, he came on to the park, as a 16 year old, to treat the fans to an astonishing display of 'keepy up'. He was reputed to be able to do about 2,000 'keepy ups'.
A couple of years later, Connelly made his first team debut, as a skilled midfielder and looked perfectly at home playing alongside some of Europe's best players, like Jimmy Johnstone, Bobby Lennox and Bobby Murdoch. The 1968-69 season had a tremendous finish for him, personally, and the club as a whole.
Celtic fans approached the 1969 Scottish Cup Final, against Rangers, with some trepidation. This would seem strange because, since May 1966, when a last minute Kai Johansen goal had given Rangers the Scottish Cup with a 1-0 win over Celtic, they had won absolutely nothing. Celtic, on the other hand, had won 7 out of the 8 domestic trophies on offer as well as, of course, the European Cup!
We were going for 8/9 but Jimmy Johnstone was injured and John Hughes was suspended. Without the 2 flying wingers, Celtic suddenly appeared to be vulnerable.
Nobody knew who was going to be numbers '7' and '11'.
Like all Celtic fans at the game that day, I was astounded, when the teams came out to see Connelly and Auld wearing the wingers' numbers.
Both were great players but neither were wide players (Auld had been a winger but was now very much a central midfielder). However, as soon as the game started, Jock Stein's master plan became apparent.
Connelly and Auld, immediately, both moved infield to their more normal central midfield roles, Rangers' experienced full backs, Johansen and Mathieson, like  sheep, obediently followed them. Celtic had 2 of Europe's top overlapping full backs, Craig and Gemmell and with Jardine and Mathieson completely out of position, they had the freedom of Hampden Park.
Connelly had a tremendous game, scoring a great individual goal just before half time, confidently almost walking the ball into the net and leaving Greig floundering.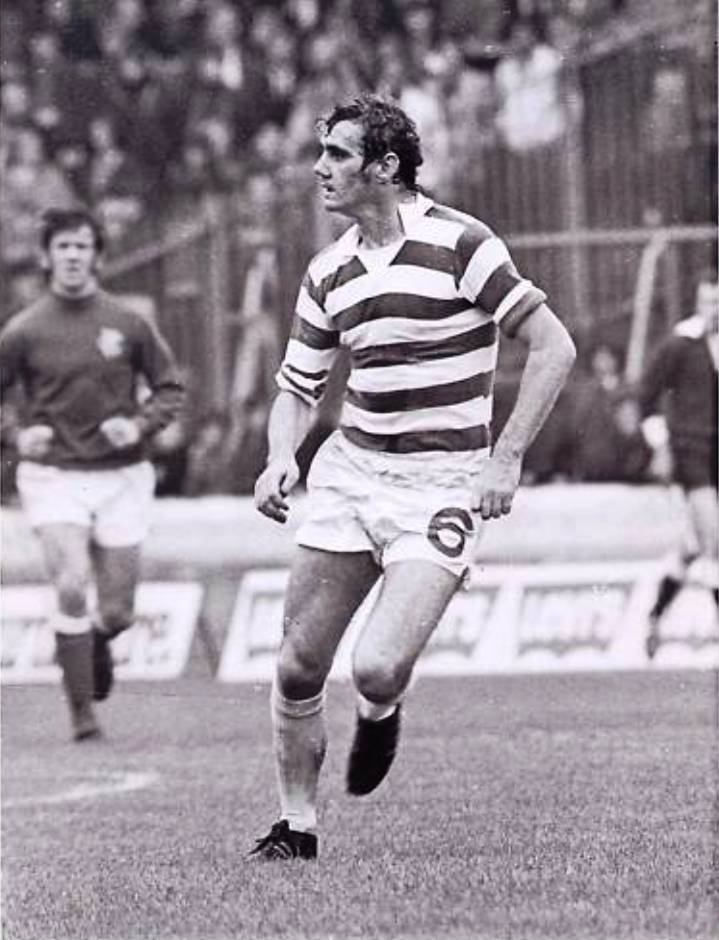 Celtic ran out 4-0 winners, another Treble had been secured, Jock Stein had again shown what a master tactician he was and Connelly had announced his arrival in the big time.
Another great season followed in 1969-70 with Connelly developing even further and his great buddy and fellow 'Quality Street Gang' member, Davie Hay, establishing himself as a first team regular.
The highlight of the season was the two leg European Cup Semi Final against Leeds United. The arrogant English media had written off Celtic, almost laughing at Celtic's chances of defeating 'invincible' Leeds, with Bremner, Cooper, Giles, Gray, Lorimer, Hunter etc.
Within  a minute of the start of the first leg at Elland Road, Celtic were 1-0 up and young Connelly had scored! In the first minute of the second half, he repeated the dose only for the referee to disallow it. This game was played on 1st April 1970 and the April Fools that year were, undoubtedly, the English media.
The action moved to Hampden Park 2 weeks later and incredibly attracted a crowd of 135,000. The entire Celtic team were tremendous; Connelly, along with Murdoch and Auld, completely dictated the midfield and Celtic won 2-1 on the night.
Celtic made one change for the ill fated Final against Feyenoord; Connelly was left out, was replaced with Lisbon Lion Willie Wallace, Celtic went from 4-3-3 to 4-2-4 and lost 2-1. Many people felt that, had Celtic retained the Semi Final line up, the second European Cup could have been won. Connelly did come on as a substitute but the game was running away from Celtic at that point.
Connelly's game continued to improve and, with John Clark leaving and Jim Brogan being used to replace the departing Tommy Gemmell, Jock Stein converted Connelly into a ball playing central defender, behind Billy McNeill. It was a role in which he excelled. He was 'Scottish Player of the Year' in 1973. However, his personal problems were mounting and they came to a head when his great pal, Davie Hay, was unexpectedly transferred to Chelsea in 1974.
After a few walk outs, it was no surprise when George Connelly left in 1975, at a very young age. One of the most talented players Celtic had ever produced was gone.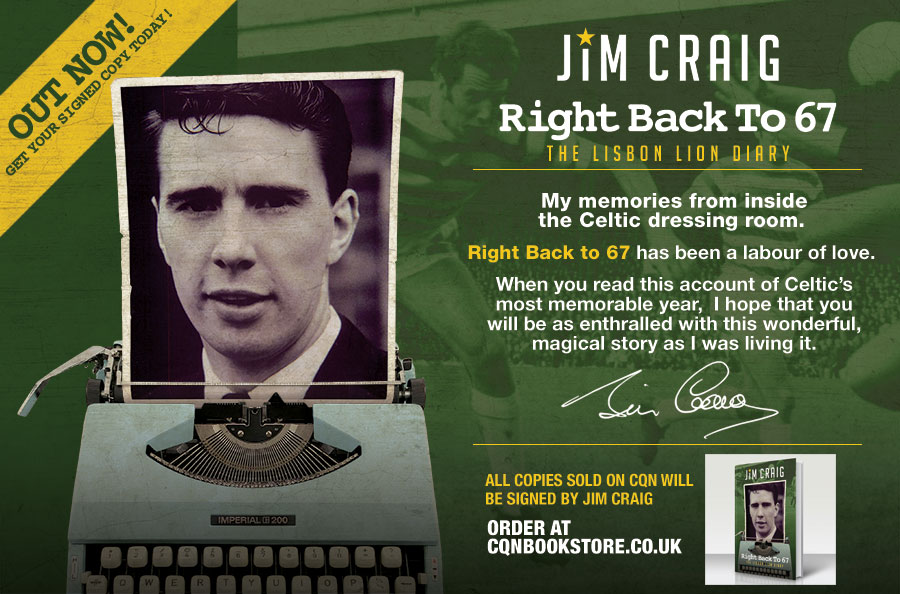 Order Jim Craig's new Lisbon Lion Diary – Right Back to 67 from CQNBookstore.co.uk and you will receive a signed copy from the man himself plus a FREE copy of That Season in Paradise – Ten Months of Celtic Heaven signed by fellow Lisbon Lion Bertie Auld! Simply order Jim Craig – Right Back to 67 and the second book will be sent automatically. Stocks are running very low so hurry!
Click Here for Comments >