BRENDAN RODGERS looks like he has started something very special indeed. He's been at the club for just over 6 months, here is how he has performed so far…
So what progress have we made in the last 6 months (and 1 week)?
It's been an interesting ride with Brendan Rodgers so far. Champions League Group Stage qualification; unbeaten domestically; 2 points dropped in the league after 12 games with 35 goals scored. League Cup won, 11 goals scored and none conceded. The defence have gone 8 domestic games without losing a goal.
The stats are good, what about the performances?
Europe – 7/10
After a shocking first game in Europe, losing 1-0 to Lincoln Red Imps, Celtic began to improve. They dealt with Red Imps comfortably in the home leg of the tie and then put in 2 solid performances against a tricky opponent, Astana, to reach the ECL Play Off Round.  The home game against Astana formally introduced the talent and cool head of young Moussa Dembele when he calmly stroked away a penalty in added time to see us through.
The Israelis, Hapoel Be'er Sheva were up next. The home tie showed all our strengths and weaknesses. We scored five goals to demonstrate that the attacking side of our game was improving but exposed the soft underbelly of our defence and the fact that Craig Gordon was struggling with the Manager's requirements from a goalkeeper. 
Conversely, the away leg showed all of our weakness and some of our strengths. We were caught short a few times in the first half and conceded a needless penalty which Craig Gordon saved. We showed very little of our attacking game in the first half. The second half started with diabolical defending the gift them a second goal; however, the Manager made a few tweaks to the team and we actually comfortably saw out the last 30 minutes.  This put us into the ECL Group Stages – and probably ahead of targets set by the Manager.
The disappointing 7-0 start to the Group Stages demonstrated how far behind the top talent we are but that was an anomalous game and was rectified by a great performance against Man City and the Moussa Dembele star was shining brightly. We did prove that we could compete at the top level in a one off game; but could we do so on a consistent basis?
The 2-0 defeat from BMG suggested not; but if we look closely at the game, although we didn't play particularly well, the Germans were gifted 2 goals. We weren't cut open or really under the cosh. What it did show was a need to perform at a consistently high level in Europe; if you don't, you get punished. 
The return game in Germany was another very positive result that showed we can go on the road, play well and get a good result.  Possibly better choices in front of goal and more derring-do would have seen us get 3 points rather than 1. The home tie against Barcelona, although ultimately a defeat, showed a far better Celtic team who pushed them much closer than expected. A few critical minutes in the second half where Celtic missed a glorious chance and Suarez manufactured a penalty turned the tie and ultimately finished the game.
So overall, three positive performances in the Group Stage have shown that we are definitely moving in the right direction and with more investment in the transfer market we can reasonably expect another Group Stage adventure next season; and maybe progress further than this season with a better seeding and a kinder draw!
The league 9.5/10
The league campaign has been very positive; dropping only 2 points to an injury time equaliser in a game we completely dominated is the only blot on the copy-book so far. We scored 23 goals and conceded 8 in our first 6 games, gaining 16 points from 18. The next 6 games saw 18 points collected, scoring 12 goals and conceding none.
There were some more workmanlike performances in these games but considering we have played and beaten our main rival twice in that run shows our dominance.
We have  4 home and 4 away games in December; home and away to Hamilton and Partick Thistle; home to Dundee and Ross County; and away to Motherwell and Comedy Club Sevco Rangers.
The realistic expectation should be 24 points in these games but the scheduled 8 domestic games and final CL game in 28 days is onerous and we may possibly get an unexpected draw away to Motherwell or Hamilton. However, if the results go our way we could possibly be 15 points ahead of our main rival, Aberdeen, by the time 2017 rolls around. That size of lead at the halfway stage of the season would be incredible. That is what we are capable of and what we should be looking for.
Further clean sheets will be a bonus. The run of games will, quite possibly, result in some of the regular players being rested and some of the benched and fringe players getting more game time. That will benefit everybody and shouldn't interrupt our flow.
We should also expect to break the 50 league goals barrier in December.
So overall, our League campaign has been outstanding and hasn't been hampered by our European exploits. Almost total dominance so far this can only be bettered by completing the second round of games with maximum points.
The League Cup – 100 up! – 10/10
The League Cup campaign has been one of total dominance, winning all 4 games in the competition without conceding a goal!  We scored 11 goals in the process.  We were more than comfortable in every game and in the final, beat our closest rivals for a 3rd time (9 goals scored and only 2 conceded). Indeed out of the four games, the toughest was the home tie against Same Old Alloa (always cheatin').
It was Brendan Rodgers first trophy as a manager and Celtic's 100th major trophy. I'm sure that Celtic and Brendan Rodgers will be adding many more over the next few seasons!
How is it overall? – 9/10
We have scored 61 goals in 27 games including 15 in Europe; however we have conceded 8 domestically and 20 in Europe (albeit 9 against Barcelona). The performances have improved over the last 6 months and the transformation in some players has been enormous.
In reality, this is largely the same team played by Ronny Deila but the end-product is far superior!
Only Moussa Dembele and Scott Sinclair have been regular starters not available last season; Simunovic was only partially available but a regular starting 8 were.  The subs and fringe players were also available last season.  The difference has been the coaching and man management of the team.
Previously suspect players have had a complete turnaround and are playing possibly the best football of their careers: Brown, Gordon, Rogic, Forrest and Armstrong specifically.
The additions of Dembele and Sinclair for £5M have also transformed the team.
Although not yet the finished article domestically and still some way short in Europe, the first six months (and 1 week) of the Brendan Rodgers reign has been supreme.
It's the start of the journey, but it promises to be an eventful one.
The fact that the extra season ticket income and circa £30M from the Champions League is available to continue to fund the evolution between now and August is most certainly (and possibly unexpectedly) a bonus.
KTF
Written by VFR800 for CQN.
*Here's a great deal. Order the Charlie Gallagher book at £14.99 and you will receive The Winds of Change for FREE. Only at www.cqnbookstore.com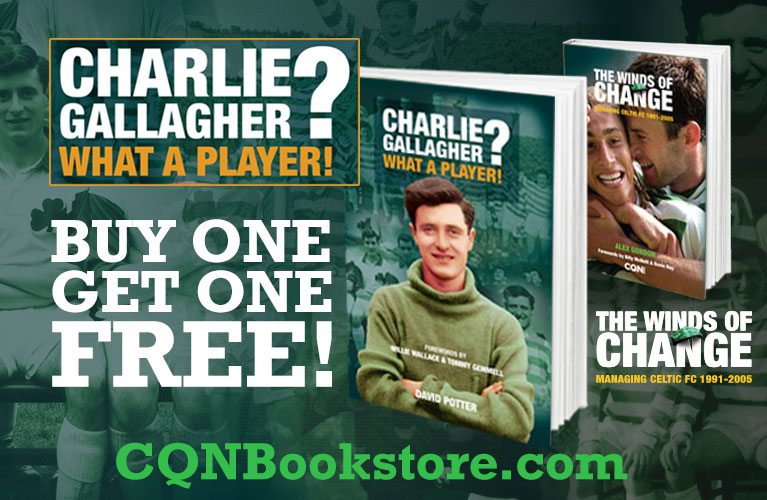 Click Here for Comments >