BRENDAN RODGERS has been told by Neil Lennon that his priority must be success in Europe in his role as Celtic boss.
The former Hoops gaffer believes his old club's dominance of the domestic game is assured as they are "well ahead" of the rest.
However, it is Europe which will provide Rodgers with the biggest test of his new career in Scotland.
Lennon said: "Obviously, Celtic will be hot favourites to win the title and from a footballing point of view the remit of Rodgers is to qualify for the Champions League and get into the group stages.
"That's what Celtic will be looking for as they haven't done it for the last two seasons.
"I had four years at Celtic where I had to build a team and I did that successfully. Managing in the Champions League on top of that was brilliant.
"The philosophy there, because we couldn't compete with the Premier League in terms of finances, was to find younger players, develop them and then sell them on, which we did with Virgil van Dijk, Victor Wanyama and Fraser Forster, who are now all at Southampton, as well as Ki Sung-Yueng at Swansea.
"Celtic haven't got the money that Premier League clubs have, but Brendan will enjoy the challenge of trying to find younger, unearthed players."
Lennon added: "The first thing he'll have to deal with is the intrusion on his life. It's a goldfish bowl.
"I think he may take a step out, live in Edinburgh and travel through to Glasgow. That would be better for him.
"The intensity of the scrutiny you're under is something he won't be used to."
Meanwhile the new Celtic manager spoke today about the remarkable welcome he received at Parkhead last night.
Speaking to the official Celtic website, Brendan said: "I have been told that around 13,000 fans came to the stadium yesterday and I can't tell you what that kind of welcome means to me. It was a fantastic sight and truly humbling.
"I'd like to take this opportunity to thank each and every supporter who took time out of their day and made it such a special occasion for myself and for my family. It showed what a very special football club we have.
"Our fans are everything and the passion and commitment you have for the club is absolutely wonderful and something which is our real strength.
"As I said yesterday, our work starts now and everyone at the club will be working together and doing all we can to bring our fans the kind of success which your support deserves."
"You'll Never Walk Alone!"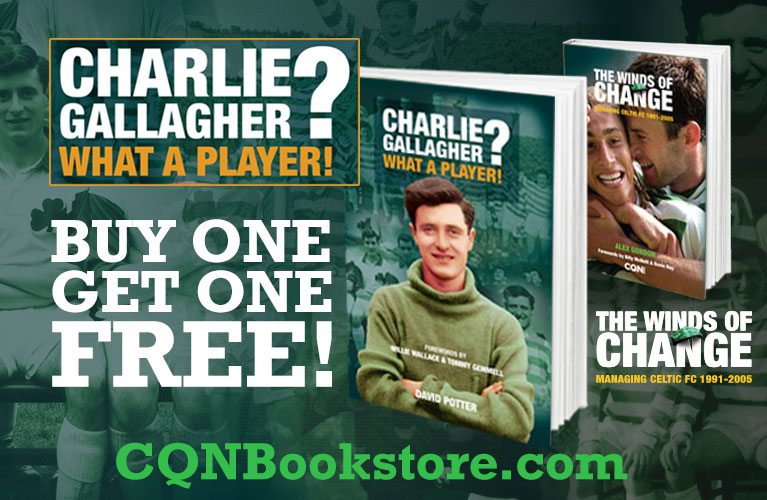 Click Here for Comments >