SUPPORTERS of the Ibrox club are at long last, starting to ask questions of Dave King and his board as Sevco Rangers sits third in the league and a massive 33 points behind runaway leaders Celtic.
And Aberdeen, 7 points behind Sevco Rangers in mid- December, are now 9 clear of the 5 year old club that told us they were going for 55. It has been a remarkable turnaround for the Dons and they have all but secured their usual second spot behind Celtic.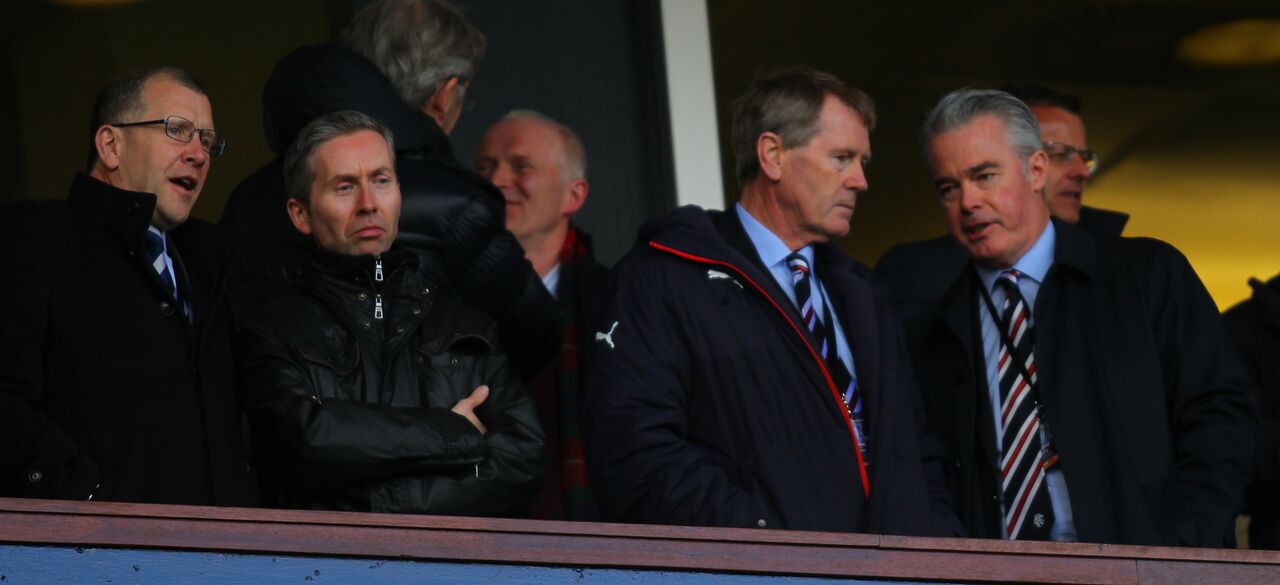 On top of that, Dave King decided to 'resign' his management team, although Warburton & Co weren't actually aware that they had decided to leave their jobs. Legal action seems inevitable on this matter and there are so many cases involving the two Ibrox clubs, that there is talk of the courts creating their own 'Rangers End'. March is certainly going to be a busy month for their lawyers.
Then there's the hand-standing caretaker Nupty taking the first team and leading them to successive league defeats against Dundee and Inverness. There must be an urgency to get a decent manager in as soon as possible.
But, other than the currently real unemployed real Rangers men – McLeish, Ferguson, Davies etc – who would take this gig?
Isn't the deal that you get the job, do your best to make it work, but if it doesn't, it is a results game so you lose your job? All managers accept this from the start but they also know that the football club, having reached a decision that it isn't working, have the right to get rid but will pay up your contract.
Well that's not how it works at Ibrox under Dave King.
Indeed previous Sevco Boards coughed up and honoured the huge financial package that was committed to Ally McCoist when they were beginning their journey from the old Fourth Division of Scottish Football. McCoist, a real Rangers Man, got his money, even when on gardening leave. What was it again? £750,000 a year!
And it was Dave King who met the former fans favourite to discuss 'doing a deal' to save the latest board a few bob.
Celtic brought in a top manager who has transformed the fortunes of the club in just about every aspect. And remember he arrived to manage a side going for 6 in a Row.
Would a top manager be prepared to work for Dave King?
The Bears are now having their own doubts about King and his board.
On Saturday we had a look at their thoughts on their biggest fear. They have a name for it. They call it
 Espanyolification.
Now there is a real discussion about King and Co's credentials. It seems all is not well in the Kingdom of Govania..
Here's a flavour of what's being said…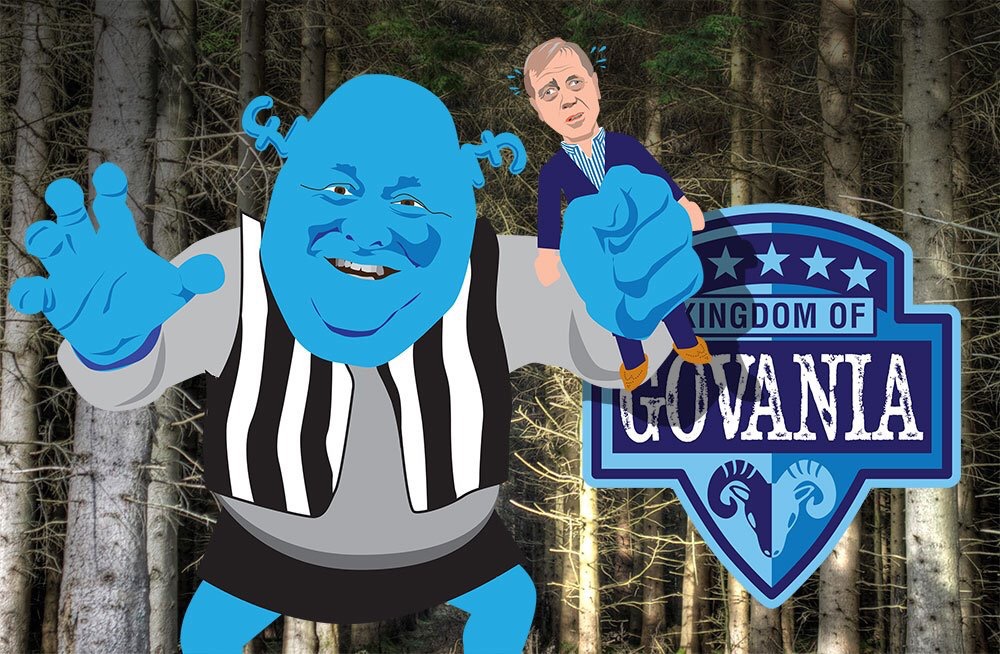 "
Under Whyte and Green it was a board of hoodlums stealing. Now we have a bunch that love standing in the directors box wearing a blue blazer with a crest on it but please tell me what they have done? John Gilligan and Paul Murray have no money and haven't invested in the club. What the hell do they contribute? Stupid quotes to the press now and then. Dave King I trusted when he came in. I believed his story about investing at least 30 million. I believed his lines about transparency. Some of my friends said don't be so quick to trust….the guy has forty felony convictions. That is true but I gave him a pass as he is one of us. Now the penny is dropping. What Rangers man stands back in another continent and lets us fall to this depth? No you haven't invested £18 million Dave…that was our season ticket money…not yours. What's worse you have squandered it.
While he is at it what going on with our listing on the stock market? We all bought in trusting King yet now we have nobody checking up on the board. This is starting to smell."
—
"If this board weren't "Rangers men" they'd be getting ripped to shreds.
Same scenario as Halliday (initially)…. got an easy ride because he was one of us. The novelty has well worn off with Halliday and it will do so with the board in time…. unless they start proving that the club is prospering under their watch."
—
"Individually, for me the only person who quietly and effectively goes about the business is Donald Park. King has invested but not what he loosely hinted at and should be honest with us if he doesn't have the funds. As for the other I couldn't even tell you what Paul Murray brings to Rangers FC and John Gilligan despite making the right noises needs to step up. Are the board and King together on this project? It doesn't seem so up up til now.
"
—
"The board are trying however I feel that this is way above their realms of experience and expertise. They are football supporters with a great deal of business acumen but sadly not in football. He's managed to get the keys to the door for a minimal original financial input along with the others and for that I'm truly grateful-to them all. Surely they cannot be watching this and thinking that it is acceptable? There are supporters who took a half day on Friday, spent the money on a ticket and travel to Inverness and had to watch the team in atrocious weather. A team that is bereft of ideas and a temp coach who is out his depth. The inaction is astounding and please don't tell me that there is nobody out there who can come in and manage/coach this team. We need to steady the ship and quickly.
"
—
"The (Bear above) is wrong re: the £18m. It's not ST sales – that's turnover. The board at the last accounts had accounted for about £13.5 million in soft loans to be converted to equity.
The board work for free. They keep the lights on by funding from their own pockets. There is no alternative.
"
—
"It is utter nonsense to say the board fund from their own pockets with the exception of Park. He has indeed made the loans and God bless him. Gilligan and Murray has invested nothing. King bought the original shares but has not done more. He has not kept his word to us on the "£30 million". "On
 his line about "I've invested £18 million" he is indeed talking about the revenue which is mostly our season ticket money. He has not invested…he used our cash. This is an example of why I'm losing confidence as he is being cute with words."
—
"If it wasn't for the £14m put up by the current board and their associates there is every prospect that the club would no longer be trading. Where else would the money be coming from to pay bills as they fall due? Can I also point out that they have committed to providing more funds next season. It is only their willingness to put these soft loans in which is keeping the business solvent. They are also doing their job with no salary. What more do people actually want from them?
—
"Make no mistake without their intervention we could have been wound up. What we have is a group of wealthy Rangers men who are doing there best by the club, no billionaires just a group of men who are trying to steer us into safer water. We all knew it would be a long way back, and that's where we are. We as a support need to suck it up and be careful not to bite the hands that are feeding us at the moment. Our best hope is for the board to stabilise us financially and hope that further investment is attracted into the club.
"
—
"There was a time on that if you questioned David Murray then you were automatically called not a real Rangers man. Then it was we have to support multi billionaire Whyte. Later Green and the Easedales. Remember how after each regime we swore not to be taken in again? Its not insulting to ask the question "Where is the £30 million investment you promised?". We were told by King we would be in a new era of transparency. Its not insulting to anyone to ask a board (especially as a shareholder) what the hell is going on. I and every other punter that paid for shares has a right to demand answers. King has not invested £18 million. The money that came in was revenue (mostly our season tickets) and loans from Park. King is not the anti-Christ but he is a shady businessman and I'd like to know if he will come through or not. In the meantime we have shares you cant sell on an exchange. That's ridiculous after all this time.
If we as supporters had the balls to question the past boards we might have been able to avoid the mess that happened. I don't want to see it happen again so I shall no be doffing my cap to the "big folk". As Tom Cruise said in the movie "Show me the money".
—
"We are skint, we have loads of upcoming legal battles, a stadium needing millions spent to bring it back to past glories and a team in need of an overhaul. Oh and we run at a loss which the current board are funding by the way of soft loans. Who on earth, in their right mind, would invest in us right now that didn't have an emotional tie with the club? Be very careful what you wish for.
—
"My only criticism of the board is with Dave King who I don't trust one bit. He is a charlatan who has barely put his hand in his pocket, and I get the feeling the rest of the board are starting to realise this. I also believe if he goes we may get some fresh investment in. However what we need more than anything is stability. If King goes, that should be the only change."
—
"I've read the statements…King mixes up terminology and that is where you are getting confused. He tells the media he has invested money when in reality the money was from the ongoing business operations. The loans that came in are almost all from Park. Yes he has used money to buy shares from others but his statement is just not accurate."
—
ONCE Upon a Time in the Kingdom of Govania tells the story of the fall, rise and fall of the clubs of Govania and it it very, very funny. Get yours from
CQNBookstore.com
Click Here for Comments >