"It can be the greatest game in the world but if there are no people to watch it, it becomes nothing." Jock Stein.
Last Thursday, Jock Stein gazed over the plush Celtic Park lounge that adorns his name. It was 6 p.m. on a breezy winter's evening, and we were the only two sharing the sanctity of this small arena.
Although 'Mr Stein' (as many of his protégés still call him half-a-century later) was present only in the form of a framed oil portrait, his presence still loomed large.
I thought back to a conversation I had some years before with Ward White, a Celtic reserve of the late 60s, where he looked at the painting before confessing, "I still feel his presence. His eyes have been watching me all night. He's making me feel guilty for having a few pints". Ward had joined me in the same venue for 2013's launch of The Quality Street Gang, and it was clear that his former boss was still the all-seeing eye.
"Just an hour ago, this room was empty. Now that it is filled with like-minded Celts, we have the potential to make this a special occasion."
Supporters, bloggers, authors, historians, and ex-players had all responded in huge numbers to my clarion call, and, as I introduced an evening with Andy Lynch to the capacity crowd, Jock Stein's now-immortal sentiments were still fresh in my mind.
It was Stein who had shelled out his then third-highest transfer fee to lure Lynch from Tynecastle some 43 years previously. It didn't take too much convincing for the left-winger to sign on at Celtic Park however, as the life-long Hoops' fan explained that he'd have "paid Celtic every week to play for them".
The former club captain took a walk down memory lane as he discussed the high points of a Celtic career that took in a League and Scottish Cup double in 1977, a cup final-winning goal against Rangers, and the unforgettable night when ten men won the league.
He spoke fondly of the great John Clark (who graced the evening in his own, unfussy way by sitting amongst fans in the corner of the room), for it had been 'Luggy' who switched Andy to left-back in a move that undoubtedly saved his Celtic career.
A man devoid of ego, the unassuming Lisbon Lion received the loudest and most passionate cheer of the evening from a room filled with familiar faces including Evan Williams, Tommy Callaghan, Charlie Gallagher and Joe Miller.
Andy's former clubs, Kirkintilloch Rob Roy and Queen's Park (virtue of another ex-Celt in Gerry Crawley), were also represented, as were the Former Players' Association, Celtic Graves Society,  and the club's Disabled Supporters' Association.
The Celtic state of mind was strong, and no more so than when the charity fundraisers took to the stage. Representatives of 'Walk with Shay' had some guests in tears when describing their efforts to raise funds for cerebral palsy-sufferer Shay McGinlay, whereas the 'Statue for Bobby' group are hoping to erect a permanent monument of the evergreen 'Buzzbomb' Lennox in his hometown of Saltcoats.
As Tommy Callaghan left the room, he handed me some notes for the collection (which raised over £600), and asked what else we had in store. When I explained that we were showing film footage of Andy's highlights, the Lochgelly Pelé laughed, "Aye, that will last about three minutes!"
Before Andy finally took questions directly from the crowd, Glasgow's Glasnevin treated the audience to an acoustic rendition of 'Grace', a song that has soundtracked the potentially remarkable Brendan Rodgers era.
Celtic have given ordinary people extraordinary experiences for nearly 130 years, and there is no doubt in my mind that we have embarked on an unforgettable journey with the Northern Irishman. This beautiful Irish ballad will surely serenade us throughout what is sure to be a magnificent odyssey.
"Who is the best player you have ever played with?"
It's an obvious question, but it came from one of the youngest Celtic fans in the room, and it prompted a quite poignant response from Andy Lynch:
"Billy McNeill was the greatest I ever played with… Long live big Billy."
As the room erupted as one in tumultuous applause, I felt blessed to have shared another special evening in Paradise with friends old and new, and privileged to have been joined by some of our heroes of the 60s and 70s.
Whenever I get the chance to speak to these legendary figures, I get the overwhelming sense that Billy McNeill is still their captain, and that Jock Stein will always be their boss.
Order your SIGNED copy of Hoops Stars and Stripes – The Andy Lynch Story on
www.cqnbookstore.com
– or tell the Missus…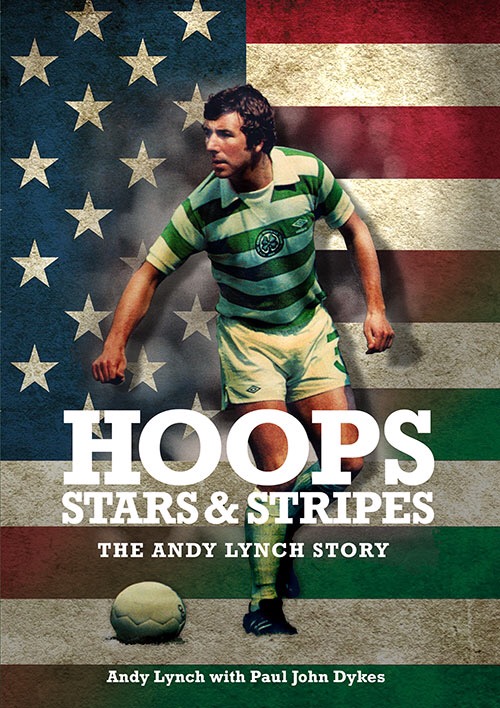 Click Here for Comments >