CELTIC striker Leigh Griffiths is poised to seal a bumper new contract with the champions, as CQN reported more than three weeks ago.
And the Hoops hitman, just two goals away from completing the magical ton for the club, also hit back at the online trolls who claimed he had failed a drug test last week.
Griffiths was hospitalised with tonsillitis and a viral infection and only returned to training on Thursday morning.
However, he took to social media to hit back at those who had claimed his absence was due to completely different reasons.
MATCHWINNER…Leigh Griffiths takes the freeway as he gives Celtic three points against Ross County in Dingwall in November.
He said: "It was madness, what I was reading. I had to laugh at the stuff people try to make up, but it's not nice for my family to see. They all read that nonsense and it's disgusting, some of it.
"The people who put this out there, that's their life. If it makes them happy putting out rumours and it's what they want to do…I prefer to ignore what they're saying and concentrate on the real world.
"These people are sad individuals. They don't see the light of day; they just sit behind computers or mobile phones and try and make up rubbish to disrupt other people's lives.
"I've learned to grow a pair and just ignore them, but I had to say something on this occasion when there are rumours going around that I've failed a drug test and it's being swept under the carpet then I have to come out and say something because if I sit in silence then that lie gathers more and more momentum.
"I felt I had to put this to bed so that it was quashed and nobody would speak about it again."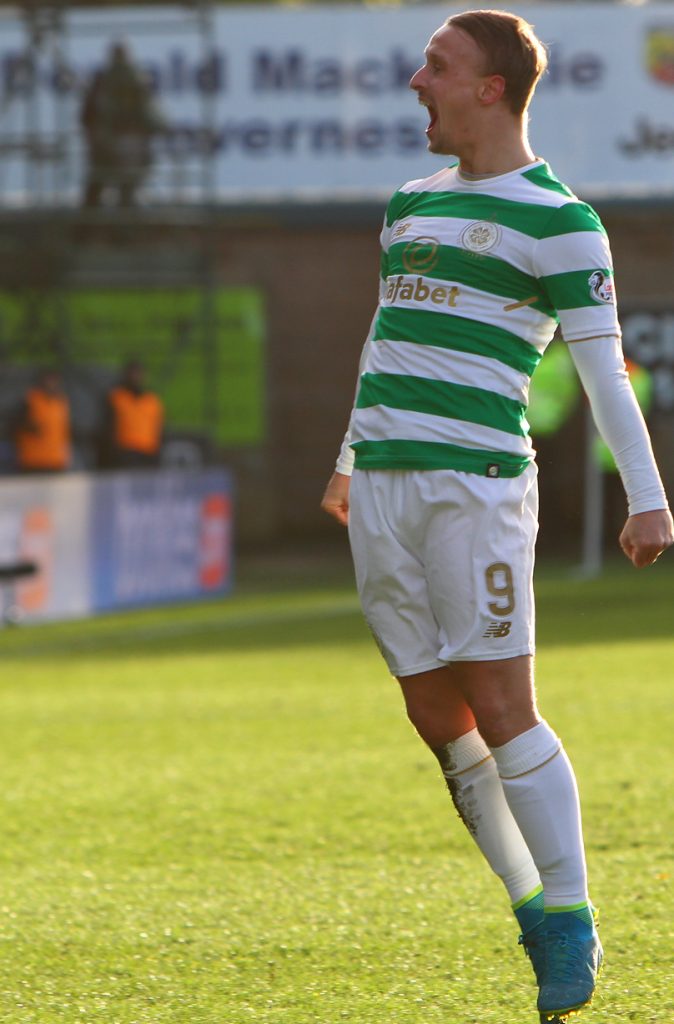 HOOP, HOOP, HOORAY…Leigh Griffiths shows his delight as his free-kick hits the target. Pics: Geo.
Griffiths is also ready to agree an extension. He admitted: "Talks are still ongoing. My agent has just texted me, so I'm hoping there will be a bit of news before the season is out.
"I've still got two-years left, so I am not sweating over it. I'm still looking to commit my long-term future here, but these things are never easy, these things take time.
"We need to iron out every detail, but I'm happy with my football here, when I am playing and scoring goals there is no place I'd rather be.
"I'm still a bit under the weather, but I've been given medicine from the hospital to take and it'll pass. Anyway, there are only a couple of games still to go and then I can have a proper rest."
Read more from Celtic Quick News …
Click Here for Comments >