LISBON, 25th May 2017, BRTH reports for Celtic Quick News…
Good Morning from a sunny Lisboa.
The significance of our presence here in Lisbon was summed up by a Taxi drver last night when he opined "You people are crazy!"
When asked to explain he said " Lisbon is full of Celtic fans. They are in Hennessey's bar laughing, drinking, singing, dancing and it is hard to understand. If Celtic were playing here, then I could understand that, but to come all this way just to party ad watch no game of football whatsoever…………. no you are just crazy. Crazy, crazy crazy!"
Throughout the course of yesterday I heard native Lisboans shout "Celtic; Celtic" or "Lions of Lisbon — 1967! and they would then give you the thumbs up.
For reasons that are very hard to explain properly, Celtic fans own a tiny wee slice of this city. Not in a physical or proprietorial sense, but in the sense that the local people here, whether they be in search of trade for the taxi's, restaurants or hotels or whatever, all know to link Celtic to this city and this city to Celtic.
Many many of them clearly know exactly why Celtic fans are here on this day. They know the year the cup was won, they know the name of the manager and some of the players and they know all about the crazy, mad, singng and dancing fans that descended on the seven hills of Lisbon 50 years ago today.
Until that day, there was no established link between Lisbon and Scotland in general. Yet, today simply because f a football match, whenever you say the word Lisbon, with a certain timbre in your voice, a certain wistfulness, and a certain reverence, the very uttering of the word shows that you are a follower of the team in green and white.
Last night, I met several people who were here 50 years ago and who had decided to come back again 50 years later. One man was with his son and grandson, and when I showed him a photo of the massed crowd in 1967 he was clearly visible and his son could name many of the people round about him.
"So, why have you come back?" I asked.
The answer was both as logical and illogical an explanation as you could ever ask for:
"Because I just had to!"
Whatever happened 50 years ago today, those events changed people, would impact on their children and grandchildren and it changed the face of this city which now recognises that Celtic are a significant part of their tourist market, their historical market, and the make up of this city.
By even being here and celebrating in the numbers that are here we are perpetuating that legend.
No other football club in the history of European football has ever had numbers such as these come to a city and celebrate an anniversary.
Throughout, the taxi driver, whose family hail from Goa in India, constantly smiles and provides his cheery and friendly observations on the number of Celtic fans he sees in and around the city.
He shakes his head ……. and beams "Crazy!"
Also on CQN this morning – Tommy Gemmell and that goal…read HERE and Sandro Mazzola interview, read HERE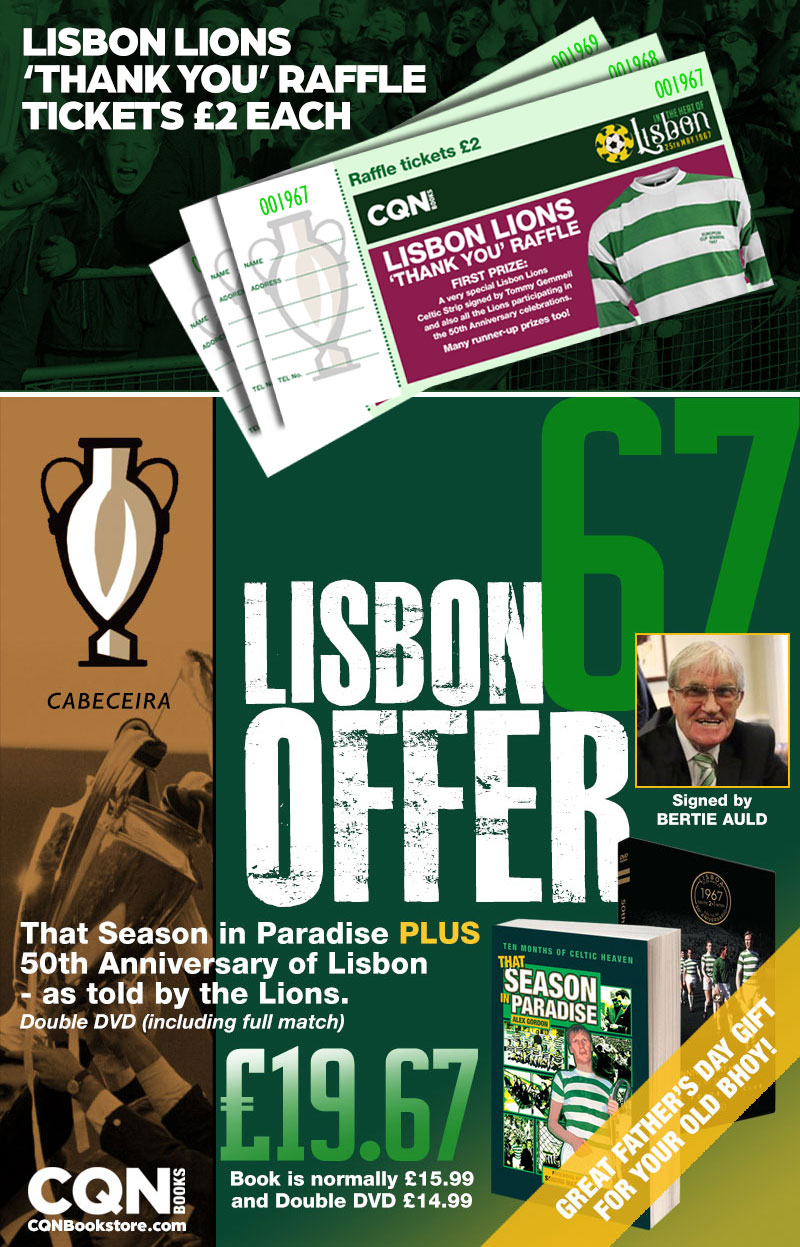 Click Here for Comments >