GARY HARKINS can expect a hostile reaction at Ibrox next month if Dundee beat Dumbarton in their Scottish Cup replay tomorrow night.
The Dens Park midfielder has taunted Mark Warburton's team by calling them a NEW club, and the story is featured on the back page of today's Daily Record – much to the rage of the new club's support.
These fans, of course, vigorously claim they are the same club, ignoring their club's  liquidation in June 2012.
Now Harkins, who has in the past faced the old Rangers as a Partick Thistle and Kilmarnock player, told the Record: "They are a new club.
"I've not played them before, so I'm looking forward to that."
Harkins' comments have attracted howls of derision and protect  – and it will be interesting to see the reaction the player will provoke if, of course, Paul Hartley's men see off the New Boghead outfit on Tayside tomorrow night.
A victory will take them to Govan for a quarter-final tie due to be played on the weekend of March 5/6.
Celtic, for the first time in two years, were drawn at home on the same weekend where they will meet Morton in the east end of Glasgow.
So, one of the matches will be switched with TV having a major say in the decision.
If Harkins does, indeed, play at Ibrox and the game is televised live, it could make for a volatile response from the stands.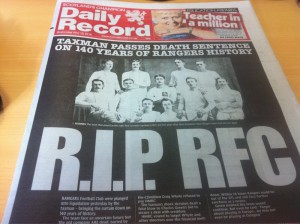 We dipped into one of their forums this morning to see what they are saying about Harkins and also the decision of the red-top to put the story on the back pages. Harkins is subjected to intense sectarian and personal abuse and these comments are ignored.
Here's a selection of the rest…
'This just shows how backward, pathetic and laughable our country has become if this crap is on the back page of a national newspaper.'
'The new club thing just doesn't make any sense. Only an idiot would think We are a new Club.'
'That'll be 90% of the next press conferences content taken care of. Only surprise is it wasn't O'Dea.'
'Obsession with our club knows no bounds.'
'He should be up in front of the sfa for that. 
Hope Dundee fine him.'
'Makes the QF all the better as Dundee will likely be the opponents – remind him at the end of the match the score then. 
Any doubts he can read the Lord Nimmo commission or can even ask FIFA – Gers are and always will be the same club.'
'The governing body should drag him through the coals for his slanderous remarks.'
'The "new club" nonsense is only ever used in the context of winding us up. It's only ever players from diddy teams or Celtc-minded bloggers who still go on about it, and even then it's been dwindling for some time now.'
'The fact that it is only ever used in this context is evidence enough that they don't really believe it and are just doing it to annoy us. If they genuinely thought we were a new club there wouldn't be this vitriol against us. If anything, other clubs would be wishing us well and marvelling at how a four-year-old club won back-to-back promotions in their first two years of existence and are now on the cusp of winning promotion to the top flight.'
'It's chronic patter which was tiresome in 2012 and just a bit tragic now.'
'In Dundee's various administrations, financial woes and them having to sell their stadium to survive, I don't recollect any Rangers players, management or staff going to a newspaper and coming out with stuff like this.'
'I wish we had, and hope in the future, when their next financial meltdown joins the others, and it will, that this will be remembered when pleas for assistance and understanding come our way.'
'All this from a club which has had more administrations than top league titles in the last 50 years.'
'The Record are just as bad. 
"The Gers vigorously maintain they are the same club".  
Why not just tell us the baldy p**** is wrong.'
'And I should believe him over the SFA, FIFA, UEFA, ECA why?'
'Using Rangers status to get his name in the papers by pretending we don't have that status.'
'Another to the add of list to names I will be spending a special 'get it right up you' message to after we win 55.'
'Being outside the goldfish bowl looking in, it is really alarming to see how amateurish Scottish football has become, especially over the last decade or so. It's actually embarrassing. From the Mickey Mouse admin through the coverage of the sport by so called journalists. No wonder it is dying on it's feet.'
'Scottish "journalists" are more interested in perpetuating myth and spreading gossip than reporting the truth or being objective. All REAL football fans want is the truth unadulterated.'
'Why does a national newspaper print sh*** like this? Why do they make it their lead sports story?'
'We know we're the same Club. Even Doncaster has admitted we're the same club.'
'It tells you something about those in charge at The Record.'
'The media up here seem desperate to get themselves banned by the club and that tells you even more about these people. They see it as some kind of badge of honour within their "community".'
'Well that's blown FIFA, SFA, SPHL, EUFA and Lord Nimmo completely out of the water… Whatever will we do now?'
'Are any of us really that bothered what the rest of Scottish football has to say about us. 
We're on the way back and it's eating away at them….it's lovely.'
'Let's see how they react when this "new club" start beating them at football.'
—————————————————
CQN SPECIAL OFFER!
We have reduced the price of a selection of our Celtic books on CQNBookstore.com
The Winds of Change and Caesar & The Assassin are reduced to £13.99 each, Seville The Celtic Movement and The Quality Street Gang are now only £9.99 each. The Jock Stein book, Willie Wallace & Tommy Gemmell's books are all just £6.99 each.
Order ANY book or DVD and we'll send you a copy of the 2015 CQN Annual absolutely free and we will add a wee dram for you to enjoy when you're reading!
We also have the Neilly Mochan book and DVD from Paul Dykes available and much more.
Order now at www.CQNBookstore.com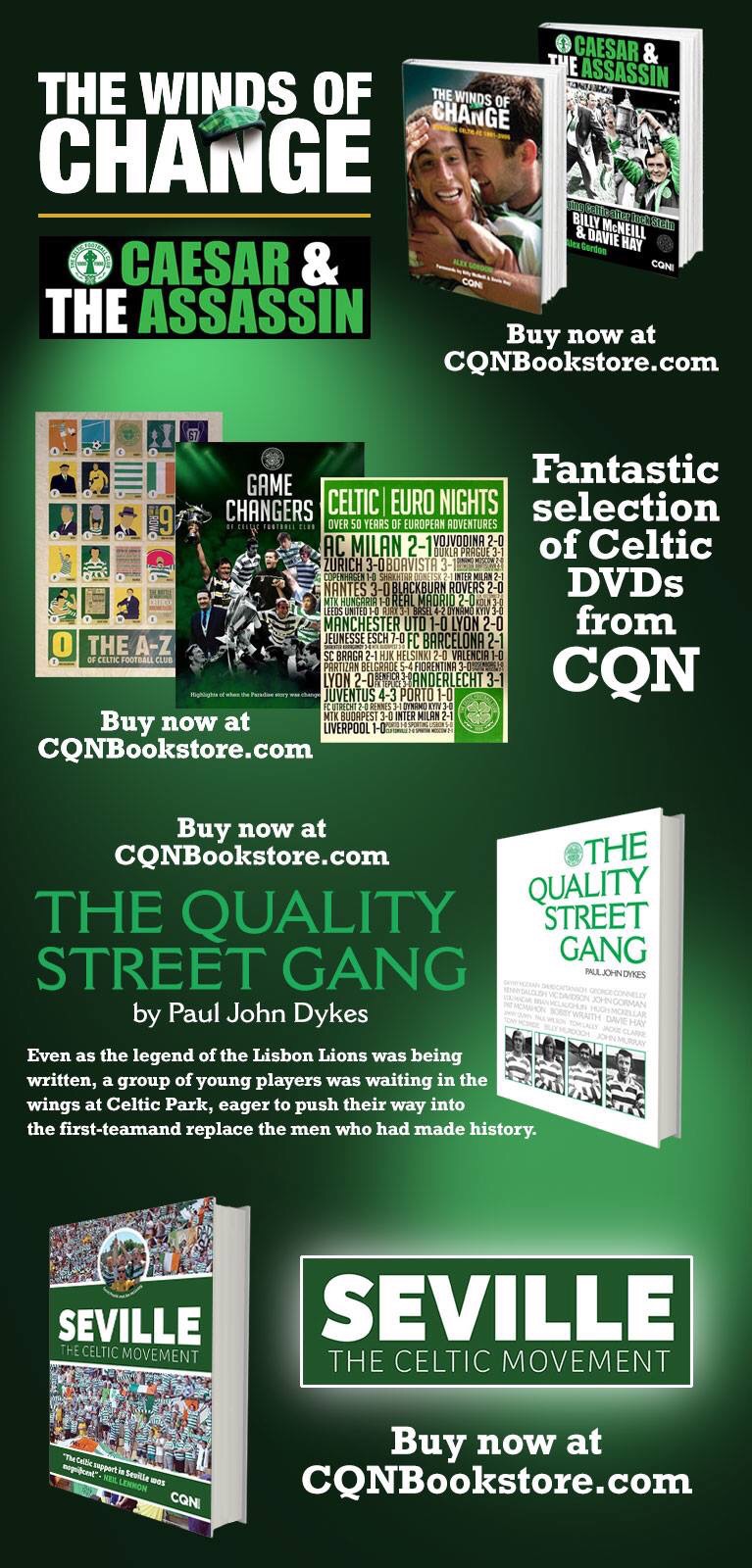 Click Here for Comments >