HENRIK LARSSON, who celebrates his 50th birthday today, said farewell to his adoring legions of Celtic fans with his usual flourish just over SEVENTEEN years ago.
The Swede chose a bright afternoon at Hampden to bring down the curtain on his glittering career at the Hoops with a double salvo against Dunfermline in a 3-1 triumph in the Scottish Cup Final.
Larsson acknowledged his last accolade in the sunshine of the national stadium on the south side of the city and left his followers with a smile on their face.
Before reaching Scottish soccer's mecca, the charismatic marksman had scored his second last goal against Rangers when he swivelled to fire the winner behind Stefan Klos in the Scottish Cup quarter-final at Parkhead in March 2004.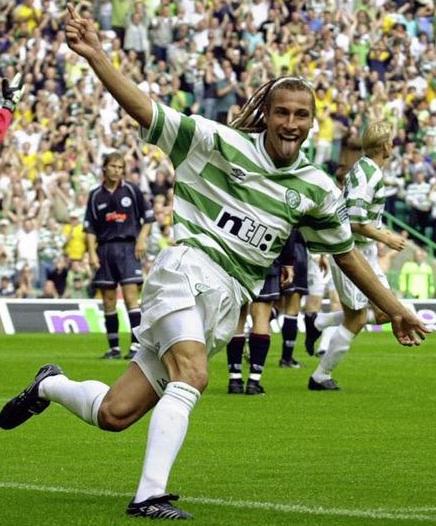 TYPICAL POSE…Henrik Larsson in full flow after yet another strike for Celtic.
The Magnificent 7 bowed out following, coincidentally, seven exceptional years at Parkhead after a glorious career in which he had been the hammer of the Ibrox outfit with FOURTEEN goals in his contests against the Glasgow neighbours.
His wonderfully-executed lob over the bewildered Klos in the 6-2 Demolition Derby in August 2000 will always be an exquisite reminder of what Larsson brought to Celtic.
In his final campaign, 2003/2004, Celtic reclaimed the title and the super Swede thumped in a double in the 3-1 Scottish Cup triumph over Dunfermline at a highly-charged Hampden.
Author Alex Gordon recalls Larsson last goodbye in his latest Celtic book, '50 Flags Plus One'. when the popular Celt took his final bow.
In an edited extract, Alex, the writer of fifteen Celtic books, reflected:
READ ALL ABOUT IT…Alex Gordon's latest Celtic book, '50 Flags Plus One'.
THERE was some welcome respite for Rangers from losing league points to their greatest rivals when they were drawn to face them in the Scottish Cup quarter-final on March 7, 2004. Once more, though, Henrik Larsson put them to the sword. The Swede scored the only goal of the encounter and, in doing so, claimed his fourteenth strike in twenty-eight games against the Ibrox club.
It was also his twenty-eighth of the season. Alan Thompson set up the winner with a right-wing corner-kick, Bobo Balde headed down, Stephen Pearson, a £350,000 addition from Motherwell in January, had a shot blocked by Stefan Klos, but punishment was only delayed a mere heartbeat when Larsson latched onto the rebound and fired home.
Three weeks later across Glasgow at Ibrox, McLeish was experiencing the same sinking emotions after the fourth consecutive Old Firm defeat, this time a 2-1 reverse in the league. By the time the debris had cleared, O'Neill's men were an unassailable nineteen points clear at the top and had just registered their thirtieth league game without defeat.
HOOPY DAYS…Henrik Larsson celebrates a goal against Rangers.
In the twentieth minute, Thompson clipped over an inviting free-kick and Larsson swooped to head in the opener. Thompson added the second in the fifty-seventh minute and Celtic came close to a third when Varga shuddered the bar with a shot from four yards. Steven Thompson got his side's consolation goal near the end and, justifiably, it would be his team's solitary effort against Celtic in five meetings throughout the season.
Rangers drew a blank again on the afternoon of May 8 when Celtic completed the season-long humiliation when Chris Sutton scored the injury-time goal in the 1-0 win. It was a real 'Do-It-Yourself' manoeuvre from the rangy Englishman. Young keeper David Marshall fired a goal-kick deep into Rangers territory and Sutton rose to glide it down to Larsson and raced off to accept the return.
The Swede shifted the ball into his partner's path, Sutton positively bullied Frank de Boer – who had joined his twin Ronald at Ibrox – out of the way before curling a spectacular eighteen-yard lob high over Klos. Asked why he didn't carry the ball into the penalty box, Sutton answered truthfully: "Are you kidding? I was too knackered. I just decided to give it a whack and I was mightily relieved to see it go into the top corner."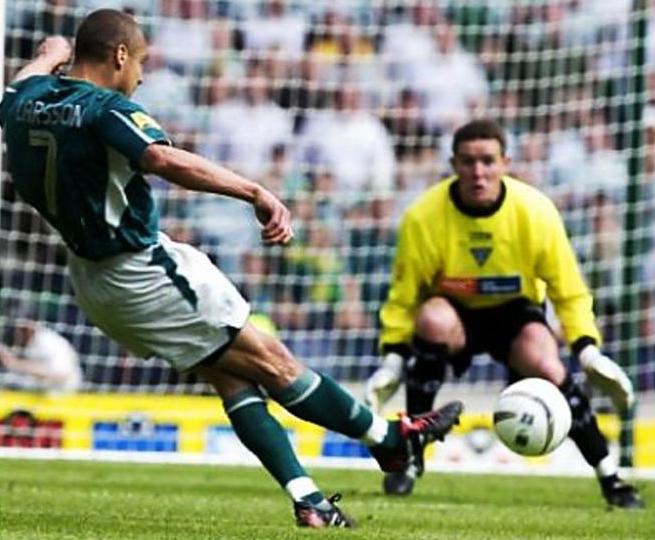 HAMPDEN HOORAYS…Henrik Larsson strikes one of his Scottish Cup Final double past Dunfermline keeper Derek Stillie.
LAP OF HONOUR…Henrik Larsson celebrates once again at Hampden.
The season did end on a spectacular high, though, with the Swede known as the 'Magnificent Seven' bowing out in his accustomed swashbuckling style. Henrik Larsson's parting gift, after seven years as a Celtic player, was a two-goal salvo as Martin O'Neill watched his club claim their thirty-second Scottish Cup at Hampden on May 22 in front of 50,846 fans. The fairy tale was complete as Dunfermline were beaten 3-1 and Larsson said farewell with the glorious Glasgow sunshine embellishing the moment.
Afterwards, Martin O'Neill and his players lined up to pay tribute to Larsson. The manager said: "Both of his goals were magnificent and so important for us. I thought we did well in the first-half and were in control, but you still have to score and that's where Henrik made the difference."
Larsson, typically, played down his individual role, but admitted he was delighted to have finished his Celtic career on such a high note.  "Winning this Cup Final means everything. I didn't want to leave as a loser. It was great to get the two goals to end a fantastic seven years here. I never dreamt this could happen when I signed."
UP FOR THE CUP…Jackie McNamara, Henrik Larsson, Neil lennon and Stilyan Petrov acclaim the Hampden triumph in 2004.
FIELD OF DREAMS…Henrik Larsson waves farewell following his final Hampden appearance.
The Swede had been in tears the previous week when 58,364 supporters remained in place long after the final whistle had sounded on the 2-1 victory over Dundee United. The footballing aristocrat, of course, had scored both goals.
"It was an emotional afternoon and Martin O'Neill summed it up best when he stated: "He says it has been a privilege being here, but the privilege is all ours."
Larsson's goals against the Tannadice outfit took his total for the season to thirty-nine, bringing the overall figure for the club to a phenomenal two hundred and forty. The ice-cool exterior of the Swede dissolved amid the raucous applause from his adoring supporters.
Larsson, charged with emotion, said: "I am going to miss all of this. But, as I have said many times, it is time for me to go."
However, he wasn't about to depart without a word of praise for O'Neill. He added: "My whole career here has been brilliant. We have had our ups and downs, but the last four years have been tremendous. It has been fantastic and, once the gaffer arrived, things started to go forward and happen.
"It has been a pleasure to be at a club like this. The fans have been tremendous and it is great to have been part of something so special like this. I want to thank you all."
On May 25, 2004 – thirty-seven years to the day Celtic had conquered Europe in Lisbon – Henrik Larsson said one last goodbye in front of a capacity crowd at Parkhead in his Testimonial Match against Sevilla. He didn't score as his team won 1-0 – Chris Sutton did the honours – but it was still a rather special leaving party for a rather special individual.
Click Here for Comments >