KIERAN TIERNEY has been compared to English defender Stuart Pearce who was nicknamed 'Psycho'.
Scotland assistant manager Mark McGhee reckons the Celtic left-back has certain similarities to the no-nonsense defender who spent most of his career at Nottingham Forest.
As 20-year-old Tierney prepares to win his fourth cap in Saturday's crucial World Cup qualifier against the English at Hampden, McGhee feels the Tartan Army will come to savour the Hoops ace.
He said: "Stuart Pearce is a good example when you talk about what Kieran has.
"You think about playing with that blood on the face and head, or whatever, and that is Kieran.
"That's the way you expect him to be, with his determination and aggression. He might not intimidate people yet, like Pearce did, because they don't know him well enough.
"But in time Kieran will be a player who, simply by playing against him, players will be intimidated.
"He is definitely one who grows, even in terms of his physical stature, whenever he crosses the white line to play.
"You see him round the training camp and he is just going around quietly, with his duffle bag on his back. I don't know what he keeps in it. His boots probably – and his gumshield now!
"But when he takes that off and walks on to the pitch he is a different animal.
"He has been throwing himself into challenges as usual this week, he's fearless.
"You've got to hold him back at times. He is one of these boys who only knows one way to play – and that includes training.
"I don't think he has a second gear he trains at before shifting up for games. He trains the way he plays.
"He got his gumshield measured on Monday morning and delivered. It's the same dentist who treated him after the Cup Final and he's happy with it. He finds it difficult to shout, but otherwise no problems.
"He'll get used to it and I'm quite sure he will find a way of communicating. I'm not 100 per cent sure he's a lad who says that much to anybody, anyway. So I don't see that as an issue."
MOUSSA'S NOT FIT ENOUGH…YET!…read
HERE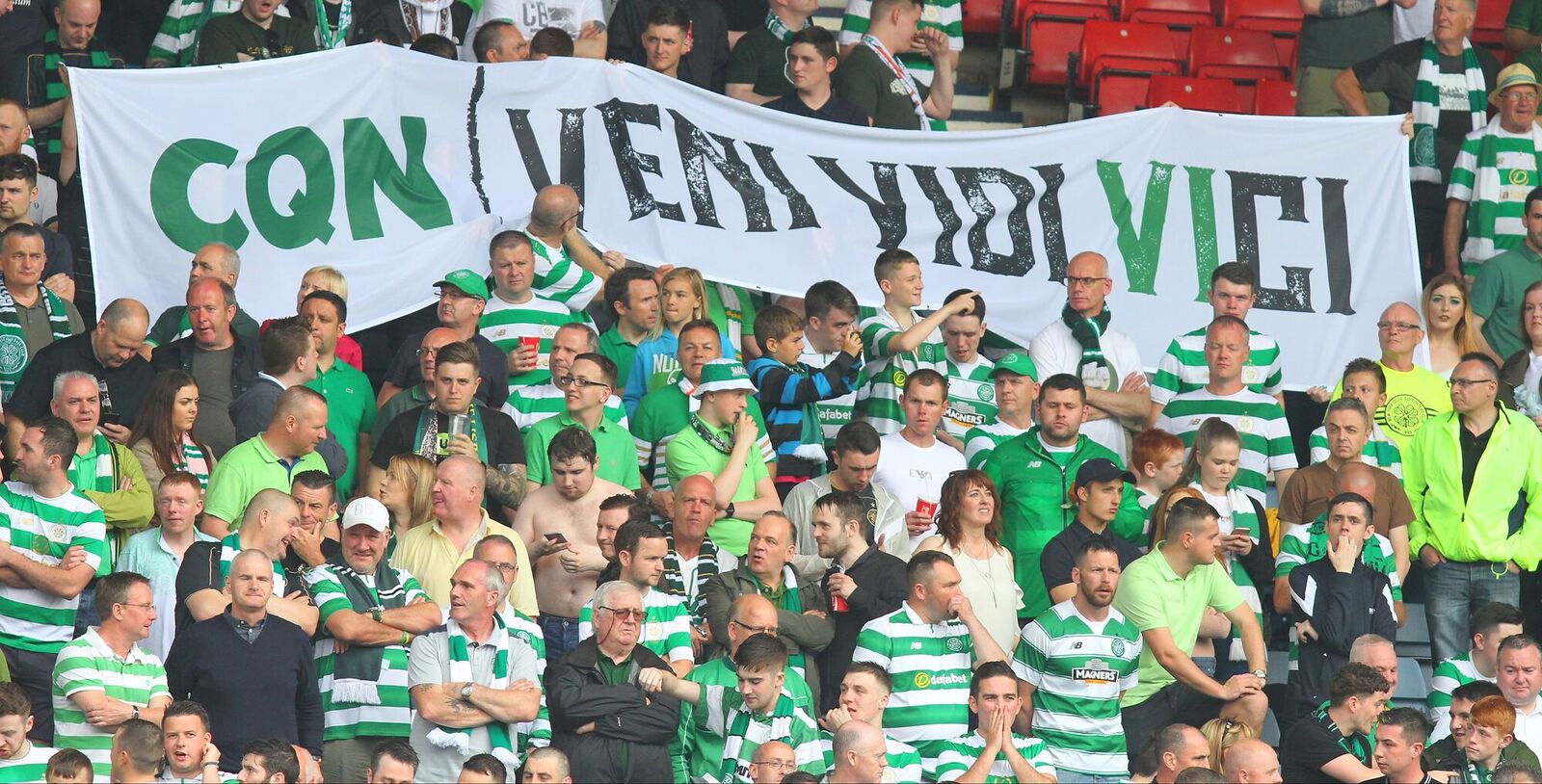 HAVE YOU ORDERED YOUR
VENI VIDI VICI
t-shirt yet from
cqnbookstore.com
?  All order have now been shipped and the remaining stock levels are as follows:
Size Small – 4 remaining. Size Medium – 4 remaining. Size Large – 27 remaining. Size XL – 29 remaining. Size XXL – 4 remaining.
Demand has been huge for these shirts so hurry to make sure that you get yours.
"I came, I saw, I conquered" on the front and "I was born into Celtic" on the back – a fine tribute to Brendan Rodgers!
Click Here for Comments >