EXACTLY fifty-six years ago today Stevie Chalmers hammered in an unstoppable hat-trick as Celtic thrashed Rangers 5-1 in a classic Old Firm derby at Parkhead.
Charlie Gallagher and Bobby Murdoch also got on  the scoresheet in a landslide triumph, but the star of the show was undoubtedly John Hughes who ran amok as he shredded the Ibrox defence in a one-man demolition display.
Today, in another CQN EXCLUSIVE, we turn the spotlight on a glorious encounter from the sixties as Jock Stein's side picked up the momentum that would see them conquer Europe in 1967.
Here is an extract from Hughes' autobiography, 'Yogi Bare: The Life and Times of a Celtic Legend', co-authored by the Hoops great's friend and writer Alex Gordon.
Please enjoy.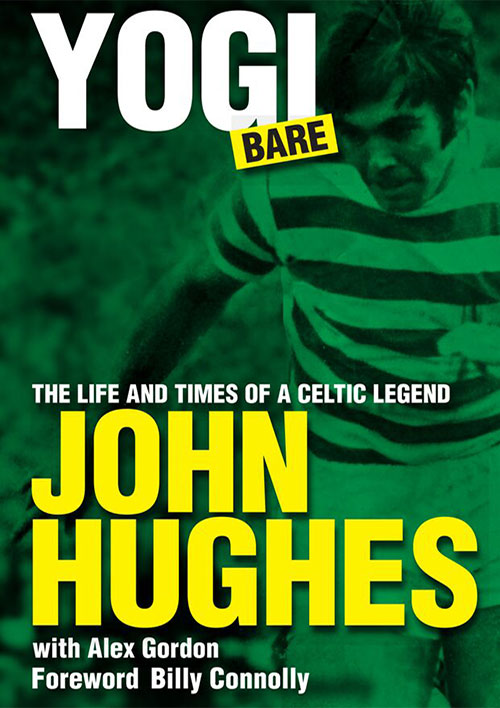 THE traditional New Year game was due to be played at Parkhead – in fact, it was January 3 after we had beaten Clyde 3-1 on the first day of 1966 at Shawfield. I have to say the playing surface was treacherous that afternoon. It was flint-hard and there was a silvery glow under the floodlights.
We didn't possess such a luxury of undersoil heating in those unenlightened times. The ground staff used to spread bundles of hay all over the place in an effort to protect the pitch. They would sweep it off as close to kick-off as possible. Then they put down what seemed like a few tons of sand. To be honest, it wasn't very satisfactory for a footballer.
There was absolutely no give on the rock-hard surface under your feet. If you tried to turn swiftly in these conditions there was every chance you would end up skidding around on your backside. Actually, it could often become a bit farcical with players resembling giraffes on ice as they fought for their balance. Dignity went right out of the window.
In many people's eyes, Pele was the greatest player on the planet at that time. Make no mistake about it, even the legendary Brazilian would have struggled on these surfaces. In South America, many youngsters honed their skills performing on the Copacabana and other beaches. When they moved up a grade, they played on pitches where the grass was deliberately left a little longer. That allowed players to ping the ball around with amazing accuracy. They could hit a fifty to sixty-yard pass and the ball would simply settle on the grass. Goodness knows what they would have thought of Scotland's pitches in the dead of winter.
In fact, Jock Stein tried a little experiment in the summer of 1965 when he brought over four Brazilians to the club on trial. They were unknowns – certainly not at the Pele or Garrincha level – named Ayrton Ignacio, Marco Di Sousa, Jorge Farah and Fernando Consul. It was novelty value, of course, but they attracted a fabulous crowd, around 20,000, to a reserve game at Parkhead where Ignacio scored two goals in a 3-1 win over Motherwell.
THE BEAR ROARS…John Hughes thunders a close-range drive high past Airdrie keeper Lawrie Leslie in a triumphant Scottish Cup semi-final at Hampden in 1961.
Three of them left for the sunnier climes of their homeland after only a month or so, but Igancio signed a short-term deal with Clydebank. I had to laugh at a report in a national newspaper when the Bankies took on Albion Rovers at Cliftonhill. It was another freezing, cold evening in Coatbridge and the reporter actually wrote, 'It was so cold Ignacio was turning blue with the cold.' I'm no racist, but the player in question was as black as two minutes past midnight. Unsurprisingly, Ignacio caught up with his team-mates shortly afterwards.
Anyway, back to our first Old Firm meeting of 1966. It was due for a 2pm kick-off, but there was a further problem with fog beginning to settle on the east end of Glasgow. Celtic were top of the league and Big Jock was determined to get the game played to increase our lead over our main rivals. He was confident of a victory and it was so important to show who were the new masters of Scottish football.
Jock, as was his normal pre-match routine, walked onto the pitch with referee Tom Wharton, a massive match official who, at 6ft 4in was actually two inches taller than me. So, naturally, he was known as Tiny. At this stage, possibly about half-an-hour before the kick-off, the game must have been in doubt. The Celtic manager was nothing if not persuasive. He must have got to work on the ref. I can almost hear him say, 'Och, there's nothing to worry about, it'll clear in a few minutes.' Anyway, Tiny agreed and he declared the game on.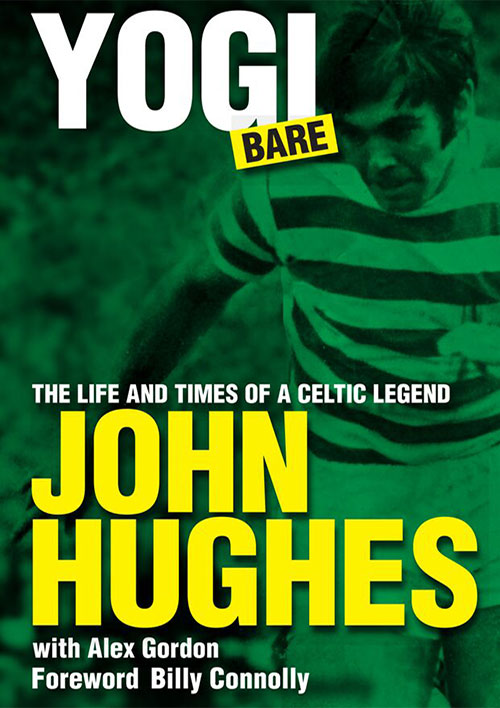 However, Jock must have wondered if his compelling and forceful argument to play the fixture might just have backfired on him. Rangers left-winger Davie Wilson was a tricky, little customer. It was often said he could win the Ibrox men a penalty-kick when he was fouled on the halfway line. Listen, Wee Davie could get our old foes a spot-kick at Aberdeen when he stubbed his toe getting on the team coach at Ibrox! A bit far-fetched, but you get the drift.
Having said that, he was a superb goalscorer for the club, especially for a player normally operating in a wide position. He demonstrated that against us inside ninety seconds of that particular confrontation. He mastered the tricky conditions better than our defenders, collected a rebound and slammed a low left-foot drive away from Ronnie Simpson. The man known to us all as 'Faither' was blameless as the ball squeezed in at the far post. It was a blow, no argument, but I doubt if there was a single team-mate on the park that day who didn't believe we could turn it around. Although it must be admitted it's never clever to give Rangers a goal of a start.
We began to turn the screw and pummelled their defence for just about the entire remainder of the first-half. They were defending frantically and I must admit I wasn't getting too much joy out of my immediate opponent Kai Johansen. I had made life difficult for him in the League Cup success at Hampden in October. Actually, to be fair, that was Johansen's first Glasgow derby after he arrived in the summer from Morton and I'm sure the 107,000 crowd would easily be the biggest attendance he had ever performed in front of and that can be more than a little daunting.
Still, I was certain I could replicate my good form of the previous encounter. Johansen was a lot quicker than my old sparring partner Bobby Shearer and was turning quite well on the frosty and problematic conditions. I was pushing the ball past him and chasing after it, but he was doing a very reasonable job of getting back to put in tackles. It was frustrating, to say the least.
We had forty-five minutes to change things around. I spotted a pair of discarded white training shoes lying in the corner. They had suction pads and were used for training indoors. I think they were Billy McNeill's gear, I'm not sure. I had been wearing rubber studs in the first-half and they were as useful as a chocolate fireguard. I decided to give them a try and, thankfully, they fitted.
What had I to lose? Johansen, I realised, would have been more than delighted with his performance up to that point. I had to give him something else to think about. I discarded my normal boots and put on the shoes. Could they make a difference? We would find out soon enough.
The game was merely four minutes into the second-half when I combined with Tommy Gemmell and our left-back sent a dangerous low cross skidding into the Rangers penalty area. Joe McBride dummied the ball and that was just perfect for someone of the speed and courage of Stevie Chalmers. He darted into the danger area and turned the ball past Billy Ritchie. Game on!
I was beginning to get into my stride on the left wing. The shoes were doing their job and definitely helped me maintain my poise and balance when I was running with the ball. Suddenly I was leaving Johansen in my slipstream. My pace was beginning to tell and he was mistiming his tackles. Thirteen minutes after the equaliser, we were ahead. It was Stevie again with a header from a left-wing corner-kick. Rangers were on the ropes and we knew it. So, too, did they. Time to go for the jugular and finish them off.
Seven minutes later, I got away from Johansen again and saw Charlie Gallagher taking up a great position about twenty-five yards out. Charlie could strike a beautiful ball, that was undoubtedly his forte. He wasn't a tackler and Big Jock always insisted we had to let our opponents know we were on the field. 'Win the battle and you'll win the war,' he would say often enough.
READY FOR ACTION..Jimmy Johnstone, Willie Wallace, Bobby Lennox, Jim Brogan, Bobby Murdoch, Stevie Chalmers, John Fallon, Tommy Callaghan, Jim Craig, Billy McNeill, Tommy Gemmell and John Hughes.
Charlie had other strengths, though. He was a lovely passer of the ball to unlock the meanest of defences, but he could hit a shot with a lot of venom, too. I beat another couple of defenders before looking up to make sure Charlie was still unmarked and slipped the ball as expertly as I could in front of him. Charlie simply lashed an unstoppable drive in the direction of Ritchie's goal. The ball exploded against the underside of the crossbar before bouncing down over the line. The Rangers keeper didn't move a muscle.
The fourth goal in the seventy-ninth from Bobby Murdoch was a collector's item. Not because of the awesome power and flawless accuracy from our midfielder; he displayed both of those qualities often enough in his exceptional career. No, it was the role referee Tiny Wharton played in it. Jimmy Johnstone and Gallagher combined on the right before Charlie sent the ball across the Rangers defence about twenty-five yards out.
The pass was actually heading for Tiny when he suddenly opened his legs and let the ball go through them. It was a consummate dummy any pro footballer would have been proud to claim. Bobby read it perfectly and hit a devastating left-foot drive that almost took the net away.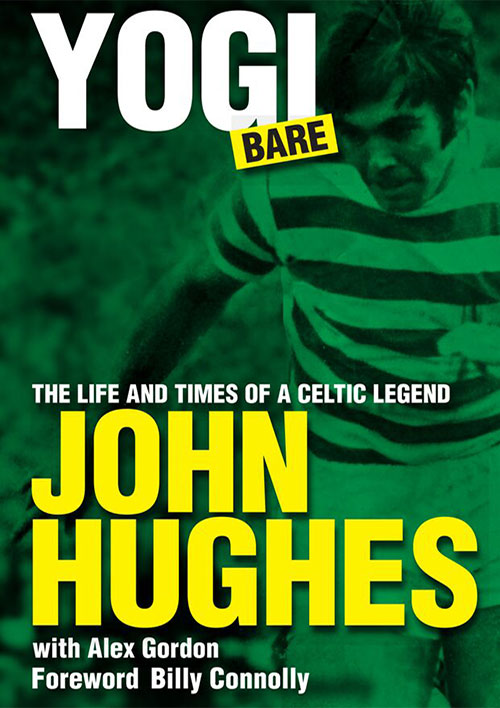 I have watched a video rerun of that game and I was hugely impressed by Billy Ritchie. He was left lying on the turf, beaten for the fourth time, the game lost and, staggeringly, he got to his knees and applauded Murdoch. That didn't often happen in the heat of an Old Firm duel, but it did display the keeper's unbelievable sportsmanship.
It was all over for the Ibrox side when I moved the ball over from the left, Wee Jinky got involved and the ball dropped perfectly for Stevie to launch a low drive past Ritchie. It was the end of a perfect day played in hellish conditions. The fog continued to descend and about an hour after the game, you could hardly see a hand in front of your face.
The Rangers contingent in the 65,000 crowd must have hoped it had fallen earlier in the afternoon. It's interesting to note that we had another seventeen league games to play and we lost only three. One was at Aberdeen, another was at Hearts and the last came, rather bizarrely, at Stirling Albion.
Of course, I was delighted at the end of that unforgettable match. Stevie claimed a hat-trick, but I got most of the headlines. One newspaper emblazoned this across their back page: 'JOHN SHOES THE HERO'. A terrible pun, but I liked it all the same.
Click Here for Comments >