2010 was the year of the 'Honest Mistake', when match officials in Scotland just couldn't seem to get decisions right.
This general incompetence would be easier to explain if the decisions 'evened themselves out' over the course of the season.
Instead there was a remarkable trend, one club seemed to get a hugely disproportionate benefit from these decisions which the men with whistles themselves termed as 'Honest Mistakes' and that club's biggest rival for the SPL title, and with it the Champions League spot for the following season, just never seemed to get the rub of the green.
That club had a new manager with up until that point had a decent reputation.
The era of the 'Honest Mistakes' cost him his job. Perhaps he himself gave a green light to what was to follow when early on he stated that he wouldn't challenge poor refereeing decision but instead would 'take it on the chin'.
Yesterday, some 7 years after all of this happened, a former director of one of these football clubs, appeared in the High Court in Glasgow to give evidence in a criminal fraud trial, involving the subsequent sale of that club which, a mere two years after the era of the 'Honest Mistake' went into administration and then liquidation when a CVA failed.
A new club was formed, Celtic played them last weekend at Ibrox and put five goals into their nets.
Things weren't so dandy back in 2012 when decision after decision would go against Celtic and for the old Rangers club.
In court that former Director in evidence under oath spoke about how close to the wind the old club sailed in 2010 and that the bank were close to forcing an insolvency event on Rangers at that time. He told the court that Champions League money was crucial if the club was to make ends meet.
It was essential that they won the league. Absolutely essential. Critical even.
So it was a remarkably fortuitous coincidence that they were up against a manager prepared to take anything at all on the chin.
And even more of a lucky coincidence that refereeing standards would be so poor, even by the rather low standards of previous seasons, and that the club in need of the title got it, helped by honest mistake after honest mistake that add up to one of the most remarkable coincidences ever seen in professional sport.
Yesterday CQN revisited 50 Honest Mistakes from around 2010 and we would urge you to read these to remind yourselves of what happened. Please note that the extended beyond Tony Mowbray's time as Celtic manager and into Neil Lennon's time in charge. Remember what happened at Tannadice?
You will recall some of these but plenty of others will jog your memory and you will probably be fairly shocked as you read down the list and notice a trend.
You get a list at the end totaling up the incidents and the officials who gave them and you will notice that if they gave out awards in Honest Mistakes there are clear medal winners within the whistle blowing profession.
You can read about the first 25 Honest Mistakes HERE and when you have finished that pick up from 26 to 50 HERE.
Meanwhile if you are going to the game today, pop into the The Penalty Spot on Sword Street, just off Duke Street, opposite the Post Office, and you can get a sneak preview of some of these wonderful paintings from the forthcoming Celtic in Art Exhibition.
CELTIC IN ART exhibition at 'The Penalty Spot' in Glasgow.
The exhibition is launched on 11th May, and runs until 31st May 2017.
Celtic in Art is a stunning collection of 24 paintings. All but one of these were commissioned by Celtic author and historian, Tom Campbell, and painted by Cuban artist, Yoanis Rigo Comet.
The final work of art is by legendary Scottish actor, writer, painter and raconteur, John Cairney.
Most of these works are now available to purchase, along with a selection of limited edition prints.
Vivid in colour, vibrant in emotion, this art constitutes a remarkable visual history of one of the most iconic football clubs in world football.
LAUNCH EVENT DETAILS
Date: Thursday 11th May 2017.
Time: 7:45 p.m. – 9:30 p.m.
Venue: The Penalty Spot, 158 Sword Street, Dennistoun.
RSVP: pauljohndykes@gmail.com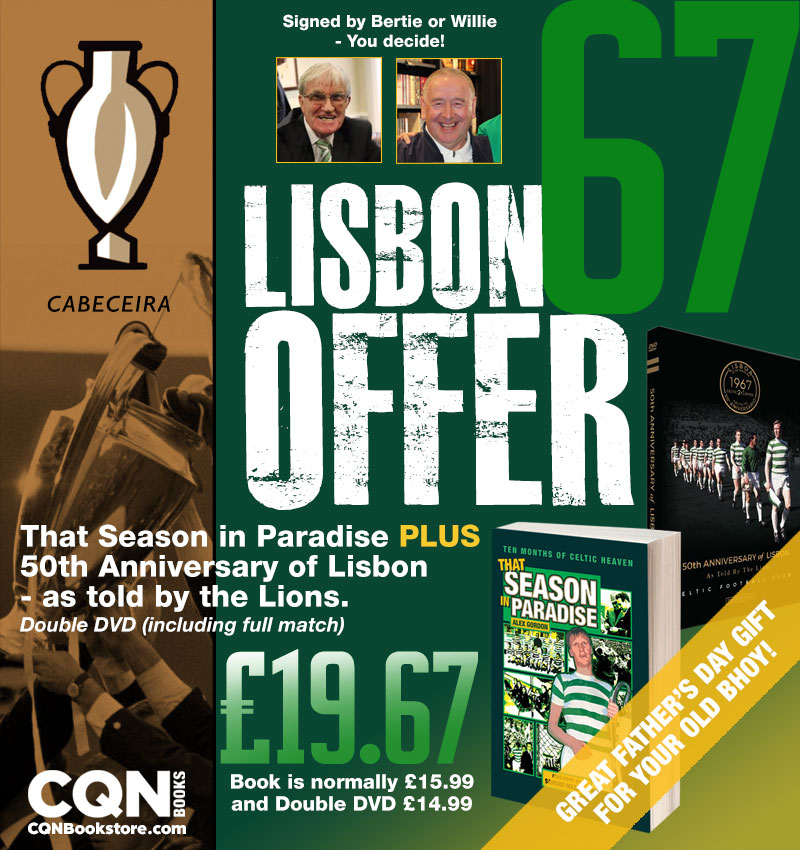 Click Here for Comments >