FORMER Celtic striker John Hartson has slammed THREE Ibrox players for their part in the furious scenes during the champions' 2-1 triumph at Parkhead on Sunday.
The Hoops icon didn't hold back as he pinpointed Alfredo Morelos, Ryan Kent and Andy Halliday for the flashpoint incidents in a feisty confrontation that effectively ended the Govan club's miserable season with seven Premiership games still to be fulfilled.
The champions, with slick goals from Odsonne Edouard and James Forrest, moved THIRTEEN points ahead of Steven Gerrard's faltering team as the title kings zeroed in on their eighth successive crown.
Hartson opened up with a verbal blast at the Govan bad boys who are now all facing suspensions with controversial Colombian Morelose, red-carded for a record FIFTH time this season, poised for a four-game ban at least.
The Welsh legend, speaking to the Evening Times, said: "People need to own their actions. Don't blame others when you cross a line. It's not someone else's fault if you lose your cool. Take responsibility for your own behaviour.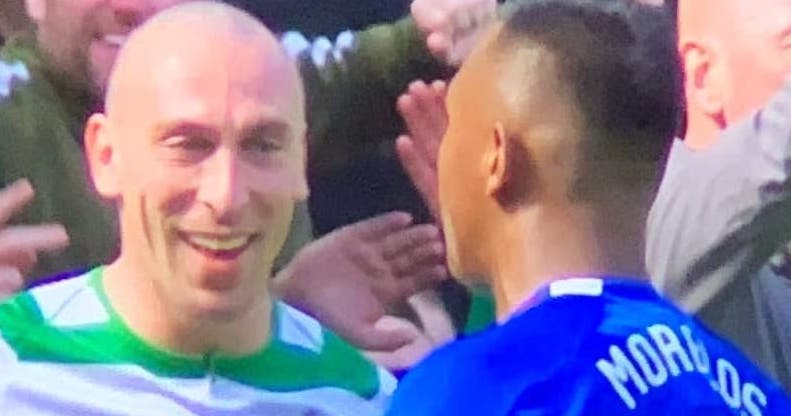 BYE, BYE BLUES…Alfredo Morelos gets no sympathy from Scott Brown after his red card.
"Alfredo Morelos, it has been claimed, was provoked. Okay, maybe he was. But then it's up to him what happens next. There is no excuse, no reason on earth, why he had to smash Scott Brown in the face with his elbow.
"Also, Andy Halliday ran half the length of the pitch to get involved after the final whistle. Did he feel provoked? If so, it's then up to him how he reacts.
"And then there is Ryan Kent who will be done for his behaviour. Was his excuse also that he felt provoked?
"My goodness. There is no justifiable reason for him punching Brown, full blown, in the face."
CONFRONTATION…Ryan Kent and Scott Brown in centre circle.
CONDEMNATION…Kent is caught on camera punching Brown.
CONSTERNATION…Brown is decked as Kent escapes punishment.
Hartson added: "Whenever I went to Ibrox wearing a Celtic jersey I got dog's abuse. If I go there now, it is exactly the same. You have to deal with it.
"The way some of the Rangers players reacted was absolutely wrong. You cannot make excuses for them because they were goaded, to use a word that has been doing the rounds.
"And, for me, those involved need to take a good look at themselves.
"It's Celtic versus Rangers. It's one of the biggest games in the world. It's tense. The nerves get to you. There is no atmosphere like it anywhere else.
"Players need to show their class in this environment. You do not get sent off for the fifth time this season when your team is 1-0 down in a derby, throwing your team-mates under a bus.
"For Halliday after the game, to take a swing at Brown, and for some people to say he was provoked, baffles me.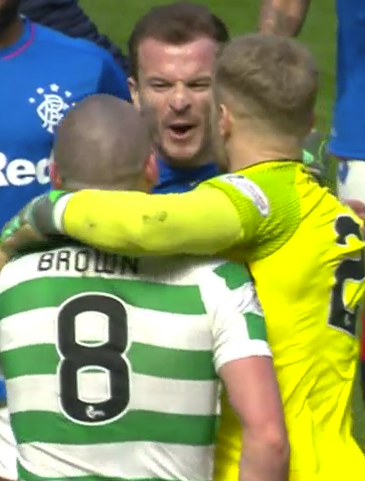 AFTERMATH ANGER…Andy Halliday confronts skipper Scott Brown and keeper Scott Bain.
"Imagine going into a dressing room after a red card and saying: 'Gaffer, I was provoked.' No manager accepts that.
"Rangers won at Ibrox fair and squad. They deserved to win, they won it very well.
"Brown was provoked in that game. There were 50,000 Rangers fans screaming all sorts of obscenities at him every time he touched the ball.
"He was getting it on the park as well from opponents who left a boot in or dumped him on his backside. Nothing wrong with that.
"Brown decided to be a professional. He didn't lash out at someone. He didn't punch anyone in the face. He didn't confront any Rangers player after the 90 minutes had been done.
"He shook hands and took the defeat on the chin. Like a man."
Morelos, astoundingly, has been red=carded three times against Aberdeen this season as well as being dismissed in a European tie.
PICK IT OUT…James Forrest slots the winner beyond Allan McGregor.
He was sent off in the opening Premiership encounter of the campaign – Gerrard's first league game in charge of the team – when he clearly kicked out at Scott McKenna.
The temperamental hitman was immediately sent packing, bit, remarkably, the red card was later downgraded to a yellow.
In the Dons' 1-0 win in the league at Ibrox, he punched Pittodrie skipper Graeme Shinnie in another off-the-ball incident that saw him automatically ordered off.
Completing the hat-trick, he was invited to leave proceedings early when the clubs met again during Derek McInnes' side's unexpected 4-2 loss at home.
Once again, Morelos tangled with McKenna and referee Bobby Madden, in charge at Parkhead at the weekend, didn't hesitate in pointing to the dressing room for both culprits.
With only seven outings remaining, the Ibrox attacker won't see much action between now and the end of the campaign.
Click Here for Comments >