LISBON Lion John Clark celebrates his 82nd birthday today.
In the most glorious period in Celtic's history, the reliable, unfussy defender was a mainstay in Jock Stein's back-four alongside legendary skipper Billy McNeill with Jim Craig and Tommy Gemmell on the flanks.
With Ronnie Simpson behind them, they formed the rock of the all-conquering team that swept all before them with season 1966/67 the highlight of a fabulous period of domination.
The European Cup-wining hero, rightly, takes his place among the giants of Celtic and his place in folklore is well deserved.
The man known as 'Luggy' to his team-mates and 'The Brush' to the fans as he mopped up in the rearguard with effortless ease and uncanny anticipation, was an unsung hero.
IT TAKES TWO…John Clark and Billy McNeill celebrate the goalless draw against Dukla Prague in the Czchoslovakian capital in April 1967 that set up a memorable evening in Lisbon the following month.
CQN wishes John Clark Many Happy Returns on his birthday and we thank him for all the memories he gifted upon us over his years of service on and off the pitch.
Alex Gordon interviewed Celtic's quiet man at length for his memories of Billy McNeill in the author's tribute book to the team's inspirational centre-half, captain and manager, entitled 'In Praise of Caesar', published in 2018.
In another CQN EXLUSIVE, here is the full chapter club icon Clark reveals some of his fondest reminisces of his great friend.
Please enjoy…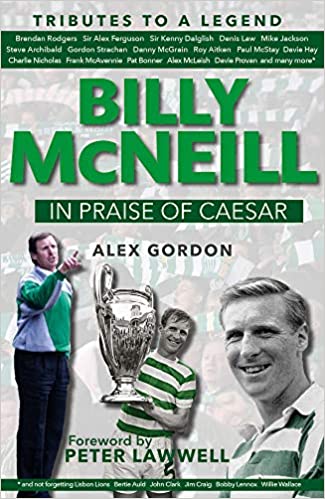 NO-ONE took a blind bit of notice of Jock Stein and three of his European Cup-winning team as we waited for our buses at Parkhead Cross. To be fair, it was 1959 and Lisbon was a location on another planet light years away for the four of us, Billy McNeill, Jimmy Johnstone, yours truly and the manager who revolutionised football.
It was the start of an incredible journey for all of us. Jock was the reserve team coach who lived in Burnbank, Hamilton and we were three youngsters with stars in their eyes. I lived in Chapelhall and my bus was the number 44 that Billy, who lived in Bellshill, could share.
Wee Jinky, who trained on Tuesdays and Thursdays as a provisional signing, lived in Viewpark in Uddingston and had to get a different bus. We would stand for ages talking about football until our buses finally arrived. Big Jock pulled rank even back then. No one was allowed to get on their bus until his arrived.
'I'm no' standing here on my own,' he would say. And no one argued.
Not one of us could have even begun to imagine what it would be like to play in a team that conquered Europe. That would have been beyond preposterous. Only sides such as Real Madrid won the European Cup.
We would stand in a huddle on Tollcross Road, stamping our feet for warmth, as the grim chill settled on the east end of Glasgow on brutal winter evenings and we would discuss magical performers such as Di Stefano, Gento, Puskas, Kopa, Santamaria. These individuals played a brand of our chosen profession that was unknown to most of us.
In truth, the only thing we had in common with these guys was that we kicked a round leather thing called a football about a park.
WELCOME HOME…the great Jock Stein is flanked by Billy McNeill and John Clark in the Celtic managerial switch in 1978.
But there was a determination to at least succeed on the home front. That was a more attainable target; but even that was proving to be a momentous and insurmountable task. Celtic had slipped into the also-rans' category very quickly after winning the League Cup with the memorable 7–1 triumph over old foes Rangers in 1957.
Billy was already a regular in the top side by 1961, I had made my debut in October 1959, a year after signing from Junior side Larkhall Thistle, and Jinky would have to wait another four years before he would make his first appearance in the green and white hoops.
John Fallon, our back-up goalkeeper to Ronnie Simpson all the way through the victorious European Cup run, would sometimes join our shivering little group at the bus stop on his way home to Blantyre. He came through into the first team around the same time as me.
We were all Celtic men; we knew how much success meant to the supporters. We felt it when we lost, trust me. We were all bad losers, Big Billy, in particular. I saw that all the way through his career, first as his teammate in defence and then as his assistant manager at Aberdeen for a year and then, of course, Celtic.
At the start, Billy was working in accountancy, but we all knew that was never going to be his occupation. It was an absolute certainty Billy McNeill was going to make it as a footballer. Just how big we could never have hazarded a guess, but the only way was up for my lifelong friend.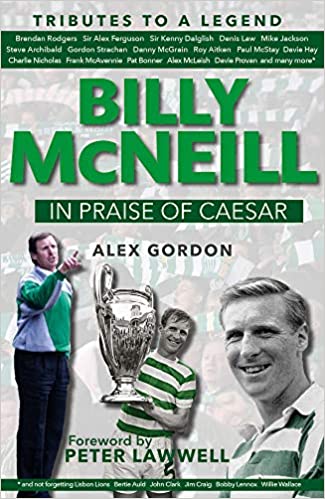 READ ALL ABOUT IT…Alex Gordon's tribute book to a Celtic legend.
A quick glance at the league tables back then demonstrated the amount of work that was urgently required to turn things around at Celtic. At the end of the 1959/60 season, we were in ninth place in the eighteen-team First Division. Halfway was the best we could achieve. No disrespect, but even Ayr United and Clyde finished above us that year.
The following season saw us rise to a heady fourth, but we were still adrift of Rangers, Kilmarnock and Third Lanark. Twelve months on, we showed more progress by achieving third spot behind Dundee and Rangers. At the end of the 1962/63 campaign, we were back to fourth while Partick Thistle were third.
A year later, Celtic replaced the Maryhill side in third position, but we plummeted again in 1965 as we limped in an unacceptable eighth. My goodness, though, we celebrated at the end of that term!
Bertie Auld has often insisted our Scottish Cup Final over Dunfermline that year was even more important than our European Cup triumph. I understand what he means. One had to come before the other and the 3–2 win over the Fifers at Hampden that sunny Saturday in April 1965 was a major breakthrough.
It proved we could be winners. The stigma of being runners-up in the same competition in 1961 and 63 was removed. We had actually won some silverware to put in the trophy cabinet at Celtic Park. Of course, being Celtic we had to do it the hard way by coming back twice and how fitting was it that Billy McNeill should get the winner with one of his trademark headers?
ON PATROL…John Clark keeps an eye on Inter Milan dangerman Sandro Mazzola in Lisbon on May 25 1967.
Let me tell you, we all worked hard for that success. Yes, I know that was our job and, as professionals, we always gave 100 per cent. But everyone – and I mean everyone – went that extra yard to show Celtic players could again go up those Hampden steps, accept a trophy and show it to our supporters.
None of that team had won anything before. Bertie had been on the club's books first time around when they beat Rangers in the League Cup Final, but he was with the reserves that particular Saturday.
He had a four-year interlude with Birmingham City, had returned to Celtic and we still hadn't won a thing in his absence. I think that emphasises what that Scottish Cup victory meant to all of us. For the first time in our professional careers, we knew we could compete on a level playing field with anyone else in the country.
I remember Big Billy and I and all our teammates in the Hampden bath after the Cup presentation. We were all just so happy. Someone came in and informed us Kilmarnock had beaten Hearts 2–0 at Tynecastle and had won the league title on goal average, as it was then.
'Who cares?' said someone. 'We've won the Cup!'
Big Jock had just returned to Celtic the previous month and, when things eventually calmed down, he said, 'Now is our time to make history. This is our era.' He had said something similar before his first game in charge, a league game against Airdrie at Broomfield on 10 March. Wee Bertie scored five that evening as we won 6–0.
Big Jock already had his eyes on Kilmarnock's newly-won First Division championship. And, of course, we were to take possession of the honour for the following nine years.
Billy and I had maintained our early friendship and I'm delighted everything clicked into place for us on the pitch. We had a great understanding in the heart of the defence, but it was never anything we worked on constantly in training, which may surprise some. It just came naturally.
Billy's strength was in the air where he was just about immaculate. If I had a forte it was on the deck, trying to read situations and anticipating danger.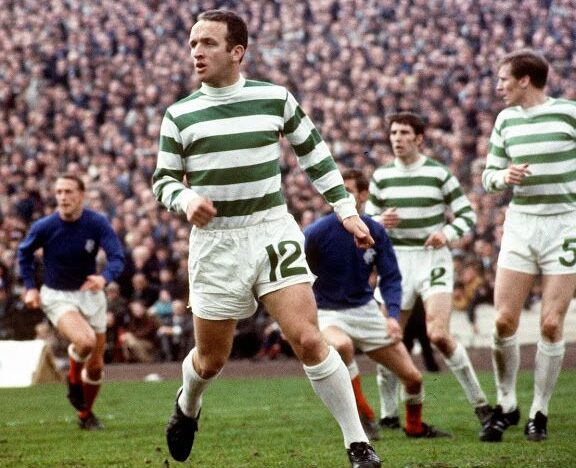 NO WAY THROUGH…John Clark, Jim Craig and Billy McNeill present a green and white barrier in the 4-0 Scottish Cup Final triumph in 1969.
Tommy Gemmell once said I was the best defender he had ever seen at jockeying an opponent. There might be some truth in that because I refused to dive into a tackle, I never sold myself. Tommy even went as far as to say if it was a two versus one situation with me holding the fort on my own he would have backed me every time. A lovely vote of confidence from my fellow Lisbon Lion.
On the rare occasion this situation arose, I would simply try to force the nearest forward into where I wanted him to go and then got ready to cut out the expected pass.
I accepted my role in the team. I wasn't flashy, I had no airs or graces and was happy to work hard for the good of the team. We had enough quality in our line-up to keep the fans cheering. And then we had Billy McNeill at the heart of it all.
I roomed with him everywhere we went and I can now reveal it was like walking into a chocolate factory. He had sweeties all over the place. The guy loved his Milk Tray and all sorts of other confectionery. You could hardly move for the stuff!
It was absolutely no surprise to me when he went into management. He had his quickfire spell at Clyde before he headed to Aberdeen to take over from Ally MacLeod in 1977. Big Jock was behind that appointment. It wasn't long before my big mate was on the blower to ask me if I wanted to join him. How could I resist?
PRIZE GUYS…John Clark celebrates with his Celtic team-mates after another Hampden silverware success.
There's another thing you should know about Billy. I am convinced he was a frustrated Formula One driver. It was the same with Big Jock. They would get behind the wheel of their car and just take off. They always drove big powerful cars, too, normally top-of-the-range Mercs.
I don't know if they were taking their frustrations out on the motorways as they hurtled along, but I was always thankful I did not possess a nervous disposition during the occasions I was a passenger.
When Billy contacted me about the assistant manager's job at the Dons, I wanted to get up there and find out a bit more about the place. He had moved to Stonehaven with Liz and the family and I didn't know the area. He arranged for me to drive up in my Austin Maxi, a sensible car and my pride and joy.
Billy would wait for me at a certain point and then guide me to his new home. Everything was going well until Billy got onto a dual carriageway and must have forgotten I was behind him. Once more, he put his foot through the floor and I could just see his car disappearing into the horizon.
There was no such thing as sat-nav back then. I had a rough idea where he was located, so I drove along at my own pace. I came off the carriageway and was quite satisfied I was heading in the right direction when a car came flying out of a side street and crashed into my Maxi smack on at the passenger side.
Once I had gathered my wits, I noticed the other vehicle was still embedded in my car. I raced round the side and there was an old chap, leaning on his side with his head against the window.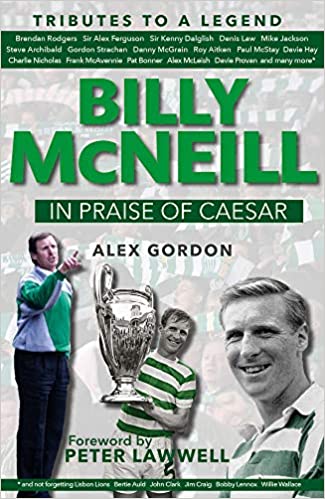 I pulled open the driver's door and he practically fell out. I had to make sure he was conscious. I sat him back in the seat as gently as I could and thought I would have to phone an ambulance. Again, no such thing as a mobile phone back then. I hoped there would be a passer-by, but, unfortunately, the accident had taken place in a quiet area.
Eventually, the old lad came to, looked at me, focused and asked, 'Are you John Clark of Celtic?' I didn't think it was the time or place to remind him I had left Celtic some years earlier. Thankfully, Billy had double-backed, found me and we made the necessary arrangements after the police and ambulance guys had done their bit.
The guy was okay and he had just lost control for a moment. Just my bad luck for my car to be right in line for a direct hit. My car was off the road for ten weeks while the garage mechanics put it back together.
My wife Eileen and I hadn't found a place in Aberdeen and she remained in Holytown while I looked around. I was still with Billy and Liz, who had given me a room in their spacious home. One day, after I had just got my Maxi back from the garage, I drove to training and was back at the McNeills' in the early evening. Actually, I was on the phone to my missus when Billy burst into my room. He hadn't bothered knocking.
'Quick, come and have a look at this,' he ordered.
'What is it?' I asked, wondering why my mate was so agitated.
'You've just got to come and see this,' he said, with a fair bit of urgency.
I followed him down the stairs and we went out the front door and onto the driveway. 'There! Look!' he said and pointed to the parking area at the front of his garage.
His Mercedes had collided with my restored Maxi. Billy had reversed his car straight into mine at the exact spot where it had been hit by the old chap ten weeks earlier.
'Sorry,' said Billy, fairly lamely. 'I forgot you were still staying with us.'
The following day it was back to the garage, the owner of which must have seen me as his profit margin for as long as I remained in the vicinity.
I'm glad to say things got better in my year with Billy at Aberdeen. And, later on, at Celtic, too, of course. One thing was certain, life was never dull when Billy McNeill was around.
* DON'T miss the big-name exclusives – only in your champion CQN.
Click Here for Comments >